TODAY at the Grasshopper Cup

Wed 13th Apr, Day THREE:
Simson and Mueller in Swiss upsets

Qualifying complete, it was on to main draw on the Glass Court at the Puls5 venue, where the crowd were treated to four matches which included two upsets.

In-form Egyptian Ali Farag improved during his victory over Leo Au and looks a real threat, while top seed and defending champion Gregory Gaultier was made to work hard to beat qualifier Nafiizwan Adnan.

The last two matches saw two seeds depart as first local hero Nicolas Mueller delighted the crowd with a marathon five-game win over Ryan Cuskelly and then Chris Simpson got the better of third seed Mathieu Castagnet in three close games.

Round One (Top Half):

[7] Ali Farag (Egy) 3-0 Leo Au (Hkg)
11/8, 11/6, 11/5 (35m)
[1] Gregory Gaultier (Fra) 3-1 [Q] Nafiizwan Adnan (Mas)
11/8, 9/11, 11/9, 11/5 (53m)
[wc] Nicolas Mueller (Sui) 3-2 [8] Ryan Cuskelly (Aus)
10/12, 11/8, 9/11, 11/8, 11/7 (95m)
Chris Simpson (Eng) 3-0 [3] Mathieu Castagnet (Fra)
14/12, 11/9, 11/9 (64m)

photos by
Michele Bollhalder
"I never felt comfortable on there at all today. Leo is a very dangerous player and he has a very subtle touch so you can never be sure what he is going to do.

"I was glad to get away with a 3-0 win especially coming from 3-6 down in the first. Winning that one made a huge difference to the end result.

"It's my first time here and it's a good start – I've never been to a tournament where there was a full house from the very first round so it was amazing to see that. "



[7] Ali Farag (Egy) 3-0 Leo Au (Hkg) 11/8, 11/6, 11/5 (35m)

Farag first into the quarters

Egypt's Ali Farag weathered an early storm from Hong Kong's Leo Au to secure his place in the quarter-finals.

Farag was caught off guard by an in-form Au who came out of the blocks full of confidence and playing immaculate squash through the first two games

But Farag's level of play improved throughout the match as he overturned deficits in both the opening two games before accelerating away in the third to assert himself on proceedings and move into the last eight.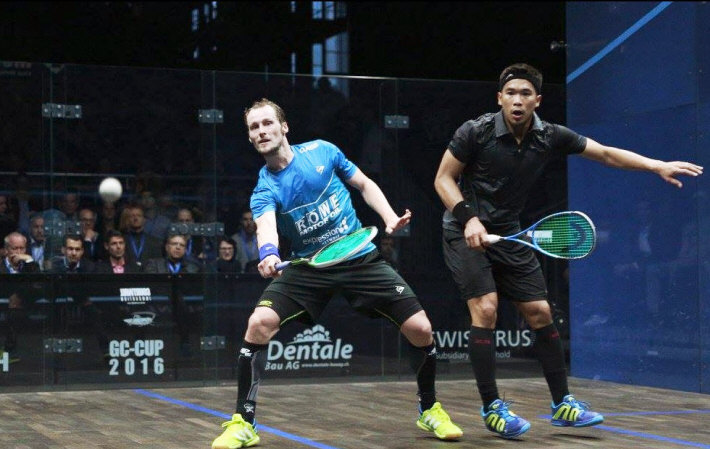 [1] Gregory Gaultier (Fra) 3-1 [Q] Nafiizwan Adnan (Mas)
11/8, 9/11, 11/9, 11/5 (53m)

Gaultier digs deep ...

Defending champion Gregory Gaultier was forced to dig deep during his opening encounter to overcome the challenge of qualifier Nafiizwan Adnan – the Malaysian who took the game to the Frenchman from the off and made life difficult for the World #2.

Adnan had already spent over 100 minutes on court to reach the first round, defeating Reiko Peter and Kristian Frost in qualification, and began like a man in match form as he countered Gaultier's traditionally strong starts, absorbing attacks and forcing the Frenchman to up his levels.

Gaultier edged the first but Adnan played with patience and determination to control periods of play in the second to level.

The third could have gone either way but Adnan began to show signs of tiring, which spurred Gaultier on as he retook the lead, and from the mid way point onwards in the fourth Gaultier who accelerated to move into the last eight.

"We've played a number of times and today I think he played the best that he has against me.

"I was struggling to find solutions and find my length but sometimes you have to deal with these things. I did what I could today and managed to get the win and I think we gave a good show for the fans.

"Last year was my first time playing here and I enjoyed it and won. I promised to come back so I wanted to live up to my word."


"The atmosphere was amazing here last year when I lost to Ramy but it was even better tonight and the crowd just pushed me so much, I don't think I would have been able to do it without them.

"The first game I was up and had game ball and even though I lost I knew I had made him work a lot and in the third I was feeling good and the crowd was a huge push.

"I'll go away and prepare myself for a big battle now on Friday."



[wc] Nicolas Mueller (Sui) 3-2 [8] Ryan Cuskelly (Aus)
10/12, 11/8, 9/11, 11/8, 11/7 (95m)

It's a home win in Zurich

Local hero Nicolas Müller came through an epic battle with Australian Ryan Cuskelly, ranked fifteen places above him on the World Rankings at #16, to delight the capacity crowd inside Puls5 and move into the quarter-finals.

Müller lost out in the first round last year after an agonising battle with Ramy Ashour but this time he was on the winning side of an equally tough battle, coming through from 2-1 down after 95 minutes of thrilling squash.

Müller started strongly but saw his early first game advantage wiped out as Cuskelly came from behind to take the lead. The local man, aged 26, levelled the match but Cuskelly surged forward again to retake the lead.

But with the crowd behind him Müller staged reasserted to level the match and held his nerve in the fifth to seal a huge win – his first PSA main draw win since January.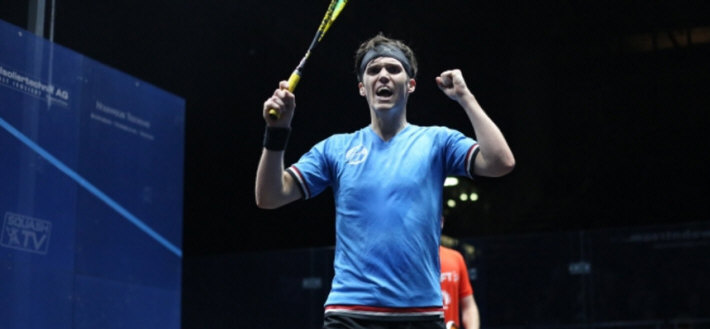 Chris Simpson (Eng) 3-0 [3] Mathieu Castagnet (Fra)
14/12, 11/9, 11/9 (64m)

Great win for Simpson

The first day at Puls5 concluded with a big upset as England's Chris Simpson beat third seeded Frenchman Mathieu Castagnet in three hard-fought games.

Simpson had the edge in the first two games, taking the first in extra points and holding on to a lead to double his advantage, then mounted a comeback from 4-8 down in the third that saw him claim one of his best ever wins.

"The first time I played Mathieu we were both 12, so it's strange that this was only our second meeting in PSA.

"The last time we played I was two-up and he beat me in five, those kind of matches scar you and you don't forget them.

"He's made a massive surge in the rankings recently and been playing very, very well and I'm trying to chase that and today I was very happy with how I played.

"Delighted to win and looking forward to playing Ali [Farag], he's really moved up into one of the best in the world in the last few months."