02-May, Qualifying Finals
[1] Mathieu Castagnet (Fra) 3-1 [7] Alan Clyne (Sco)
9/11, 11/6, 11/8, 11/4 (69m)
[3] Gregoire Marche (Fra) 3-2 Raphael Kandra (Ger)
11/8, 9/11, 6/11, 11/3, 11/2 (74m)
[4] Omar Abdel Meguid (Egy) 3-2 Ivan Yuen (Mas)
11/8, 9/11, 11/5, 2/11, 11/5 (65m)
[2] Zahed Mohamed (Egy) 3-1 Olli Tuominen (Fin)
11/2, 11/8, 7/11, 11/4 (36m)
Qualifying for the 2017 Grasshopper Cup concluded with French duo Mathieu Castagnet and Gregoire Marche and Egyptian pair Omar Abdel Meguid and Zahed Mohamed - the top four qualifying seeds - booking their places in the $100k main draw.


Castagnet came from a game down to beat Scotland's Alan Clyne.

"Always tough with Clyney.. such a steely competitor. Although it's not obvious with Alan, I felt him tire a bit in 3rd - not in his movement, more in his positioning on some certain pressure situations I was building. Told myself to stay on it all the way in 4th cause you know he's never going away.

"Very happy to be in the main draw again in Zurich."


Marche came through a five-setter with yesterday's giant-killer Raphael Kandra.

"Difficult to beat Raphi on such a dead court at front. So I really tried to get some weight on my deep balls & push him back.

"At 2-1 down I saw myself leaving Zurich so I just went back to 'basics' - work hard & be more patient than him."


Meguid also needed five games to get past Ivan Yuen, who like Kandra had a great result yesterday.

"It was a patchy match, an unforced error cost me the second. He outplayed me in the fourth and in the fifth I just tried to make it long. A little scrappy but Happy to have booked my spot in main draw."

Mohamed completed the top seeds' wins as he beat Finnish veteran Olli Tuominen in four games.


"First appearance for me at GC Cup. In the first two games I felt good on there, but Olli played well in the third & found some nice winners.

"I was able to regain control in the fourth - and I knew if I extended the rallies he would feel the effects of 7 matches in 7 days!

I'm really looking forward to playing Nick in such a great venue, I'm going to enjoy it and I hope the spectators in Zurich will enjoy the match also."
01-May, Qualifying Round One

Qualifying for the 2017 Grasshopper Cup got under way today at the Vitis Club in Zurich, with many of the players getting back into action just a couple of days after playing in the European Teams in Helsinki.
[1] Mathieu Castagnet (Fra) 3-0 Lucas Serme (Fra)
13/11, 11/9, 11/3 (48m)
[7] Alan Clyne (Sco) 3-0 Patrick Miescher (Sui)
11/4, 11/4, 11/6 (27m)

Raphael Kandra (Ger) 3-1 [6] Mazen Hesham (Egy)
11/8, 5/11, 11/7, 11/1 (50m)
[3] Gregoire Marche (Fra) 3-0 Dimitri Steinmann (Sui)
11/9, 11/7, 11/4 (46m)

[4] Omar Abdel Meguid (Egy) 3-0 Luca Wilhelmi (Sui)
11/5, 11/8, 11/6 (26m)
Ivan Yuen (Mas) 3-1 [5] Nafiizwan Adnan (Mas)
11/4, 14/16, 11/1, 11/7 (50m)

Olli Tuominen (Fin) 3-1 [8] Tom Richards (Eng)
12/14, 12/10, 11/5, 11/3 (45m)
[2] Zahed Mohamed (Egy) w/o Joe Lee (Eng)
w/o Joe withdrew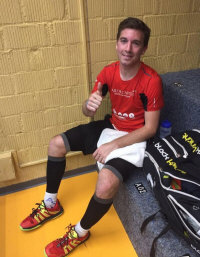 Mathieu Castagnet, fresh from helping France reclaim the men's European Team title, beat compatriot Lucas Serne in three games.

"The first two games critical cause I pulled back from 7-10 in first and 6-9 in 2nd. So unlucky for him but I knew the importance to keep pushing all the way at business end of those games."

Alan Clyne, also just back from the EuroTeams in Helsinki, despatched local Patrick Miescher in three.

"Happy with my performance straight after Euro Teams. ETC is a huge event for Scotland so it's first time Ive had to back up so soon afterwards. I've had plenty of big battles with Mathieu, so looking forward to another one tomorrow."


The first upset came as Germany's Raphael Kandra (just back from .....) beat seeded Egyptian Mazen Hesham.

"Last week I felt I played with improved consistency, and I'm feeling more comfortable and believing I can beat players of Mazen's quality.

"He surprised me early in first but I turned it around really well. I pushed myself to pick up his short balls and give it back with interest.

"This was the key along with staying strong mentally."

Kandra will play Gregoire Marche in the qualifying finals, after the Frenchman beat local Dimitri Steinmann.

"I really had to work him to win that one. After a big win on Saturday with the French team it's not an easy thing to back-up, even more so against such a young, hungry player like Dimitri.

"So pleasing to solve the first game and it was a good to have a really solid match today before the finals."


Another local fell as Egypt's Omar Abdel Meguid beat Luca Wilhelmi in straight games.

"That was a good first round, because the court is a little tricky, you need to adjust to the blue floor.

"Luca played well but I was able to dominate the T area and keep him movin more than me."

In the all-Malaysian match Ivan Yuen upset Nafiizwan Adnan (both just back from the Asian Champs in Chennai) in four games.

​"I lost a close match last week to Adnan, and we train together a lot.

"I knew he only arrived this morning so I really pushed hard from the start and just made sure that I stayed consistent.

"Although I lost the second it took a lot out of him, so I'm happy to be through and playin Meguid."


The final match of the day saw another upsset as Finnish veteran Olli Tuominen ousted second seed Tom Richards in four games.

"I'm ecstatic to win, especially after such a hard week at the EuroTeams, and I'm not exactly a 'junior' any more!

"The first two were really tough, so I nbeeded one of those. Then in the third and fourth he slowed a fraction which gave me a bit more time to control the game, and I think I managed it really well!"

Tuominen now plays Zahed Mohamed, who received a bye when Joe Lee was forced to withdraw.