04-May, Round One (bottom)
[7] Tarek Momen (Egy) v [Q] Mathieu Castagnet (Fra)
11-5, 11-3, 12-10 (36m)
[3] Gregory Gaultier (Fra) 3-0 Daryl Selby (Eng)
11-4, 11-6, 11-2 (35m)

[6] Simon Rosner (Ger) 3-1 Paul Coll (Nzl)
12-10, 4-11, 11-7, 11-5 (82m)
[2] Karim Abdel Gawad (Egy) 3-0 [Q] Grťgoire Marche (Fra)
13-11, 11-8, 11-7 (41m)
Seeds through to quarters in Zurich

The second day of round one action at Puls5 with four four matches, four more wins for the seeded players who will contest Friday's quarter-finals.
[7] Tarek Momen 3-0 [Q] Mathieu Castagnet (Fra)
11-5, 11-3, 12-10 (36m)
A Tarek Momen on fire in the first two games, with a Mathieu that seemed slow off the blocks, not moving to this normal speed to the front corners.

In the third, a big push from the Frenchman, 4/0, only to see Tarek score 6 points in a row. At 6/6, it was anybody's game, as it was at 9/9! Two silly errors from each player, 10/10, but it's Tarek that finally closes it down on his second match ball, 12/10.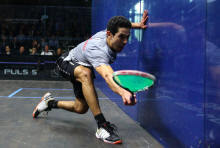 I was very happy with the way I played today, the first two games were fantastic, I felt I was 100% focused, I was doing all the right things.

Even in the 3rd game, it had to happen a little bit of loss of concentration, and he picked up his game quite well as well.

Mathieu is one of the toughest opponents you can get in a draw, and this is the first time we played on the PSA tour in 8 years! So I didnít know what to expect, I knew he had an injury break, itís amazing how well he recovered, Iím pretty sure he is going to keep on improving, itís maybe the second or third tournament after his injury come back, so well done to him, and Iím delighted to get through in 3 today.

The third was a bit nerve wrecking, he started to play so well, and I had a slow start, I was 4/0 down, I came back quite well, and then, I donít know, maybe the nerves crept in a little bit. I didnít played that bad I thought, we had some very good points between some silly errors. It was tough, I didnít want the match to go on, I really wanted to win in 3, otherwise, who knows, he could have kept playing better and better, and it could have gone tougher.

So Iím happy I managed to handle things mentally at the end, and push through to get a win in the tie-break.


[3] Gregory Gaultier (Fra) 3-0 Daryl Selby (Eng)
11-4, 11-6, 11-2 (35m)
PSA Report

A straight-forward 3-0 win over Daryl Selby, in which he rarely looked truly troubled, handed Gregory Gaultier a 20th consecutive PSA World Tour match win and a place in the quarter-finals of the 2017 Grasshopper Cup.

The Frenchman hasnít lost a match since the final of Januaryís Tournament of Champions Ė a streak that has seen him collect the Swedish Open, Windy City Open, British Open and El Gouna Open titles in succession Ė and he continued to show that he is the dominant force on the PSA World Tour as he overcame Selby in just over 30 minutes.

The scoreline is unflattering for the Englishman as he at times matched Gaultier and caused the former World No.1 trouble, but he couldnít manage to string the points together against Gaultier Ė who managed to step up through the gears at the crucial moments to secure the victory.
I tried to inject a lot of pace into it from the first point Ė we were both tired from the Europeans and itís always hard t0 back up after just a few days.

We all train hard and have we have played a lot of matches since January but we keep on going and going until we collapse!

I thought that we both played a good game and the scoreline maybe doesnít reflect the match. We had some hard rallies and I had to dig in and play defensive. I managed to get my skills to save me and I tried not to fall into his game Ė I got the right tactic to play fast from the first point.

Iím happy with the way I played and hopefully I can carry it on and my fitness will be there.


[6] Simon Rosner (Ger) 3-1 Paul Coll (Nzl)
12-10, 4-11, 11-7, 11-5 (82m)
PSA Reports

The opening game saw Coll open up an early advantage, looking for all money like he would strike the first blow. But RŲsner came back strong, using his backhand with precise and devastating effect to level the game and set up a tie-breaker Ė which he duly took courtesy of a stroke and an error from Coll.

Coll came back to level proceedings courtesy of a strong second game showing before a gargantuan third ensued, during which the pair pushed each other to the limit in all four corners of the court throughout a passage a captivating, all-action exchanges.

It was RŲsner though who prevailed Ė taking advantage of some favourable bounces on the way Ė to take a big physiological lead on the scoreboard. The introduction of a new ball in the fourth threatened to swing momentum back in favour of Coll as he went ahead early on but RŲsner continued to go from strength to strength to take the win and make up for his defeat against Coll in their last meeting at the Canary Wharf Classic in March.
As expected it was a really tough match Ė I was struggling to find my rhythm in the first game.

I was more positive when I was 8-2 down and managed to win that game, which is a big task against someone like Paul. At 1-0 down mentally it can be a whole different story so I was very happy to get that one.

I struggled again in the second and was a bit negative. In the third I tried to be more positive and take it forward from there Ė not think to much about the rest and it worked out for me.

He just keeps getting the ball back and that makes you impatient Ė I was playing good drops but he was getting them back. Itís easy to get frustrated in that scenario Ė I just tried to play my game and not focus on him.


[2] Karim Abdel Gawad (Egy) 3-0 [Q] Grťgoire Marche (Fra)
13-11, 11-8, 11-7 (41m)
PSA Reports
World No.1 Karim Abdel Gawad was in ruthless form as he dispatched Gregoire Marche in straight games to secure a place in the quarter-finals of the 2017 Grasshopper Cup to set up a last eight encounter with compatriot Tarek Momen.

The opening game was closely fought between the pair Ė going all the way to a 13-11 tie break Ė but from then on it was one way traffic as Gawad controlled proceedings to leave Marche frustrated at the end.
Greg is a very tough opponent Ė used to play with each other in juniors so I know heís a tough opponent, and a very tough first round, so Iím very pleased to get through in three,Ē said Gawad.

Everything that has happened to me this season is unbelievable. Iím very grateful to my team and everyone that has been supporting me for the past few years Ė there are still a lot of dreams and ambitions I have to achieve and thatís what I am working for, that's what I am playing for.


03-May, Round One (top)

[1] Mohamed Elshorbagy (Egy) 3-2 [wc] Nicolas Mueller (Sui)
11-8, 7-11, 7-11, 11-7, 11-4 (54m)
[5] Ali Farag (Egy) 3-0 Cameron Pilley (Aus)
11-9, 11-9, 11-4 (46m)

[8] Omar Mosaad (Egy) 3-0 [Q] Omar Abdel Meguid (Egy)
11-6, 13-11, 11-9
[4] Nick Matthew (Eng) 3-0 [Q] Zahed Mohamed (Egy)
11-8, 11-7, 15-13 (53m)
Matthew joins Egyptian trio
in Grasshopper Quarters

There were no upsets on the opening day at Puls5 in Zurich as Egyptian trio Mohamed Elshorbagy, Ali Farag and Omar Mosaad were joined in the quarter-finals by England's Nick matthew.
[8] Omar Mosaad (Egy) 3-0 [Q] Omar Abdel Meguid (Egy)
11-6, 13-11, 11-9
A few too many errors in the first game from Meguid, probably a bit heavy legs from his two hard qualifying matches, plus he is a famous slow starter.

A much better game from Hulk in the second, hitting hard, more accuracy and intend. Still 10/8 for the Hammer, a few discussions with the ref, three game balls saved, but it's still Mosaad 13/11.

All credit to the Dentist, as he took the lead in the third, only to see his lead disapear right at the end - maybe the lack of training he has due to his recent leg injury has got to do with it - with Mosaad finding superb length right at the end.
This season has been pretty bad for me, but I managed to focus these past two months. This win makes me really happy, itís giving me some confidence.

We are two big guys, so itís not easy to play against him. Of course, we play against each other in Egypt, so we know each otherís tactics, so itís really difficult to surprise him and change tactics. So Iím glad I sneaked the crucial second game, and the match!

Iím really happy to be here for the third time, itís a great venue, and itís great to play in front of this crowd, and I hope I do my best next round.



[5] Ali Farag (Egy) 3-0 Cameron Pilley (Aus)
11-9, 11-9, 11-4 (46m)
PSA Reports

Ali Farag put in a hugely impressive first round performance at the 2017 Grasshopper Cup to defeat Cameron Pilley in straight games and cruise into the quarter-finals in formidable form.

In what was surprisingly the first ever encounter between the duo on the PSA World Tour Farag was on form from the off, finding his lines and length with ease. It wasnít plain sailing for the former Harvard man though as Pilley matched him throughout the first, with the pair trading points through some engaging rallies.

But it was Pilley, with a clip of the out line, who handed first blood to Farag before an almost carbon copy second game ensued, with the pair again trading points tit for tat until a Pilley error allowed Farag to further his lead.

Down and deflated, Pilley dropped off in the third as the errors began to flow from his racket with Farag on hard to take full advantage and secure a big win.
It was very tough out there. I knew since seeing the draw that it would be a tough first round match.

In the first two games I was lucky because they could have gone either way. He just clipped the out line which I was very grateful for. Then, in the third, I took the momentum forward.

Itís funny that we hadnít played before on PSA but we played three times in the past few weeks in leagues and exhibitions, so I kind of knew what to expect. It was tough and I think I played ok in the most part, Iím just very happy to get away with the win.



[1] Mohamed Elshorbagy (Egy) 3-2 [wc] Nicolas Mueller (Sui)
11-8, 7-11, 7-11, 11-7, 11-4 (54m)
WITH A LITTLE HELP FROM MY FRIEND


Truly an interesting game. First game, Mohamed Elshorbagy focused, strong, powerful and in control, Nicki making too many errors.

But for the next two games, Mohamed was nowhere to be found, and Nicki was ROCKING THE PLACE!!!! Flags, chanting, Swiss audience tapping their feet on the wooden stands!!!! Felt like Egypt really!!!! And they carried the Swiss Rocket through, taking Mohamed to the throat, finding exquisite attacks, 11/7, 11/7!

But thanks to the support of the Egyptian Clan, Mohamed found his motivation out of nowhere, and just went to another gear, pushing the Swiss very hard physically in the 4th, to collect the dividend in the 5th, as "The Rocket run out of fuel", dixit SquashTV commentator John Williams...
Before I speak about the match, I need to thank Omar [Meguid], Tarek and Ali, you know. The way they helped me today was unbelievable. I needed that kind of push, it was a hard match to play emotionally. The way they kept with me and stayed with me throughout the whole match is unbelievable. So, really thank you guys for being with me today, really, thank you.

Nicki played great squash, I mean you guys should be really proud of what he did today, he played amazing, high quality stuff. Heís always had great potential. We grew up on the junior circuit, we actually played in the world juniors in 2008, and it was already a 3/2! Today was another battle. We are going to have more battles in the future. It was a very fair battle.

My brother Marwan only told me how wonderful this tournament was when he was sure not to play it himself! I think he wanted it all for himself!!! Iím sorry it took me so long to come here, but itís a great set up, packed from the first round!

A big thank you to the amazing crowd, they really made our sport special today.




When I play him I know I have to be at my very best just to be close. In the fourth I had a bad start and he got the momentum Ė and managed to silence the crowd.

I play my best when this amazing crowd are behind me. Then I started to get a bit tired, I was struggling to find my length and he then punished me. Without the crowd I wouldnít have got a game, but there are plenty of positives for me to take Ė especially because Iím moving around pain free.


[4] Nick Matthew (Eng) 3-0 [Q] Zahed Mohamed (Egy)
11-8, 11-7, 15-13 (53m)
If Nick dominated the first two games rather comfortably, it was a different story in the 3rd.

It took a little while for the Alexandria boy to get used to the glass court and in the third, he started to show what Amr Mansi Ė El Gouna and Al-Ahram promoter Ė saw in him for years, giving him the WC in Gouna Open twice or three timesÖ.

Zahed is not a flashy player. If you had to compare it to somebody I think Peter Barker would be the closest I would think of. And today, he truly pushed Nick on the last game Ė I feel that the Englishman Legend was happy to win in threeÖ. Zahed saved 2 match balls, had two of his own, seduced the crowd that wanted more of that great accurate/powerful squash, but bowed on Nickís third match ball.
To have a crowd like this in the first round is a real pleasure Ė hopefully they had a great time. Itís like a crowd we get a finals at some tournaments so itís great to be here,Ē said Matthew.

There was a quick turnaround after the European Teams so I wasnít sure how I would I would be coming in. These guys all keep getting better and Iím trying my best to stay up there. I canít take any of them for granted, the first rounds are so tough now days.