23-Jul, the Draws are made

The draws for 2014 edition of the ever-popular Cathay Pacific Sun Hung Kai Financial Hong Kong Squash Open were made today ...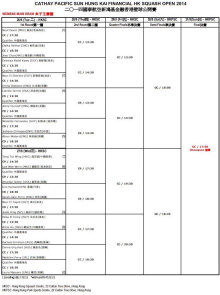 2014 Men's Draw 2014 Women's Draw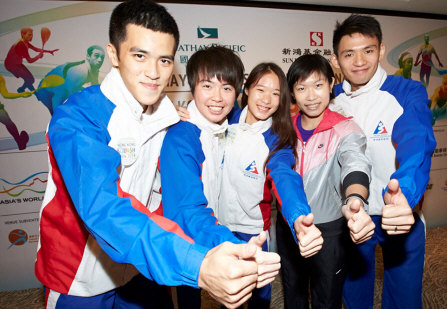 Gaultier and David
top 2014 draws

The early stages of the tournament will be held at Hong Kong Squash Centre before moving to Hong Kong Park Sports Centre for its semi-finals and finals.

Gregory Gaultier, the current world number one and British Open champion, is the top seed of the men's event and he will be facing one of the qualifiers in the first round.

Hong Kong's Max Lee qualifies for the main draw as it is the first time for a local home grown Chinese male player to enter the main draw direct and will meet the Englishman Daryl Selby.

Also, Yip Tsz Fung will compete in the main draw with his wild card for his first ever and face Simon Rosner (羅士拿)from Germany.

In the women's event, Nicol David, the eight-time HK champion is again top seed.

Joey Chan and No.8 seed Annie Au are qualified again to the main event, and will play Heba El Torky (艾杜其) from Egypt and Dipika Pallikal from India in the first round respectively.

Holding her first wild card, Tong Tsz Wing together with her teammates will join the top players in the main draw to display their skills in this world-class event. Tong will face the seed no. 6 Malaysian Low Wee Wern.