SUN 31-Aug, Day EIGHT: THE FINALS
First time lucky for Shorbagy,
Ten in a row for Nicol

[2] Mohamed Elshorbagy (Egy) 3-2 [1] Gregory Gaultier (Fra)
11/9, 11/2, 4/11, 8/11, 11/4 (97m)

[1] Nicol David (Mas) 3-0 Nour El Tayeb (Egy)
11/4, 12/10, 11/8 (39m)

First time lucky for Shorbagy


Mohamed Elshorbagy claimed the Hong Kong Open title in his first final, beating Gregory Gaultier, who was appearing in his fifth, in a dramatic climax at Hong Kong Park Sports Centre.

The Egyptian took the better starts, leading 5-1, Gaultier soon levelled but from 9-all it was Shorbagy who took the crucial points and te lead.

A few decisions and discussions at the start of the second seemed to get to Gaultier, and the second was quickly over 11/2 as Shorbagy doubled his advantage.


The Frenchman regrouped though, and from 3-all in the third pulled clear to get one back.

From 5-all in the fourth it was again Gaultier who accelerated away, amidst a few lets, disputes and discussions, and with 11-8 the decider was set.


Shorbagy made a great start to the fifth, helped by some Gaultier errors, and at 6-0 the Fenchman went flying over his opponent, but after a few minutes' treatment on his ankle he was back on court.

He came back determined enough, but the lead was too much, the closest he got was 4-7 before Shorbagy pulled away again to claim his second title in a week.

"It feels great," said a delighted Champion. "It's just really nice to see the work pay off like that, first in Malaysia and then backing it up here in Hong Kong has just been marvellous for me.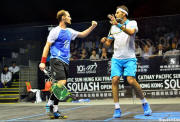 "It was very hard to refocus after his injury in the fifth, especially as he came back very strongly.

"At 7-4, he told me he was going to come back and ruin this match. I said, no, you're not going to. This was the mental war of the game. I'm happy as it fired me up and then I came back and won four points straight to win 11-4.


"I just can't describe how I feel right now. It's my first final here and I'm just really happy I was able to win it in my first time. It's such a prestigious event and to follow players like Jansher [Khan], [Amy] Shabana and Nick [Matthew] is something I'll remember for the rest of my life, that I was able to win it when I was 23.

"I would call this the most important trophy I've won right now.

"I have big plans for myself this year and starting it like this, by beating the World No. 1, is huge for me and my confidence. I want to keep it going for sure. I'm hungry for more titles. I want to keep it going.
and Ten in a row for Nicol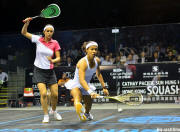 Nicol David extended her unbeaten run in Hong Kong to TEN tournaments and FIFTY matches, in a women's final that, while it was over in three games, was far from easy for the world number one.


True, David steamed away with the first, but Nour El Tayeb, appearing in just her second World Series final, pushed David all the way in the next two games, leading for most of the second but failing to take either of her two game balls, and only at 7-all in the third did David finally put paid to the young Egyptian's challenge.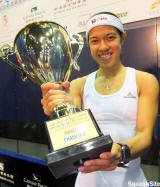 "I'm really pleased to win 3-0 and win in Hong Kong again," said David.

"Nour is an up and coming player and she never gave up, especially in the second when she really pressured me and played exactly to her game plan. I had to really focus and work hard to take four points in a row to win that game.

"It was crucial to win the second and not give Nour confidence and play her rhythm because she's proven why she's in these finals. I knew I needed that second game and then took it on full speed in the third game.

"I lost last week in Malaysia, but I always enjoy it here in Hong Kong and it's especially nice to win here again after last week's disappointment.

"I'll head home to Malaysia now, this is a good boost for my preparations ahead of the Asian Games coming up in South Korea."