Quarter-finals Part Two:

[1] Rachael Grinham (Aus) bt [Q] Tenille Swartz (Rsa) 11/3, 11/8, 13/11 (30m)
[2] Amr Shabana (Egy) bt [8] Mohamed El Shorbagy (Egy) 12/10, 11/4, 9/11, 11/9 (62m)
[4] Ramy Ashour (Egy) bt Tarek Momen (Egy) 11/6, 11/6, 11/6 (30m)
Camille Serme (Fra) bt [4] Rebecca Chiu (Hkg) 11/9, 11/13, 11/3, 11/6 (35m)

Quarters take two

The quarter-finals were completed today, and the men's draw saw two all-Egyptian clashes to delight the Hurghada and TV audiences.

First up though was Egyptian-resident women's top seed Rachael Grinham, looking to regain the title as she faced surprise package Tenille Swartz. The South African made a slow start, getting into the match just too late to thwart Grinham

Then second seed Amr Shabana faced world junior champion Mohamed El Shorbagy for the second time in a week, winning 3/1 once more but it was mighty close. Defending champion Ramy Ashour met Tarek Momen, the new Egyptian National champion, and looked more like his usual self as he cruised through in all the sixes.

The final match saw the only upset of the round as France's Camille Serme scored a second consecutive upset, ousting fourth seed Rebecca Chiu in four games.

"Definitely her experience showed through there, she holds the ball so well, you have no idea of where it's going most of the time. I didn't really know what to do in the beginning, but I got more into it as the match progressed.

"I'm happy with my game and how I played, I played the game I should have done against her, but well done to her ..."



[1] Rachael Grinham (Aus) bt [Q] Tenille Swartz (Rsa)
11/3, 11/8, 13/11 (30m)

Tenille just short

Just like yesterday's opening match, this was a meeting between a Hurghada veteran and a surprise newcomer, and it started the same way, with Tenille Swartz struggling to get into the match.

The first game was over in a flash, Rachael Grinham's drops, boasts and floats to the back corners finding their marks.

Slowly the South African got into the match though, managing to extend the rallies, making Rachael work harder and forcing a few errors from the Australian's racket.

Tenille led 8/6 in the second, but a couple of errors and Rachael was soon back in, and soon two games to the good.

She led 9/4 in the third too, and although Rachael helped her along the way with a number of tins, the top seed tightened up her game, came back to 8/10, saved a game ball at 9/10 before eventually closing out the match to move into yet another Hurghada semi-final.

"She was definitely uncomfortable in the first, it gave me a good opportunity to get ahead, I wasn't sure how it would go as I've not played her before.

"Then she started to get into it and the rallies became tough. I was confident because I've got experience of playing here, on this court, and when I was down in the third I was just trying to keep it going, to make her win it rather than give it to her.

"I was a bit luck to get a stroke at 9/10, I only expected a let, but with this scoring you can drop a game so quickly and one can become two so easily, I was just grateful to be able to close it out in three."


[2] Amr Shabana (Egy) bt [8] Mohamed El Shorbagy (Egy) 12/10, 11/4, 9/11, 11/9

Closer and closer ...

When these two played in the World Open in October it was a comfortable win for Amr Shabana. After they played last week in Canary Wharf Shabana was asked how good his young opponent could be. "He's too good already," was the answer, and although the result was the same as then, 3/1 to the experienced man, the youngster was closer again tonight.

Shorbagy was unafraid to attack all evening, Shabana was often forced into the unaccustomed role of the defender, but both played their games well. True, there were some short sharp exchanges, but these were punctuated with long, "English rallies" as Shorbagy would call them.

The youngster held his own through an even first game, earned himself a game ball with two consecutive fortunate nicks at the back, but Shabana held firm to take the lead.

When Shabana took the second at a canter it looked as though it could be all over, but Shorbagy would have none of that. Again it was even all the way, again Shorbagy earned a game ball. A monster rally which burst the ball had to be replayed, but eventually Shabana tinned as Shorbagy pulled one back.

There was nothing to choose in the fourth either, long, fast paced rallies traded between them, but two mistakes from Shorbagy put him 8/10 down. Four lets before the first match ball was saved with a fine drop. On the second Shorbagy was still appealing for a ball he thought went out on the sidewall ball when he appealed for a let on Shabana's dropshot.

Both were denied, and the master was through, with a big sigh of relief ...

"It's pretty tough to see the ball on there, and when you're playing someone who has no pressure on them, who keeps attacking and attacking, it's difficult. I thought I did well considering I couldn't see the ball and I was always on the defensive, trying to contain him all the time.

"Every time he plays the top guys it's more experience and a learning process for him, he reminds me of myself when I was coming up, playing the top guys with no pressure on me - it's different when you're up there ..."


[4] Ramy Ashour (Egy) bt Tarek Momen (Egy)
11/6, 11/6, 11/6 (30m)

More like Ramy

"That's better," was Ramy Ashour's first comment after the defending champion had reached the semi-final in some style.

And so it was, much more like the Ramy we know than his edgy first round match, the world champion was pretty much in control from the word go, and never let up.

not that Tarek Momen, the surprise winner of last week's Egyptian Nationals played badly, not at all, but although he managed to stay in touch for the early part of each game, the World Champion just seemed to step up a gear once the finishing line approached, converting leads of 8/6, 6/4 and 6/5 into comfortable game wins.

More like it Ramy, more like it ...

"That was much better than before, wasn't it!

"I've been a bit lacking in rhythm, I've been trying to get back the appetite of winning, to focus more before I go on court, make sure I'm up for it, trying to get myself going as fast as I can. I know if I'm ready before I go on court I'll play well, whether I win or lose.

"Tarek played well, he made a few errors but we both did that. I'm happy with how I played, I hope I can keep going like this without thinking too much, which is my problem ..."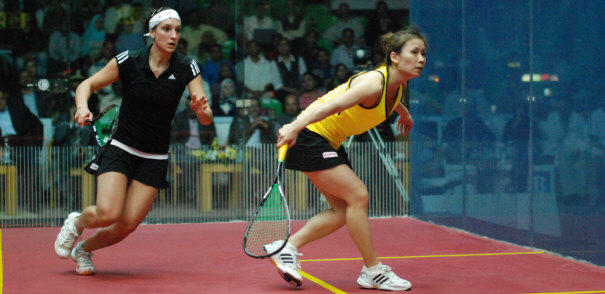 Camille Serme (Fra) bt [4] Rebecca Chiu (Hkg)
11/9, 11/13, 11/3, 11/6 (35m)

Serme skates into semis

The only upset of the quarter-finals came in the last match to be played as Camille Serme continued to upset the odds and reach the semi-finals.

It didn't start too well for the French champion, who fell 7/3 behind to the nimble Rebecca Chiu, seeded four. But amid a series of intense rallies she fought her way back into contention, saving two game balls and taking it with a trademark volley drop.

The pattern was repeated in the second with Rebecca again 7/3 up, and although Camille once again closed the gap, this time she tinned an easy dropshot at 11/12 and we were level.

On the last couple of points in that game Rebecca looked to be struggling with her footing, and had the court swept in the game interval. In truth, the conditions were definitely calmer and more humid than yesterday.

Not that the court sweeping did her much good, as Camille raced into a 6/1 lead with some dropshots that her opponent couldn't reach.

Camille pressed home her advantage, took the third comfortably and started the fourth in similar vein, Rebecca looking far from comfortable, and soon enough resigned to her fate as Camille moved into the biggest semi-final of her short senior career ...

"I can't feel too happy about winning that, the first two games were tough but it was getting slippy out there, she couldn't fight too much in the last two games and almost gave it to me. Still, it's the same for both of us and she didn't complain after winning the second.

"It's so nice to play here, it's huge for me to make the semis. I have to find a way to get my name printed onto the back of my shirt, I've never needed to have that before!"



"She played well, and she moved better than me today.

"It was getting slippier all the time. I couldn't do much in the end - I couldn't stop, and when I did stop I couldn't get started again - mi ice skating skills aren't very good!

"Oh well, it happens, it's just bad luck ..."