TODAY in Egypt ... Thu 2nd April, Day SIX
Semi-Finals:

[3] Omneya Abdel Kawy (Egy) bt [2] Jenny Duncalf (Eng) 12/10, 11/6, 7/11, 13/15, 11/6 (64m)
[3] Gregory Gaultier (Fra) bt [1] Karim Darwish (Egy) 10/12, 11/4, 12/10, 11/7 (56m)
[3] Ramy Ashour (Egy) bt [2] Amr Shabana (Egy) 11/7, 9/11, 11/7, 11/7 (40m)
[1] Rachael Grinham bt Camille Serme (Fra) 11/7, 11/8, 11/3 (30m)


Champions still on course

Two of today's semi-finals were repeats of last year's finals, and defending champions Omneya Abdel Kawy and Ramy Ashour turned in repeat performances to beat Jenny Duncalf and Amr Shabana, both far from easy victories though.

The women's final will see Omneya take on three-time champion Rachael Grinham after the Australian ended the run of France's Camille Serme, but there will be a French presence on Saturday after Gregory Gaultier ended hopes of an all-Egyptian men's final with a hard-fought victory over top seed Karim Darwish.

| | | |
| --- | --- | --- |
| | | |
[3] Omneya Abdel Kawy (Egy) bt [2] Jenny Duncalf (Eng)
12/10, 11/6, 7/11, 13/15, 11/6 (64m)

Omneya hangs on to her crown

The Hurghada crowd were delighted at the end, but Omneya Abdel Kawy gave them a few worrying moments along the way to her win over Jenny Duncalf, a repeat of last year's final.

It all started well enough for the Egyptian, who held a slender lead for most of the took the first game before taking it on extra points, both players mixing winners and errors in equal numbers, then doubled the lead fairly comfortably.

Jenny wasn't done though, and she came back strongly at the start of the third, cutting out the errors and making the rallies tougher as she pulled one back.

The Englishwoman had more work to do in the fourth though, falling behind early and finding herself 7/10 down. Omneya never looked like winning any of those match balls though - or the one she got at 13/12 (everyone was a little confused when the ref called it 13/11 ...), and soon enough we were heading for a decider.

The crowd, vociferous when their favourites are winning, go eerily quiet when they're losing, but there was little cause for quietness in the fifth as Omneya again held sway and the lead for the most part, although it wasn't for lack of effort from Jenny.

It only took one match ball this time, at 10/6 Jenny - a little frustrated with a couple of decisions at the end of the game - put her service return straight into the tin. Omneya was through and the crowd were in raptures ...

"My movement wasn't the best today, but she played really well. She never starts well against me, but after the worlds I could tell she was focusing to get revenge so I knew it was going to be much tougher for me.

"I put a lot into the tin in the third, but she came back well. I don't know what I was thinking on those match balls in the fourth, the crowd were very quiet then which doesn't really help me!

"I'm looking forward to the final - it's nice to have a rest day, it's like a grand slam in tennis! - and hoping to fix a few things and play better then ..."


[3] Gregory Gaultier (Fra) bt [1] Karim Darwish (Egy)
10/12, 11/4, 12/10, 11/7 (56m)

Gaultier in the zone

"Tough match," was Philippe Signoret's comment immediately after his compatriot Gregory Gaultier had advanced to the final at the expense of world number one Karim Darwish.

It surely was too, they both really wanted this one, with a major championship and valuable ranking points at stake, and a long period without major events coming up why shouldn't they.

There was nothing to separate them in the first, Darwish more often than not the odd point ahead, but it could have gone either way and the Egyptian was grateful to see Gaultier's final shot hit the tin.

The Frenchman came out quickly in the second, and 7/1 was always going to be enough to ensure matters were levelled.

The third was a repeat of the first, apart from Gaultier taking it at the death, and the fourth looked to be heading the same way, but from 6-all a calm determination seemed to settle over Gaultier - he never looked like making a mistake, or losing his calm as he had almost done a few times previously, earning a few admonishments from the referee.

But no, in the endgame Greg was calm, determined, and there was little Karim could do about it. You might have expected a strong reaction at the end, but Greg just turned, shook his opponent's hand and exited the court ... still in the zone probably, knowing there's one more task to perform on Saturday.

"I really wanted to win that one, especially here. I knew it wasn't going to be easy, there would be a lot of things against me, I had to stay focused and keep my cool.

"I tried to keep the pace high all the time to stop him being able to play his shots, and I think I did that well, it was a tough, close game.

"I'm really happy with my performance and looking forward to the final now ..."


[3] Ramy Ashour (Egy) bt [2] Amr Shabana (Egy)
11/7, 9/11, 11/7, 11/7 (40m)

Ramy does it again

Another repeat of last year's final, and another repeat performance from the defending champion.

If the previous men's match was tough, hard rallies, nothing taken easily, this was fast-paced, short sharp rallies, and although neither Ramy Ashour or Amr Shabana exactly threw caution to the winds, neither let more than a handful of opportunities to attack pass them by.

At times it was breathtaking squash, fantastic retrieving, flicks drops and lobs that should have been winners returned with interest, again and again. The crowd were strangely restrained, not sure who to support, with bursts of polite applause greeting some of the rallies, but never exactly raucous.

They played as many points as Gaultier and Darwish, but they played them faster, the pace getting even higher as Ramy got close to victory. They were both flying around the court at the end, and as Ramy put away a final interception he did a little victory jump with half twist that would have graced an ice-rink ...



"In the last ten days he's felt heavy, but today it was totally different, he was so flexible, so fast to the front and his flicks and counter-drops were just amazing today ..."



"I'm really glad with how I played today, I got a few lucky shots in the middle, but it's never going to be easy to beat Shabana, you always have to have a lot of things go your way to do that.

"You have to be very focused and clear and I was pleased with that aspect today ..."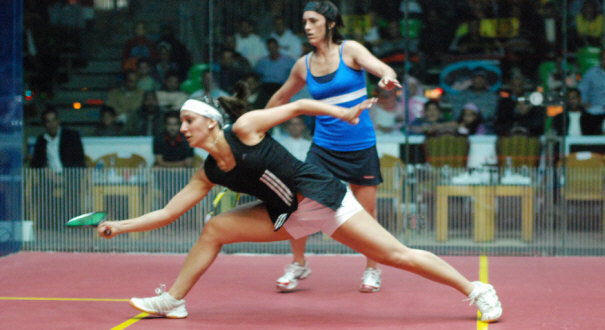 [1] Rachael Grinham bt Camille Serme (Fra)
11/7, 11/8, 11/3 (30m)

Rachael's home win

Not that you'd call any of the previous results stunning upsets, but they all went against the seeding, so it wasn't until the last match of the day that the 'expected' player finally came through.

Hurghada veteran Rachael Grinham knows this court and these conditions like the back of her hand, although it took her until the third game to start opening up and deploying her impressive arsenal of flicks, boasts and lobs that confound so many opponents.

Up until then Camille Serme had acquitted herself well, was well in contention for the first two games but despite matching her for court coverage and shotmaking could never quite get ahead in the scoring to put some real pressure on the top seed.

The third ran away from her quickly though, 5/0 always looked decisive and so it proved as Rachael moved one step away from a fourth Hurghada title.

The only trouble is, it's Omneya and that crowd standing in her way. "It must be my turn to win this time," she appealed at the end ....

We'll see on Saturday.

"I'd never played her before, only seen her play twice and she looked quite good, good racket skills and good on the volley, so I wanted to play as simple and safe as I could at the start, not do anything stupid.

"She put up a tough fight in the first two, but I was a bit more confident going into the third, and it was a long way back for her from two down.

"Omneya again then, it must be my turn ..."