Fri 5th May, Day FOUR:
Semi-Finals Day in St Clement
SEMI-FINALS STREAMING & REPLAYS

[1] Milou van der Heijden (Ned) 3-2 [4] Julianne Courtice (Eng)
11/9, 9/11, 11/9, 9/11, 11/7 (51m)
[Q] Lisa Aitken (Sco) 3-0 [3] Alison Thomson (Sco)
11/6, 11/7, 11/4 (34m)

[1] Iker Pajares (Esp) 3-2 [7] Emyr Evans (Wal)
9/11, 11/6, 11/4, 9/11, 11/5 (67m)
[2] Jaymie Haycocks (Eng) 3-2 [4] Rui Soares (Por)
11/6, 9/11, 16/18, 11/9, 11/7 (66m)

TWITTER UPDATES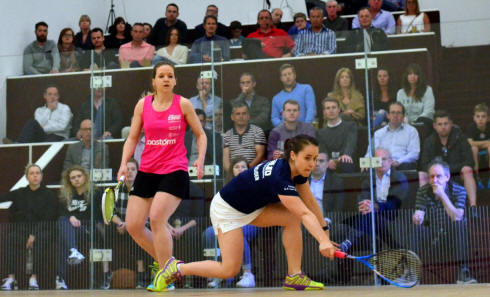 Aitken joins top seeds in Jersey finals

Women's top seed Milou van der Heijden survived a tense five-game encounter with Julianne Courtice, both players taking and losing leads as the first four games were shared.


Milou recovered from 1-4 to take the first, Julianne levelled after being 2-5 down in the second, Milou almost let a 9-3 and 10-7 lead slip in the third, then Julianne recovered from 1-4 and 3-7 to take the fourth. All four games finished 11-9, but it was never 9-all!

The Dutch number one made a good start to the decider, leading 4-0, but again Julianne fought back to lead 5-4. From 6-all Milou started to get the upper hand, and finished off the match 11-7 in 51 minutes.

"Really happy to come through that," she said. "It was a very good game, we were both trying to outhink each other tactically.

"After losing a lead in the fourth I was happy that I was able to stay strong in the fifth and take that one."
Milou will face Lisa Aitken for the women's title after the qualifier - who beat the second seed in her opening match - won an all-Scottish match against Alison Thomson in three tough games.

Aitken was full of energy and aggression as she forged leads in all three games, third seed Thompson closing them down in the first two but unable to quite get back on terms, and succumbing at the end of the third.

"I'm just happy to be back playing after almost two years out," said Lisa. "I've made three semis in a row in my three tournaments back so it's good to reach a final at last.

"I love it her, the Island, the club, the people are all great, so really looking forward to tomorrow."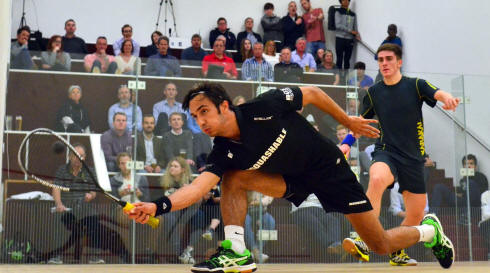 Men's top seed Iker Pajares was equally tested, taken all the way by Emyr Evans. The young Welshman took the game to his higher ranked opponent from the outset, thoroughly deserving to take the lead as he cotrolled affairs in the first game.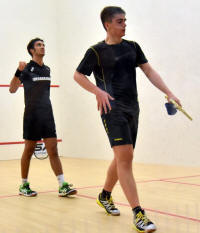 Pajares struck back to take the next two games but Evans found something extra to fight back at the end of the fourth to force a decider. From 4-all in the fifth it was the Spanish top seed who asserted though, to reach the final with a series of crisp winners.

"It's my third tournament in a row, so I'm feeling it a little," he said, "but I really didn't expect Emyr to play that well, he was very sharp, very confident. Everyone is so close, you have to be at 100% to win these games.

"I couldn't close it out in the fourth but was happy with how I played at the end and pleased to reach another final."
Second seed Jaymie Haycocks completed a third successive five-game win as he survived another tough encounter, coming from one-two down to consign Rui Soares to a second consecutive five-game
Jersey semi-final defeat.

Haycocks looked comfortable as he took the first, then came from 1-8 down to 9-8 in the second before Soares levelled. The third was a monster game, both having several game balls as Soares took the lead 18-16.


The Englishman took the last two games, fighting back from 6-8 in the fourth and 3-6 in the fifth to deny the Portuguese a place in the final.

"Delighted to get there in the end," said Jaymie. "He's very good around the middle and I was struggling to get him to the back, so I had to just dig in and run around!

"I don't feel I've played my best this week, but three three-two wins and I'm in the final - I'll take it!"