[1] Amr Shabana (Egy) bt [2] Ramy Ashour (Egy)
11/9, 11/7, 13/11 (52m)
MIGHTY SHABANA…

If last week, those two gladiators fought like lunatics at the front, playing "Ramy style", as in astonishing shots from all angles and forms, today, they battled "Shabana style", as in perfect length, tight drives, hitting hard and accurate from the Prince of Egypt, with a Ramy struggling to find his balance, rhythm and flair.


And as ever, Shabana took splendid starts: 8/3 in the first, 8/1 in the second, and 6/0 in the third. But if last week, Ramy sneaked back every time, today, Shabs wouldn't have it, and kept on blasting length, glued to the wall drives, preventing Ramy from taking the ball as early as normal, and forcing him to attack in terrible conditions, hence so many tins, hence frustration from Legend Ramy, hence more unforced errors.

All credit to the boy, 2/0 and 6/0 down, he kept pushing, and started playing clever squash, lobbing, counter-attacking, finding some superb and genius shots. And if he saved two match balls, at 10/8 and 10/9, Legend Ramy couldn't transform his game ball at 11/10, and Shabana didn't miss the third opportunity to take the match.

This victory will be particularly sweet to Shabana, as it was here that last year, Ramy beat him for the first time ever. And I guess that if you've got to put the clock at the right time, why not do it in the bmggest event of the year….

Clever boy…
Today, my game plan against Ramy was to play perfect squash, and that's what I had to do to beat him, play perfect wquash. And I stick to my plan until 6/0 in the 3rd, where I saw a twinkle in his eye. And tlat's never good, to see a twinkle in Ramy's eye, because you know he is going to come back.

And I could see him hurting, but I saw him make a last push. And that's why I'm so happy to have won 3/0, I'm so happy to beat Ramy today.

I played differently than I did in Hurghada last week, where I had so many chances to finish the games, and didn't take them, so today, I made sure that I was finishing every game, and not giving him any chances, because if you do give him a chance, he'll eat you.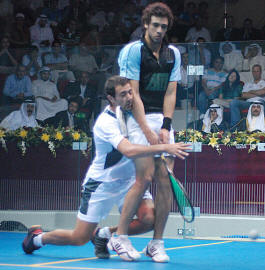 I don't know why, but I always seem to have terrible start against Shabana, and today, again, like last week in Hurghada, I never took a good start in any of the games.

I've got to give myself credit for the way I played at 7/10 match ball, I kept my best squash for this end, and yes, my hamstring was hurting, and my feet… And I guess that things could have been different if I had taken the third game, I know I would have pushed and pushed.

But I don't want to take anything away, the man was too good today, he played the right shot at the right time, he was accurate, precise and fast. He fully deserves it.

I'm happy I went in the final, and that I'm finally enjoying it. And like Shabana said last week, today, I lost against of the World number 1, that's not too bad….