Monday 19th, Finals Day:

Power and Garner beat Parke and Meads 11/9, 11/7

3rd/4th: Peter Nicol bt Nick Taylor 11/9, 11/7

Final: Anthony Ricketts bt John White
9/11, 11/7, 12/10, 9/11, 11/3
Ricketts Rides Back in with a Win!


Anthony Ricketts has waited five long year's for a return to competitive action, and the hunger was evident as he battled past ex-World no.1 John White to lift the 2nd edition of the 9 Telecom Squash Legends event at St. George's Hill. It was a fitting finale to a weekend of word-class squash from the Legends, with both players displaying a mixture of court craft, agility and cunning to work their opponent over five tough games.

The first set the tone as Ricketts carefully worked his way to 9/7 before White exploded into action to edge it 11/9. However, the efforts seemed to have taken more out of White as the Ricketts again surged ahead closing out the game in impressive style, using both determination and guile to nullify White's impressive striking and then lead 8-4 in the third. White bounced back to level at 8-8 before both players raised their game trying to gain the upper hand. A quick racket change by Ricketts seemed to do the trick as he squeezes out the game 12/10.

White wasn't done and fired in a three wall boast nick followed by an un-returnable forehand straight kill to seize the momentum in the fourth. Despite looking to have run out of energy White managed to throw himself around the court, and on least one occasion was fully off the ground diving for a ball. The final rally of the game had both players diving, White's final one forcing an error from his opponent to set up a decider.




Both players were clearly keen to get their hands on the trophy but it was eventually 'youth' that prevailed as Ricketts maintained an impressive pace through the fifth, forcing White into even more ambitious winners that started to find the tin. After a little over 65 minutes play Ricketts closed out the final to be crowned champion.

Afterwards he explained how much it meant to be back playing 'Obviously it was tough having stopped my career when I still felt I had a lot more to give, so without getting too sentimental I just want to say how great it is to have the opportunity to get back on court and play with these guys. A big thank you to sponsor Nine Telecom for putting up the money as without it these type of events don't happen, Danny Lee and the St. George's Hill Club for all their efforts and to Tim & Peter of Eventis for coming up with this concept and always looking for ways to move things forwards.'




Earlier in the evening Peter Nicol made up for the disappointment of losing his first Legends event by beating Nick Taylor in a fast and furious match to secure third spot. The evening had kicked off with Jonathon Power & Tim Garner teaming up to despatch Simon Parke & Stephen Meads in a doubles matched played on the full size doubles court.


Day Three: Sunday Results

Nick Taylor bt Tim Garner 11/9, 11/4
Anthony Ricketts bt Steve Meads 8/11, 11/8, 11/5
John White bt Jonathon Power 13/11, 11/5
Peter Nicol bt Simon Parke 12/10, 4/11, 11/8
Day Two:
Ricketts takes control


Following on from his win over Peter Nicol on Friday, Anthony Ricketts continued to impress in his Legends debut with a 2/0 win over Simon Parke to take control of Group B. The Australian is looking good for a place in the final, with Nicol and Parke relying on Steve Meads to give them a chance of progressing.


John White is in a similar played 2 / won 2 position in Group A after coming from a game down to beat Tim Garner, but his next opponent is Jonathon Power, who had to retire with an injured elbow during his match with Nick Taylor.

The Canadian is still hopeful of playing on Sunday, but the odds must favour White to clinch a place in the final. Should Power recover sufficiently to register a win, a Taylor victory over Garner would set up a three-way tie at the top.
Saturday results

John White bt Tim Garner 9/11, 11/6, 11/3
Nick Taylor bt Jonathon Power 4/11, 8/2 rtd *
Peter Nicol bt Steve Meads 11/7, 11/7
Anthony Ricketts bt Simon Parke 11/9, 11/9
Ricketts inflicts rare defeat on Nicol


While most of the results went the expected way on the opening night of the 2011 edition of the 9-Tel Legends at St George's Hill, Legends debutant Anthony Ricketts made an immediate mark by defeating the defending champion Peter Nicol.

Jonathon Power and John White beat Tim Garner and Nick Taylor, both 2/0, to take control of Group A, and Simon Parke got off to a winning start in Group B with a two-game defeat of Steve Meads.

It was Ricketts though, making a welcome return to action after retiring from competitive squash in 2007, who threw the cat amongst the pigeons by inflicting a first-ever Legends defeat on Nicol in a high-paced encounter that went the full three games.
Friday results:

Simon Parke bt Steve Meads 11/8, 11/5
John White bt Nick Taylor 11/8, 11/8
Jonathon Power bt Tim Garner 11/7, 11/7
Anthony Ricketts bt Peter Nicol 8/11, 11/4, 11/8
Photos from Jordan Mansfield, jordanphoto.co.uk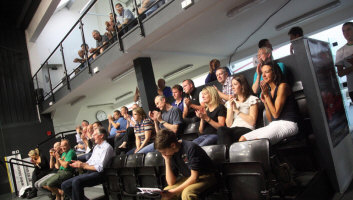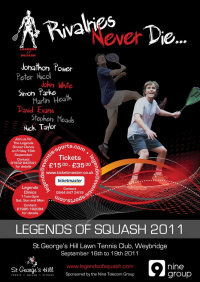 Tickets available
from the Club only:
01932 843541
Group A
1. John White W3
2. Nick Taylor W2
3. Jonathon Power W1
4. Tim Garner W0

Group B
1. Anthony Ricketts W3
2. Peter Nicol W2
2. Simon Parke W1
4. Stephen Meads W0