Monday 17th Sep, Day FOUR:

Doubles: Meads&Parke bt Garner&Ryan 7/11, 11/9, 1/0

3rd/4th: John White bt Peter Nicol 11/9, 9/11, 11/9

Grand Final: David Palmer bt Jonathon Power
9/11, 14/12, 11/8, 11/7 (75m)


Palmer Powers Home in Legends Final

The tag line 'Rivalries Never Die' was never more appropriate than in a combustible final between David Palmer and Jonathon Power.

Both former World Number Ones and World Champions, they went at each other toe to toe trying to wrestle the 'T' and the initiative from one another.

Palmer took the lead in the first, building up a solid 9/5 start but some unforced errors allowed Power back into it and a final one in to tin gave the Canadian first blood.

The action really heated up in the second as both players stepped up court and the pressure on the referee as the match deteriorated into a bit of a street fight. With neither player prepared to back down and recognising the potential significance of the game, the crowd were treated to an old school encounter with both players trying to manoeuvre each other with the ball and their bodies!

Power had chances to open up a two game lead but Palmer held his nerve saving two game balls and eventually winning it on a Power 'No Let'!

The third settled down a little as Palmer got a little bit of a stranglehold and won it in relative comfort but Power wasn't quite done.

He raised his game another notch to race to a 6/1 lead and it looked as though a decider was on the cards, but Palmer steadied the ship and charged to match ball in double quick time as Power started to look like he was in some physical discomfort.

A couple of trademark trick shots saved two match balls but after 75 minutes of enthralling squash it was Palmer who was crowned Nine Telecom Legends Champion.

In an interesting twist of fate the two finalists will line up against each other on the opening night of the Xodus Group Aberdeen Legends on Friday.

Power will be looking for revenge, and the crowd will be looking forward to another instalment in the rivalry.



Meads/Parke Combo Nick Doubles Win

Stephen Meads and Simon Parke won the sudden death point to seal a win in the doubles that opened up the evenings entertainment at the Nine Telecom Squash Legends at St. Georges Hill.

Derek Ryan & Tim Garner won the first, albeit in the midst of some confusion with the referee having been told the play was to 15, while all four players were happy with 11!

The pace increased in the second with both teams looking to get a win on the board, and after several mad cap rallies with the ball firing between limbs and past heads it was the Parke/Meads combination that edged it.

The one point shoot out was a cautious affair until event organiser Garner had clearly seen enough and put the ball into the top of the tin!

White hot for 3rd



John White was in his usual maverick form in the third/fourth play-off with Peter Nicol.

Always being a bit of an entertainer it was the perfect stage for White to display his full array of shots, normally played with extreme force.

The first game was played in great spirits with both players engaging with good humoured banter with referee Malcolm Whitely.



It was White who opened a first and decisive lead 8/4 and despite Nicol throwing himself around the court to peg back the deficit, White edged it 11/9.

The second was a role reversal, at least in terms of scoreline with Nicol leading 9/3 and White getting back to 9-all before losing out 9/11.

The decider was nip & tuck all the way and a 8/7 it was anyone's but it was White who set up first match balls.

Nicol save two but on the third attempt a straight volley kill saw White close out the encounter in style.














Sunday 16th Sep, Day THREE:

Simon Parke bt Steve Meads 11/6, 11/8
Derek Ryan bt Tim Garner 11/5, 11/9

Semi-Finals:
David Palmer bt John White 10/12, 11/7, 11/5
Jonathon Power bt Peter Nicol 11/7, 11/2

Semi-finals day at St George's

Well, technically it's the final round of Pool play, but with the 'big guns' of David Palmer, John White, Peter Nicol and Jonathon Power all having a won-two-lost-none record, tonight's final two matches are in effect the semi-finals, with the winners progressing to Monday's Grand Final.

Palmer still unbeaten

David Palmer maintained his unbeaten record on the Legends Squash Tour with an action packed 2-1 win over long-time friend & rival John White.

As expected it was a big hitting affair with both players striking the ball fiercely to all corners of court much to the delight of the crowd. White was on great form, not just with the racket but also chatting to the referee, the crowd and indeed himself.

Palmer kept his concentration early on but White managed to find is range when game ball down saving two and then closing it out at the first attempt as Palmer unusually clipped the tin with backhand drop. However, he kept his cool at the start of the second in the face of some ferocious ball striking from White and somehow managed to keep a very hot bouncy ball under control to win the game.

The third followed a similar pattern and although Palmer started to look a little weary it was White who tired and towards the end was forced to dive to try and stay in the rally, each time causing a welcome rest as the court was cleaned.

Finally, after just under 50 minutes of swash buckling squash it was Palmer who was the victor and the first name in Monday night's final.

Power Imperial

Jonathon Power put in an imperious performance on Super Sunday to put arch rival Peter Nicol to the sword and set up a potentially explosive Monday night final with David Palmer.

The opening game was classic, with both players clearly enjoying renewing their rivalry. Each trying to find ways to expose their opponent using all the court-craft they could muster. Power is certainly in the best shape he has been in for a couple of years, and was moving quickly on to Nicol's drops at the front giving himself enough time to hold, flick and drive the ball away from his opponent.

Nicol battled valiantly but could do little to halt the tide of winners and it was the mercurial Canadian that took the first. The second was a one-way rout, albeit played at high intensity and with no quarter given. Power is never one to give away points and he was merciless as he moved to 9/0 and it was only a sidewall nick that got Nicol on the scoreboard at all!

A few rallies later and it was all over and a much awaited final between the 'Marine' Palmer and the 'Maestro' Power will now have top billing on the Monday night.

Parke & Ryan Pick-up Consolation wins

Simon Parke & Derek Ryan picked up consolation wins in Nine Telecom Legends with wins over wildcards Stephen Meads & Tim Garner, respectively.

Parke got the evening's entertainment under way with a straight games win featuring the pairs trademark court coverage. Parke led 4/1 in the first, before Meads moved to 5-4, but another run of points saw Parke home 11/6. The second followed a similar pattern with runs of points being punctuated by some tough rallies necessitating a few chats with the referee to get their breath back!

It looked to be all over as Parke moved to 10/5,but Meads was far from done saving 3 match balls before falling a couple of points short at 8/11.

Ireland's 208-capped Derek Ryan picked up his first win in the other pool with a hard fought 2-0 win over Eventis' Tim Garner. The lanky Irishman was always in control of the first game using his reach to good effect to cut the ball off on the 'T'.

Clearly keen to pick up his maiden win in the event Garner came back strongly in the second but could never pull ahead. They were level at 6-6,7-7,8-8 and 9-9 with the rallies getting increasingly tougher as both players strained for a potentially decisive game win.

Eventually it was Garner's resistance that broke first with a couple of tins giving the game and match to the Irishman.

some of the Sussex junior players who spent Saturday at St George's Hill doing some training with the Legends, and then they stayed on to watch the matches.
15-Sep, Day TWO:

John White bt Tim Garner 9/11, 11/8, 12/10
David Palmer bt Derek Ryan 11/8, 8/11, 11/4

White by a Whisker,
Palmer Pushes Through

John White survived a match-ball in his entertaining encounter with Tim Garner, to be the first player to notch up two wins in the Nine Telecom Legends. Starting with some blistering winners in both front corners

White got off to a fast start, but Garner put the brakes on to pull level and eventually edge the first. White bounced back to draw level, slotting three backhand returns of serve the last of which rolled across the floor to the delight of the crowd.

The offensive continued in the third with White again pummelling the front corners to open a 6/2 and then 9/6 lead. However, Garner got a second wind and started to pull back it back, and when a White forehand clipped the tin an upset looked on the cards. However, White saved it with a stinging forehand volley and wrapped up the win two ferocious backhands.

David Palmer set up a mouth-watering shoot out with White with a hard fought victory over Derek Ryan. The Irishman fell behind by a game and 3/5 before an run of 6 points took him to within touching distance of the second, eventually closing it out at the second attempt.

Ryan got the better start in the second, but couldn't pull away and soon Palmer's strength and agility started to take over as a pushed forwards and turned the screw to take the match 2/1.

The win means Palmer will now play White on Sunday in a match that will decide who makes the Monday night final.

Peter Nicol bt Simon Parke 11/8, 11/9
Jonathon Power bt Stephen Meads 11/8, 11/5

Power & Nicol Set Up Sunday Showdown

Peter Nicol and Jonathon Power set up a Sunday showdown with impressive straight game victories in the later session at the Nine Telecom Legends at St Georges Hill.

Nicol needed all his movement & guile to see off a s spirited challenge from Simon Parke 2-0. Both games were tight all the way to the wire with the former World Champion Nicol just ending up on the right side off the score after some bruising rallies that had both players twisting and turning, and somehow keeping the ball in play.

There was rarely more than a couple of point between the two old adversaries, with first Parke leading and then Nicol in the first game before taking it 11/8. The second was even closer with Parke holding on all the way before finished things off with a deft backhand drop of Parke's despairing backwall boast.

Jonathon Power continued his impressive form with a tough 2-0 win over Stephen Meads. Power started a little slowly trailing 1/3 but soon got into his stride working Meads forwards and backwards. AS is his style Meads made sure Power didn't have it easy, forcing the mercurial Canadian to find better and better shots to win rallies, even forcing an 'Oh my God how did you get that!' from Power after one particular rally!

The second was more straight forward as Power pushed forward and secured his spot in an effective 'semi' with Nicol on Sunday evening. Tickets are still available from the club for what is sure to be a great night of squash.

Earlier in the day the Legends had been on the court with players from around the south-east including the Sussex Junior Squad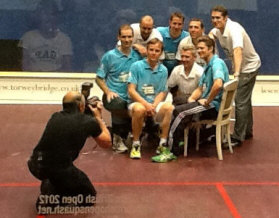 Power poses with Nine Telecom's Mike Palmer as SquashPics grabs the group shot
Saturday Schedule:

Tomorrow sees more high quality encounters, with tickets still available from
the club reception and on the door.

4.00pm: White v Garner
4.45pm: Palmer v Ryan
6.00pm: Nicol v Parke
6.45pm: Power v Meads

14-Sep: Day ONE

Peter Nicol (Eng) bt Steve Meads (Eng) 11/6, 13/11
John White (Aus) bt Derek Ryan (Irl) 11/7, 9/11, 11/7
Jon Power (Can) bt Simon Parke (Eng) 11/3, 11/4
David Palmer (Aus) bt Tim Garner (Eng) 11/3, 9/11, 11/7

Nicol and White off to flying starts

Peter Nicol got off to a solid start to his Nine Telecom campaign, but not before Stephen Meads had shown his usual tenacity in saving four match balls in the second.

Nicol came out of the blocks the faster moving the ball round the court, and working Meads from corner to corner building up an early lead and holding it close out the game to 10/6.

The second followed a similar pattern with Nicol opening up a lead and holding it to 10/6. However, Meads stuck his chin in determination and started to put Nicol under pressure with some impressive retrieving and followed by accurate drops from the back of the court.

Steadily he pegged things back and a tinned back-hand drop from Nicol got Meads to parity.

A Nicol winner set up another match point, which again Meads saved. However, the respite was short lived as two rallies later it was Nicol who closed things out to get a first win on the Board.

John White joined Nicol in the winners enclosure in his usual swash buckling style edging past Irishman Derek Ryan in three games. An entertaining first game was taken by the big hitting Scot, but Irelands most capped squash player was unperturbed and turned around a 7/9 deficit in the second to level things up at one-apiece.

White came firing back racing to a 7/1 lead in the decider, however, Ryan was not done stopping the rot and fighting his way back to 4/7. The next few rallies ebbed and flowed, albeit at high intensity and the sharing of the spoils gave White the points to close out the match 2-1 ahead of the mid-session break.

Power's on, Palmer's up for it!

Jonathon Power put in an imperious performance to put Ex-World no.4 Simon Parke to the sword in his opening match at the Nine Telecom Squash Legends at St. Georges Hill.

Looking much leaner than a year earlier, when he was struggling with injury, Power had Parke all over the CourtWall glass court. Parke is know for his great engine, and he needed it as Power worked him mercilessly in their pool match.

Despite his best efforts, Parke could do little to prevent Power from winning in straight games and a big battle with big rival on Sunday is looking like being an epic.

David Palmer also looked in good nick against Tim Garner as he got off to winning start. Ex-World Champion Palmer only retired from the PSA Tour last year and is still playing his trademark high pressure squash.

Garner appeared to struggle with the pace early on, but started to get into his stride having lost the first. Despite trailing all the way in the second.

Like Ryan earlier Garner over-turned a 7/9 deficit in the second, eventually winning the game with a full stretch volley, which afterwards he admitted was the last shot he was playing that game whatever had happened!

The effort seemed to have taken its toll as Palmer leapt to 5/0 but garner batted back to 4/6 before Palmer eased away to secure the win.