TODAY in Nantes Fram in Nantes
08-Sep, Day FOUR:
Quarter-finalists Decided

Day Four started with the wome's first round at Le Maison du Squash, with seven of the eight seeds making it through to the quarter-finals.

The evening matches on the Glass Court all went to seeding, with Englishmen Declan James, Chris Simpson and Tom Richards all winning in straight games, but Egypt's Karim Ali Fathi denied them a clean sweep as he beat Ben Coleman in the final match.

Men's Round One (bottom half):

[5] Declan James (Eng) 3-0 [Q] Christophe Andrť (Fra)
11/6, 11/2, 11/7 (37m)
[2] Chris Simpson (Eng) 3-0 [wc] Geoffrey Demont (Fra)
11/6, 11/8, 11/7 (32m)
[3] Tom Richards (Eng) 3-0 Mahesh Mangaonkar (Ind)
11/4, 11/9, 11/8 (45m)
[6] Karim Ali Fathi (Egy) 3-0 Ben Coleman (Eng)
11/7, 13/11, 11/7 (57m)

Women's Round One:

[1] Chloe Mesic (Fra) 3-0 Nia Davies (Wal)
11/3, 11/4, 12/10 (20m)
[8] Laura Pomportes (Fra) 3-0 [Q] Marina De Juan (Esp)
11/6, 11/4, 11/4 (25m)
[7] Tessa ter Sluis (Ned) 3-1 [Q] Cindy Merlo (Sui)
10/12, 11/6, 12/10, 11/9 (32m)
[3] Hana Ramadan (Egy) 3-0 [wc] Sarah Mekhalfi (Fra)
11/4, 11/1, 11/5 (15m)
[Q] Julianne Courtice (Eng) 3-1 [4] Enora Villard (Fra)
11/3, 9/11, 12/10, 11/9 (46m)
[5] Nadia Pfister (Sui) 3-2 Marta Latorre (Esp)
9/11, 9/11, 12/10, 11/9, 14/12 (54m)
[6] Rachael Chadwick (Eng) 3-0 [Q] Charlotte Delsinne (Fra)
11/4, 11/8, 11/5 (20m)
[2] Alexandra Fuller (Rsa) 3-0 Elise Romba (Fra)
11/4, 11/5, 11/6 (19m)
[5] Declan James (Eng) 3-0
[Q] Christophe Andrť (Fra)
11/6, 11/2, 11/7 (37m)

Declan Fast and Accurate

Taking nothing from the English boy's performance, Christophe was struggling with a rec

urring ankle injury from the start of the tournament, and he kept icing it and got it strapped. Still, Declan was physically stronger than the Frenchman today, and forced such a pace from the word go that the Frenchman started struggling from 6/6 in the first after a point for point start of the game.



A few strokes help Declan to close the 11m game out. He keeps the momentum up in the second, even if the score is not telling the story, as an 11/2 doesnít normally translate with a 9m game!

Still, a bit refreshed, Christophe comes back, throwing caution to the wind, ignoring his ankle that is bothering him at times, and starts asking questions again. That Ďs the moment Declan chooses to try and finish it too quickly, hence tins creeping in whereas only 1 error was made in the first two games. TypicalÖ

Christophe gets his first 2 points lead of the match, only to see the Englishman scoring 7 points in the trot! 9/4 we are and Christophe, ďnoblesse obligeĒ, give it a last push, 7/9.

A HUUUUUGE rally at the point, big as there is a little difference between 10/7 and 8/9. Unfortunately for the French crowd, itís 10/7 for Declan, who closes it at his first attempt, 11/7 in the longest game of the match, 15m.

A very clean, entertaining match, between two fair players, and very few calls. More of those please.

Very happy to win in three games, I hadnít seen too much of Christophe, but I heard a lot of good things about him, and how gifted he is with the racquet.

I thought we could have a bit of nerves from the start of the season, and I think also he was probably struggling with injury and not moving 100%, which made him even more dangerous as he was trying to take the ball even earlier.

I seemed last season to have a recurring trouble, which would be I would be up leading 2/0, comfortably, and then lose my concentration. So I did a lot of work this summer with my coach Phil Whitlock on the physical side as it start from there. Iím really happy with the work produced. Also I worked with Camps and Robo up in Manchester, and with Hadrian Stiff in Bristol. Very happy with the hard work I did this summer.

Yes, I think he probably got a bit tired at the end of the first game and in the second, and I tried to get to the finishing line a bit too fast in the third, fortunately, I had a strong lead then, and that allowed me to close it out.

I had a very poor finish last season, I lost 3/1 against Mazen Gamal, it was a bad performance, I was nervous, so I decided to go back to the drawing board, and find how to be myself again. Happy with the fact I did that, and started the season with a solid win 3/0 against a good player as Christophe.

I want to congratulate everybody here for the set up, the production goes way way beyond the prize money, and itís just amazing for us to have such a event.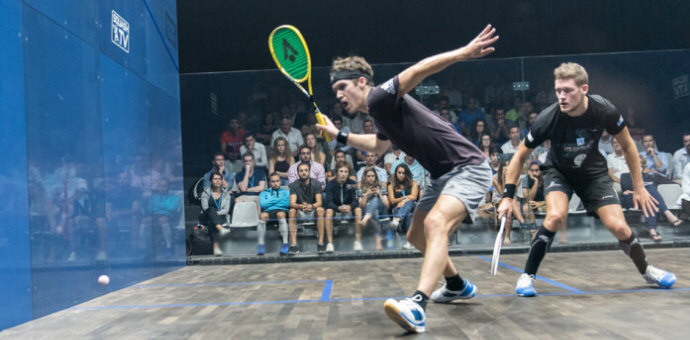 When I trained this afternoon, the ball was very fast and bouncy, whereas tonight, it was quite slow. It took me a little while to adapt and I think I just tried to work on the process and playing good squash. Two things had happened to make me go 5-1 down, he played some unbelievable shots and I had hit the ball into the middle of the court.

I just tried to work on my end and I knew that if he could carry on hitting those unbelievable shots then I was going to be quite surprised. No one can carry on at that rate, so I knew that level was going to drop at some point.

In the middle of the first game, I relaxed a bit, but he put me under a lot of pressure and played very well.

Dec and I have trained a bit this summer, we played in the final of the last tournament we both played at the end of last season, so itís going to be a tough match.

Heís an improving player and Iím looking forward to it, it will be a good match.

I had a great time this summer, as we went on our honeymoon (we were married at Christmas) to Bali, then a friendís wedding in Copenhagen, so a lot of fun but then a lot of hard work as well, mostly with Neil Guiery in Sheffield, Camps and also Peter Barker, who said he would never do coaching cause he didnít enjoy it, and who now loves it.

And I know that although he like doing the high performance coaching, when he is with kids on court, heís got a huge smile on his face: he loves it.

This is a remarkable set up, the promoters and organisers have done a stupendous job, and I think that once this place is filled, the semis will look like the semis of a world series, not a 25KÖ. France is such a great nation of squash, itís nice to see it welcoming finally the event it deserves.



[2] Chris Simpson (Eng) 3-0 [wc] Geoffrey Demont (Fra)
11/6, 11/8, 11/7 (32m)

A FEW GOOD SPELLS FOR GEOFF

It started pretty well for the Wild Card as he led very quickly 5/1, only to make 5 tins in a row, plus an out of court one, allowing the Englishman to just string 8 points in a row, 9/5. Chris is happy with the early Christmas gift from his opponent, in just one game, 6 tins, 1 out of court and a stroke. Weíll take it.

A much better game from the French in the second, 2/2, 3/3, 5/5, Chris find his rhythm at the back, putting a lot of space between Geoff and the ball, 9/5. A big push from the Frenchman, 8/9, but a no let (superb backhand drop shot) and a stroke, 11/8 in 12m for Chris, a much better error rate from the Frenchman, only 3.

Still believing in his chances, Geoff takes a good lead at the start of the 3rd, 3/1, then 3/3, 4/4, Geoff look a bit tired at that point, Chris keep turning the screw, 8/5, a nice last rally a 7/9, attacking at will from the French, but an unlucky tin, and a last nice backhand drop shot for Chris, 11/7, 33m matchÖ



I arrived pretty determined and that the same time, nicely relaxed, which allowed me to get a quick lead. But then, I just went too short too early, tried and finish the points, put too much pressure on myself really, I just lacked patience. And against players of that level, lack of accuracy is basically an attacking opportunity for your opponent. Yes, I just played a too high percentage squash.

In the second, I was feeling well, feeling the ball nicely, moving well, good length, hitting the ball well, I just make a few errors that make the difference in the score.

The third, well, I think I started to feel the hard work he made me do, but Iím happy with the fact I didnít let anything go, tried to give the crowd something to cheer about.

I had a great time on court tonight, I think I needed a bit more match time to be able to take maybe a game from him, and very proud I played this amazing event.

Now, a bit of change in my life as Iím starting a physio course in Paris, Iíll train in Front de Seine, Johan Bouquet plays there, and also with Lucas Serme in Crťteil. I hope it will be only for a year and that after that, I can go back to Marseille for the second part of the course.


[3] Tom Richards (Eng) 3-0 Mahesh Mangaonkar (Ind)
11/4, 11/9, 11/8 (45m)

FAST, FURIOUS AND GOOD GUESSES

This was a match I you can definitely watch the replay off. It was excellent squash indeed, very fast, with two fair players, hitting hard and low, lovely boasts, varying height, but more interesting, able to read each otherís game, giving some lovely movement and change of pace/angles all around the court.



First game was ridiculously long rallies to start with. I wondered who was going to crack first, as the work produced was just well, Peter Barker first game like, if you see what I mean. Thatís a LOT. It lasted up to 3/3, then Mahesh started to pay for enormous work produced, and made a few errors. Tom made it even harder, as he saw his opponent slowing down slightly, 11/4 in 13m.

Excellent reaction from the Indian, he changes his tactic, doesnít try and match Tom in long rallies, but finds better length and adjust his attacks better. 4/1, 7/2.

Then maybe a bit of loss of focus, or just the physical factor that comes in, not sure. Tom scores 6 points, ad we are back at 7/7! The crowd gets involved, 8/8, 9/9, but a tin and a stroke, and itís Tom 2/0 up, 11/9 in the longest game of the tournament so far, 18m.

All credit to Mahesh who really impressed me tonight, the Indian doesnít take a 2/0 down for an answer, and attacks and fights as itís the first game, 3/0, 3/3, 4/4, 5/5.

But Tom is confident and forces a few errors out of the Fighting Indian, 7/6, 7/9, itís still all possible, but 10/7 match ball. Tom tins the first one, but transforms the second one on a lovely crosscourt backhand nick, 11/8 in 10m, 45m of a highly entertaining game of squash in front of passionate crowdÖ.



I started by trying to feel the court, and make it tough for him, put miles in his legs as we say. I think we both like to dominate the middle, but tonight, I won that battle and did it a bit better.

I was telling Mahesh before the match how fantastic the venue is, and the crowd! We play all over the world much bigger events where there is nobody watching so for us, so itís really great for us, to see so many people in a first round!!!

In the first four, five rallies, I donít think I hit the backwall once, my length was non existent and I had to rely on my movement and fitness, which I donít set up to do. But once I was able to find some length, then I was able to control the game better.

Yes, my game has changed, I think itís getting older, more experienced, and also, this summer, I really tried and analysed my game, I donít want to be 25 in the world, I want to be in the top 10 in the world. And for that, I have to do something.

I started working with Peter Barker, and that helped me tremendously, he is so patient, the opposite of me really, plus I changed my physical trainer, I now work with Mark Campbell, like Nick Matthew an Chris Simpson. Iíve been working hard, and even if it doesnít pay off immediately, I think that as the season progresses, Iíll get the rewards.


I think I played well, Ben is a great player, weíve had battled throughout our careers. Last time, I won 3-2 and it was brutal.

Heís always been tough, heís a solid English player. Every time the ball is loose around the middle, he takes it in and kills it. I had to get the ball to the back, keep the pressure on, keep the pace up and I was just hoping for the best to be honest.



I think the difference today is that I hit harder for longer and I just tried and played faster. He is so solid in the middle, so I was trying to play to the back, to the back, and my next phase was when the ball get short, take it in. But I realised I didnít do it enough in the match. And I think itís all credit to Ben.
Itís only in the third when I lost my ďfire powerĒ and I had no choice than going for shots that they started going in. I had to play more Egyptian!

Iím so happy with the way I played today, especially as I didnít play an event since April, no Fram, I was not injured, I was graduating, English University of Cairo, and I just trained with Abbas and Hossam, very hard all summer, and itís paid off. I hope Iíll have a good season.



[6] Karim Ali Fathi (Egy) 3-0 Ben Coleman (Eng)
11/7, 13/11, 11/7 (57m)

BEN DESERVED A GAME

What a battle that was. And Iím extremely proud of Ben tonight, as he faced some difficult decisions, and didnít lose his focus nor temper. And thatís really a good point. Funny to see your players change, like the game before, watching Tom being patient. Yes, you read well. Tom Richard Patient. And Ben Coleman keeping his calm.

Only in France. Only kidddddding.

First game though, Ben was completely outplayed by the power and wrist of Karim Mr Smile Al Fathi. The English didnít do much wrong, only 2 errors the whole game, same than Karim in fact, but the Egyptian just overpowered him! 6/1, 9/3, and if Ben starts to get used to the angles/pace, itís a bit too little too late, 11/7, 14m of already a tough battle.

Second is well, 24m and Iím sorry to say, not helped by a few decisions that, from where I stand, look terribly harsh. Rewind.

Ben, advised by Daryl Selby who knows a bit about tactics, I tell you, changes his game, slowing down the pace, lobbing much more than in the first game. It works, 4/1, but Karim adapts, 5/5. Again Ben is slightly ahead, 7/5, and gets a very harsh no let. I really cannot think why it would be, and I guess thatís also what Ben thinks as he goes ďHow did you come up with that oneĒ, more or less to himself. And he just gets on with it. I am impressed, already, knowing the Ben Iíve seen explode a few times over the years.

Tremendous rallies go on, very fair, a few contacts, but itís all good, itís now back to fast pace and a lot of change of angles, directions, height, pace, weight on the ball, itís good stuff really. 7/7. 8/8. 9/9. 10/9 Ben ball. And Karim drills him. And as he should, gets a stroke as the ball was going straight to the front wall, but gets warned by the ref, not to play that kind of shots. Still itís now 10/10.
Another game ball for Ben, 11/10, who goes for the ball on the left wall, and twists his ankle on Karimís foot. Simple let really. No let, again. Harsh indeedÖ.

A few sentences from Ben, who just expresses that he tripped on his opponentís foot, and that cost him the next point, a tin, 12/11, game ball for Karim. And adding insult to injury, his lob on the left wall is called out, Iím sitting on it, right on it, and I see the ball good. 13/11, game to Karim.

Harsh. Still, no blowing fumes or shouting or throwing racquets from Ben, he proves heís matured, hat to him.

He comes back, trading point for point up to 5/5, and suddenly, Karim switches on the Power Switch, and starts hitting the ball harder than he has done the whole match. Ben is taken back, carried by the crowd that wants more, will save a match ball, but will bow 11/7, another very long game, 19m, and a match just one minute short of an hour for three games.

Hard work from both, well done boys.