05-Sep: Qualifying Finals:
Qualifying complete in Nantes
as Egyptian quartet advance
Today went a bit longer than planned in the Maison du Squash in Sautron, thanks to a few men's matches that went to five, and also a long final women's match, that saw Menna Ahmed coming from 2/1 down to beat Tinne Gilis in 60m.


In the Ladies, no upset today, with the four top seeds going through, the remaining three matches all finishing in three games.

To be noted that despite her express wishes, Nouran El Torky will play a fellow Egyptian, Zeina Mickawy...

As for the men, only Shehab Essam managed to finish his match quickly, upsetting birthday boy Piedro Schaweertman, 34 today, 3/0 in 37m.

All the other matches were extremely disputed, intense, fierce and sometimes controversial.... New Asian Junior Champion Mohammad Alsarraj displayed some very mature squash to oust experienced Jaymie Haycocks in five and 74m, while George Parker beat Kristian Frost in a match sadly riddled with far too many calls.

And Egyptian Wadi Degla star Mazen Gamal broke the French hearts when he stopped Baptiste Masotti, 11/9 in the 5th.
[1] Sivasangari Subramaniam (Mas) 3-0 [5] Milnay Louw (Rsa)
11-8, 11-6, 11-9 (24m) to play ElAraby
[4] Nouran El Torky (Egy) 3-0 Enora Villard (Fra)
11-8, 11-6, 11-6 (31m) to play Mickawy
[3] Alexandra Fuller (Rsa) 3-0 Nadia Pfister (Sui)
11-8, 11-3, 11-6 (19m) to play Moverly
[2] Menna Hamed (Egy) 3-2 [7] Tinne Gilis (Bel)
11-2, 8-11, 9-11, 11-7, 11-9 (60m) to play Aumard

[1] Mazen Gamal (Egy) 3-2 Baptiste Masotti (Fra)
7-11, 11-7, 6-11, 11-9, 11-9 (67m) to play Marche
[7] Shehab Essam (Egy) 3-0 [3] Piedro Schweertman (Ned)
13-11, 11-4, 11-8 (37m) to play Simpson
[6] Mohammad Alsarraj (Jor) 3-2 [4] Jaymie Haycocks (Eng)
11-8, 8-11, 8-11, 11-9, 11-6 (74m) to play Mueller
[8] George Parker (Eng) 3-1 Kristian Frost (Den)
11-6, 9-11, 12-10, 15-13 (65m) to play Hesham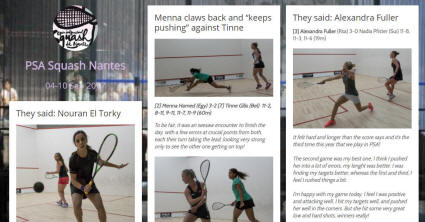 All the Match Reports
Qualifying Round One:

Qualifying for the 2017 edition of the Nantes International got under way at the "Maison du Squash" in Sautron, with a couple of upsets in the men's and women's draws.

France's Baptiste Masotti delighted the home crowd with a five-game win over German fifth seed Jens Schoor, setting up a qualifying final against top seeded Egyptian Mazen Gamal. That was the only home success though as Enzo Corigliano, Geoffrey Demont, Victor Crouin, Sebastien Bonmalais and Benjamin Aubert all fell at the first hurdle.

The other men's upset came as Denmark's Kristian Frost dismissed second seed Iker Pajares in straight games, and he now faces a qualifying final against England's George Parker.

On the women's side Enora Villard was the sole home victor as she beat eighth seed Anna Serme in straight games while Swiss Nadia Pfister upset sixth-seeded Chloe Mesic in five.

Qualifying finals start at 17.00 on Tuesday.
Preview:
Could it be an All-French Final in the Men's?
The 2017 Open International de Squash de Nantes is set to feature an all-French final in the Men's event for the first time, with World No.23 Grégoire Marche seeded to meet former World No.6 Mathieu Castagnet in the title decider.

Taking place at Les Machines de l'île between September 6-10, the Men's Open International de Squash de Nantes features a $25,000 prize fund and will see Castagnet take on fellow Frenchman Lucas Serme in the pick of the first round fixtures.

A win for Castagnet would see him face either England's Declan James or talented Egyptian Youssef Soliman in the last eight, while Swiss No.4 seed Nicolas Mueller and Qatar's Abdulla Mohd Al Tamimi are also on Castagnet's side of the draw as they take on a qualifier and tournament wildcard Frenchman Auguste Dussourd, respectively.

Meanwhile, Marche kickstarts his efforts to lift a third successive Open International de Nantes title with an opening round fixture against a qualifier and the 27-year-old is seeded to meet maverick Egyptian Mazen Hesham in an explosive last four encounter.

Last year's final saw Marche defeat England's Chris Simpson to take the title and the duo could face off in a rematch as early as the quarter-finals if they both emerge from their first round matches unscathed.

The Women's event boasts its biggest ever prize purse of $15,000 and sees English duo Millie Tomlinson and Fiona Moverley named as the top two seeds, with the pair seeded to clash in the final.

Moverley could need to overcome home hope Coline Aumard if she is to play to her seeding, with Aumard the highest ranked female French player in the tournament.

Tomlinson begins her tournament against wildcard Julie Rossignol – the 20-year-old from Marly Le Roi – and the World No.26 is seeded to meet Belgium's Nele Gilis in the semi-finals.
Interviews with:

Gregory Gaultier,
Chris Simpson
Hana Ramadan
Joey Barrington
Nele Gilis
Mazen Hesham
Fiona Moverly
Millie Tomlinson