Jun 2017:
Simpson targets Nantes return
story courtesy PSA
World #34 Chris Simpson is aiming to be back in action for the Open International de Squash de Nantes in September after being sidelined with injury for the majority of 2017.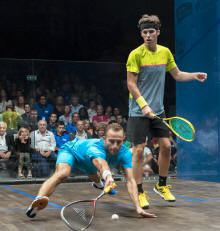 The 29-year-old from Guernsey has been ruled out of action since January with a hip injury but is hoping to be ready for the tournament in Nantes – where he finished runner-up last year to Frenchman Gregoire Marche.

"There has been a lot of rehab. I've been doing a lot of fitness work like biking and swimming for quite a while," said Simpson.

"In terms of loading the hip, I'm starting to get there, I have been doing some solo practice and I'm looking to be on court doing some routines in the next week or so.

"It's the middle of the summer so that has given me a bit of leeway hopefully in terms of the speed and progression for now but at the moment my goal is to be back in September and opening the season in Nantes.

"I have to say that the venue and crowd at the tournament was one of the best, if not the best, I have ever played in. The light show was brilliant, and it was great to have lots of people that were new to squash watching and getting excited."

Simpson, who had equalled his best world ranking of World No.20 before injury curtailed his season, is starting to build up to full training and admitted he can't wait to be back on court.

"I'm setting myself goals for when I want to be back competing on court on Tour rather than thinking ranking wise. It's very difficult with the ranking because even when I come back and if I'm playing some great squash, I'm not going to have a full complement of tournaments throughout the year because there will be this nine-month period of no tournaments so as always if you play good squash then the ranking will come.

"It's a frustratingly long process. I think beforehand I didn't realise how tough it was going to be and how non-linear the recovery was going to be, so day-to-day it can be good and bad but overall each month it is definitely getting better.

"I'm starting to get back onto the squash court, which is something I have missed and I'm hoping the next stage of the recovery is going to go smoothly."

Simpson had intended to play on despite the hip problem until April this year, but was forced to bring his operation forward after the J.P. Morgan Tournament of Champions, held at New York's Grand Central Station.

"It's really frustrating, I felt like the last year had gone really well and at the time I was playing really well. I got back to my equal highest in the World Rankings and I had quite a busy schedule planned for the start of 2017.

"My hip had been niggling for a while but I didn't think it was much more than a niggle and maybe didn't realise the severity of the injury. Once I got a scan and realised what was going on in there it was time to get it sorted out.

"It's a part of sport and I think when I look back it was frustrating but at the same time I had six years of being relatively injury free so I'm glad I managed to get those six years and hopefully I can get a few more."

The qualifying stages of the Open International de Squash de Nantes will be held between September 4-5 at La Maison du Squash, with the main draw staged between September 6-10 at Les Machines de l'île.

The tournament also features a Women's tournament offering $15k in prize money - a $10k increase on last year.