08-Feb, 1 Day to go
Sarah-Jane sets out on title defence ...

The 2016 Nations start tomorrow, so we're ending our Countdown with the defending women's Champion Sarah-Jane Perry (one of the perks of winning is that you get to feature on the following year's poster)

SJ battled her way to the title with three successive five-game wins, over Fiona Moverley, Alison Waters and Laura Massaro. She's seeded three this year starts off with a first round meeting with Moverley.

"The Nationals are such a prestigious event and you can see how much it means to all of us that we make it a priority in our calendar every year.

"I've already taken the trophy back, there's many things Nick has done that I would like to emulate, but leaving the trophy at home like he did last year isn't one of them!"

Best Memory: That's an easy one...winning my first National title in front of my friends, family and sponsor last year!

I wouldn't say I have any bad memories of the actual tournament, more the journey there on the M6!

Nationals in Three Worlds: Unpredictable, Prestigious, Exciting

2015: Champion
2014: Quarters
2013: Quarters
2012: --
2011: Round One
2010: Round One
2009: Quarters
2008: Round One
2007: Qualy Round One



2016 INFO:
Schedule, Tickets, more


Multi-Tasking Refs


2010 O35 Final


2012 O35 Final



07-Feb, 2 Days to go
Matthew aims to set a Marker ...

Two days to go and we're finishing off our Countdown with the defending champions.

Nick Matthew is already a Nationals' record holder with SEVEN titles to his name, and the 2016 draw predicts that he'll make that eight.

"The Nationals are very important, it's a massive title and one I'm honoured to hold the record for. I always enjoy performing at home & it's an event which I have always taken pride in trying to arrive in my best possible shape for."

"I have so many great memories of playing and winning in Manchester, itís a city which really celebrates sport and I know this yearís Nationals will be bigger and better than ever.

"Winning an eighth National title would mean the world to me. Itís a very special event - it's a big goal of mine to leave a marker that will hopefully last the test of time and a good target for future generations to aim at."

Best Memory:
There's two - Winning my first title in 2006, saving 4/5 match balls in the 5th game of the final against Lee Beachill.

Also a couple of years ago when I won and managed to get a great friends & family photo on court including my Auntie Sue who was very ill at the time and recently passed away. We have the photo on my parents wall and it's a great memory of her.



Worst Memory:
Losing in the final to Daryl Selby in 2011 was a blow as I was World number one at the time, but getting to the final can't be considered a bad week by any means.

Worse was missing the tournament in 2007 & 2008 through injury.

Nationals in Three Words:
Manchester ... Memories ... Masters (which Nick now qualifies for!)

2015: Champion
2014: Champion
2013: Champion
2012: Champion
2011: Runner-up
2010: Champion
2009: Champion
2008: ---
2007: ---
2006: Champion
2005: Semis
2004: Semis
2003: Round Two
2002: Quarters
2001: Round Two
2000: Round Two
1999: Round Two
---
1995: Round One


06-Feb, 3 Days to go
Massaro has Hat-Trick in mind

It took Laura Massaro a while to finally claim the National title, coming close from 2006 to 2010, then winning two in a row in 2011 and 2012.

She'll start 2016, her 16th Nationals in a row, as world #1 and top seed, so a third title is definitely in her sights ...

"The Nationals is an opportunity to play at home in front of friends and family, and to enjoy playing a very prestigious event that I have grown up watching.

"I look forward every year to fighting hard and playing well to get my name on the trophy if I possibly can."

ďIt would be brilliant to win the title again. There are some some amazing players on that trophy and I would be proud to get my name on there again.

"My form is good, I have had a great start to the season and I want to use that momentum to push on again for the Nationals and the rest of the season.Ē

Best Memory: 2011 - winning in Cleveland and then backing up at the Nationals to win my first title .

World Memory: 2003 - losing in qualifying to Vicky Lancaster having had a match ball!

Nationals in three words: Home, enjoyable, familiar

2015: Runner-up
2014: Semis
2013: Runner-up
2012: Champion
2011: Champion
2010: Semis
2009: Semis
2008: Runner-up
2007: Semis
2006: Quarters
2005: Round One
2004: Round One
2003: Qualy Finals
2002: Round One
2001: Qualy Round One



05-Feb, 4 Days to go
Willstrop aiming for Eighth final ... and more

James Willstrop will be competing in his 17th straight Nationals next week. Champion twice, the tall Yorkshireman has been in the final seven times, and is seeded to make it eight. After a troubled year or so with injuries he's back, in good form, heading back up the rankings and will have his eyes on a third title.

"I like the Nationals. It's at home and the venue pulsates with energy of hundreds of competitive players of all ages from all over the country.

"Everyone mixes, it's what squash is about. Professionals, amateurs all mixing. It's a great reflection of the sport at Manchester, all week long.

"It's also a huge title to have hold of, so we value that and want to win. The event is established too and the atmosphere, especially over the weekend, and even more on finals day, is very exciting."



Memories?

"I have a few bad memories, and having to pull out last year wasn't brilliant, but some good ones too, I especially remember watching Simon Parke win the event in 1998, his match with PJ in the semi finals was so good to watch. It fired my belly for the next six months!"

2015: Round Two
2014: Runner-up
2013: Runner-up
2012: Runner-up
2011: Quarters
2010: Runner-up
2009: Semis
2008: Champion
2007: Champion
2006: Semis
2005: Runner-up
2004: Quarters
2003: Semis
2002: Round Two
2001: Round One
2000: Round One


04-Feb, 5 Days to Go
Waters wants more

Alison Waters already has her name on the National trophy four times, and has appeared in the final eight times in her last ten appearances, but she's still hungry for more.

Best Memory: Winning my first nationals title in 2008 was a special memory for me. I had been in two finals previously so to get my name on the trophy was fantastic.

All my four titles are special to me as the Nationals is a tournament I want to do well in every year.

Worst Memory: I lost to Fiona Geaves in the first round, I think it was 27-1 in one of my first nationals after qualifying [it was 2004 and it was 9-2, 9-0, 9-0]. An absolute chopping and not one I like to think about.

Excited to be playing in Manchester again this year on two glass courts though, should make for an exciting event. Thanks to England Squash and the EIS for all their support they give us, wouldn't be here today without all the help that I've had.

Nationals in Three Words: Win, Title, special



2015: Semis
2014: Champion
2013: Champion
2012: Runner-up
2011: injured
2010: Champion
2009: Runner-up
2008: Champion
2007: Runner-up
2006: Semis
2005: Runner-up
2004: Round One
2003: Qualy Finals
2002: Qualy Round Two
2001: Qualy Finals

03-Feb, 6 Days to Go
Daryl's proudest moment

Surprisingly enough, Daryl Selby's best memory of the Nationals is winning the title in 2011 !



"I don't really have a worst memory," he says, "I always enjoy the Nationals week. For me they are very important, and one of my proudest moments was being able to say I was National Champion."

Seeded #3 this year, his predicted route would see him take on a qualifier in the first round, foillowed by the winner of Greg Lobban and Tom Ford, and in all probability Nick Matthew in the semis.

That's probably looking far enough forward for now, so what about the Nationals in three words :

Manchester, Masters, MC Nickeas


The 2011 Finals, with video interview

2015: Runner-up
2014: Semis
2013: Quarters
2012: Semis
2011: Champion
2010: Semis
2009: Quarters
2008: Quarters
2007: Round Two
2006: Round Two
2005: Round One
2004: Round One
2003: Qualy first round
2002: Round One
2001: Round One

01-Feb, 8 Days to go:
National Champions on the Nationals

This year's draws (available now) feature seven reigning of former National Champions, so we'll have views from each of them in the coming week.

Jenny Duncalf

We'll start with Jenny Duncalf - champion in 2007 and 2009 and runner-up in 2010 and 2011.

Best Memory: It has to be winning it for the first time in 2007. It was a dream come true at the time.

Worst Memory: Probably having to pull out in 2012 when I injured myself in my warm up for my first round match. I had to make a very quick decision and unfortunately it had to be to withdraw [Jenny was #1 seed].


What the Nationals mean:

The Nationals mean a lot to me. I have grown up watching it and have always enjoyed playing in it.

We have a very high standard for a National Championships so to win it is a great achievement and a very proud moment.

In Three Words:
Manchester, familiar, competitive.

2015: Quarters
2014: Semis
2013: Semis
2012: Round One
2011: Runner-up
2010: Runner-up
2009: Champion
2008: Semis
2007: Champion
2006: Semis
2005: Quarters
2004: Semis
2003: Round One
2002: Qualy finals
2001: Qualy first round

29-Jan, 11 Days to go:
Who'd be a ref ...

As well as the Players, the Volunteers and the Spectators, the Nationals needs more than its fair share of Referees too, and the event is lucky to have many refs who come back year after year, often refereeing all day every day.



There isn't room to show them all here, but rest assured you're all appreciated ... here are four Nationals stalwarts from 2008 who will no doubt be back this year - Roy Gingell, John Massarella, Wendy Danzy and Joss Garvey.


27-Jan, 13 Days to go:

Taylor going for Lucky Seven

Local lad Nick Taylor has long been one of the top attractions at the Nationals. He's been in the main draw 18 times since 1992 and made the final twice, 1995 and 2001 (losing out to Steve Meads and Lee Beachill on those occasions).

He started out in the O35 event in 2007 - winning it, naturally - and appeared in the next five O35 finals too, taking his tally to four as he won in 2010, 11 and 12 (he had to be reminded that he actually lost the 2008 and 09 finals, your memory starts playing tricks when you get older...).

Injured in 2013, he was back in 2014, winning the O40 title and repeating that feat last year.

So this year he's going for Masters title number Seven ...

"The Nationals are one of my favourite events," said Nick. "I have great memories of it and am really looking forward to getting back to Manchester and trying to win a 7th title!"

2015 O40 Final
26-Jan, 14 Days to go:
The Masters Legacy

As we've mentioned before, some players just keep coming back for more -
here's the Masters Champions from 2008, many of whom you'll recognise from earlier and later group photos.
We wouldn't be surprised to see a good few of these pick up more titles 20 days from now ...
25-Jan, 15 Days to go:
Ben hoping for a quick improvement ...


After winning his 7th PSA title with victory in the Holtrand Gas City Pro-Am in Medicine Hat, Canada, Ben Coleman will be hoping to carry his good form into the Nationals when he gets back home.

What he won't be looking forward to is a match like his epic final against Shawn Delierre which he won three-nil in 130 minutes !!!

To put that in perspective, Shawn played the longest metch EVER at the same tournament last year, 170 minutes that was, and the fifth longest match ever (Greg Gaultier v Adrian Grant in 2006) was just 146 minutes ...


This will be Ben's sixth appearance in the Nationals, and he's been steadily improving as he lost out in qualifying in 2010, made round one in 2012 and 2013, and round two in 2014 and 2015.

Depending on how the draws pan out Ben, currently ranked 55 in the world, must be in with a shout of continuing that improvement and reaching the quarter-finals this year.

He'll be looking out for those draws as eagerly as the rest of us ...
22-Jan, 18 Days to go:

Entries looking great

Entries are now in, with just short of FOUR HUNDRED entries - thanks and good luck to every one of you ...

The biggest single event will be the Men's O50 with over 50 entries.

Play will start at noon on Tuesday 9th with the men's and women's qualifying competitions - split into Under and Over-21 categories for the first time.

The draws will be out next week - stay tuned ...
21-Jan, 18 Days to go:
Have you got your TICKETS ???

Entries have now closed, and the draws will be out shortly.

While we wait, we can reveal that SEVEN former and current champions will be in the lineups - Nick Matthew, James Willstrop, Daryl Selby, Sarah-Jane Perry, Laura Massaro, Alison Waters and Jenny Duncalf.

You know you're going to see some great squash - so get your tickets booked now !!!
19-Jan, 20 Days to go:
Volunteers at your service ...

Some of the players have been competing in the Nationals for many years, and they've been looked after by the volunteers, many of whom have been offering their services for many years too.

They'll be back ... will you ???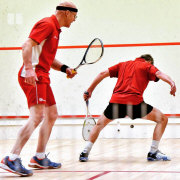 18-Jan 21 Days to go:
Entries Close TODAY
If you want to enter this year's Nationals, Main or Masters events,
this is your last chance, entries close at NOON TODAY

14-Jan 25 Days to go:
Two Glass Courts


With the original (2002) and the brand new (2015) ASB Glass Courts in use it means that all main draw matches will be played out on glass.

That's real incentive for those involved in the Under and Over 21 qualifying events for a chance to meet one of the top stars on the biggest stage, and it also means that spectators will get the best view of the main draw matches.
13-Jan 26 Days to go:
Bring in the Kids

There's been a thriving junior squash programme in Manchester, and a the National Squash Centre, for many years now, and each year the early rounds in particular see hundreds of local schoolchildren visit to see (and support) some of the top players in action, and for many to sample squash for the first time ... the 2013 Legacy page
12-Jan 27 Days to go:
It's for everyone

The Nationals isn't just about the top stars, the Masters events are the pinnacle of a thriving UK Masters Circuit, with categories from Over-30 up to the new over-80.

It's not just about the top Masters players either, there's plenty of room for those just wanting to see how they fare against the big guns, so don't be shy, get your entry in now - Excel, Compete, Inspire ...
11-Jan:
28 Days to go ...

With one month to go excitement is building for the new look British Nationals - with two Glass Courts, new qualifying competitions (under and over 21) and sixteen player main draws with every match on the showcourt, the 2016 edition promises to be one of the best yet.

We'll bring you a daily countdown here, but we'll start with a reminder that ENTRIES ARE OPEN and TICKETS ARE ON SALE ...