DUNCALF & MATTHEW
REGAIN NATIONAL TITLES

The last day at Sportcity saw 15 National Champions crowned, with Jenny Duncalf and Nick Matthew regaining the title, both scoring their second wins at the premier domestic tournament.

Thirteen Masters Finals, the Recebba Macree Trophy, a fun kids challenge and a sendoff for Lee Beachill - all in all a busy day at Sportcity ...

[1] Jenny Duncalf bt [2] Alison Waters
11/13, 11/8, 11/6, 11/6 (50m)

[4] Nick Matthew bt [3] Adrian Grant
11/4, 11/3, 11/9 (38m)

Masters Reports & Photos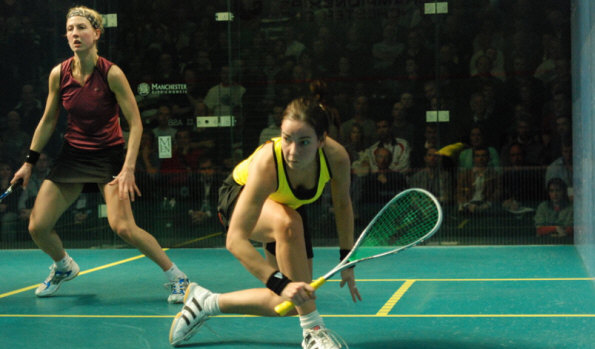 [1] Jenny Duncalf bt [2] Alison Waters
11/13, 11/8, 11/6, 11/6 (50m)

It's Duncalf again

Someone was going to win the National title for a second time, but would it be Jenny Duncalf, the 2007 champion and top seed, or Alison Waters, the defending champion seeded two? Duncalf had beaten Waters in that 2007 final, but Waters removed Duncalf on the way to the title last year, so it was going to be close.

And so it proved in the first game, both willing to rally patiently, waiting for the opening. Long rallies were the order of the day as they sounded each other out, and the score rose to 4-all, 8-all, 9-all.

Waters glued a drive down the backhand wall, Duncalf scraped a mishit into the nick to set up game ball. Waters saved that with a dropshot, then Duncalf found the nick on the back wall, much to Waters' disgust. Another dropshot saved the day, and when Duncalf put the next two balls loose into the middle Waters took advantage of rare opportunities to utilise her volleydrop.

Undeterred, Duncalf came out the stronger in the next two games, establishing early leads that Waters could never quite claw back, and Jenny was 2/1 up. She was ahead for most of the fourth too - Alison gained parity as 5-all but she was presenting Jenny with too many chances to utilise her dropshots, and the Yorkshirewoman established another lead, which soon became a winning lead.

The fianl rally saw Alison desperately trying to dig the ball out of the back, but it fell just short with Jenny waiting to pounce on it ... instead she raised her arms in relief and triumph ...

"I won the first, despite her getting a few lucky bounces, but then she got ahead in the other games, and giving someone a lead is always bad news in this scoring.

"She had the better shots towards the end though, and I kept putting it where she could drop it, I said to myself' why do you keep doing that!'

"It was a tough game, but she deserved to win it in the end ..."



"It was always going to be tough playing Ali, she's been playing so well, and she played well to take the first game.

"I got into it after that, and got a lead in the games, which always helps.

"When you're getting close to match ball you try to tell yourself not to think about it, but you can't help it ... you go all goosebumply!"

"It's great to be National Champion again, and it's such a great tournament every year.

"Alison and I have played two finals together now, hopefully we can play more over the coming years ..."


"This time last year I'd just taken the sling off my shoulder, it makes you think back on what a year it's been.

"We know each other so well, maybe that counted against Adrian tonight. It sometimes doesn't help having a day off like he had, my match with James sharpened me up and I came out fast, trying not to let him settle.

"At two-nil you have to try not to think about the finishing line, and sure enough the third game was tough. It wasn't as easy as the scoreline might suggest, I had a bit of a battle with myself there almost.

"He maybe wasn't at his best, maybe a bit nervous with it being his first final, and a few more errors than normal, but I was glad to get off in three, I'll take it!"



[4] Nick Matthew bt [3] Adrian Grant
11/4, 11/3, 11/9 (38m)

Nick reclaims the title

You could argue that Nick Matthew is unbeaten in the Nationals for four years - he won it in 2006, missed 2007 and 2008, and won it for the second time here tonight.

Matthew was superb tonight, moving smoothly, hitting precisely, pouncing on anything loose and keeping his opponent under constant pressure.

Adrian Grant actually played well. True, he made more unforced errors than Matthew - who hardly made any - but when you see your best shots returned with interest time after time you must feel you're up against a brick wall.

After a slightly edgy start where both made a couple of errors, Matthew settled into his game and eased ahead to take the lead. He was always in control in the second, taking it quickly.

Adrian needed a good start in the third, and he got one, going to 3/0. Given the form of his opponent though, he needed more than that, and Nick stuck doggedly to him, Adrian just couldn't get Nick off his tail.

4/4, 6/4, 7/5 Adrian led, but a couple of errors saw Nick level at 7-all, and after some more tough rallies he worked his way to 10-8, one more point needed.

Adrian played patient squash to save the first, but on the second was left stranded by a short boast and the title was heading back to Sheffield ...

| | |
| --- | --- |
| | |
| | |
| --- | --- |
| | |
Finals Previews ...



The women's final is a repeat of the 2007 final, won by Jenny Duncalf, who holds a healthy 8-4 head to head advantage over Alison Waters.

Defending champion Waters has won three of the last five encounters. Interestingly, the only match the pair have played under 'Pro' scoring is last year's Nationals semi-final, which Waters won 3/2 in 74 minutes.



Nick Matthew claims to be going into the final as the underdog, being seeded lower then Adrian Grant, having done more work to get to the final, and being only '50/50', in their head-to-head statistics since the age of 12.

Recent form suggests a different outcome however, with the 2006 champion - unable to play the last two years due to injury - leading 9/3 in matches since 1996. Matthew has won the last six encounters, Grant's last success being in the 2004 Nationals quarter-finals.