Sun 15th, Day SEVEN: Finals Day
[3/4] Sarah-Jane Perry 3-2 [1] Laura Massaro
12/10, 11/9, 7/11, 10/12, 11/7 (80m)

[1] Nick Matthew 3-0 [3/4] Daryl Selby
11/5, 11/3, 11/2 (45m)
Matthew dominant


Nick Matthew collected a record seventh National title with a dominant display against Daryl Selby. There was to be no repeat of the upset of 2011 as Matthew took early charge and never looked like relinquishing it.

From 3-all in the first the defending champion took charge and never looked back.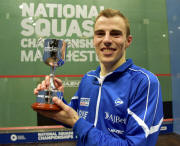 "It was a massive goal of mine to break the record," said Matthew. "Iíve learnt a lot from the names on the trophy both men and women. I watched Cassie [Jackman] train when I was growing up so it means a lot to me to break the record.

"Darylís never beaten so I had to keep going even at 9-1 up in the final game I had to block out my emotion and stay focused.

"The win has made me feel young again, Iím always striving to improve and want to thank my team for helping me to keep at the top," added Matthew.

SJ takes the crown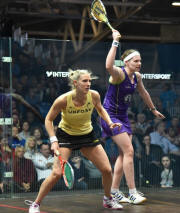 If you can beat the world number five and the world number three, the reigning and the previous champion in consecutive matches, win three five-setters in three days, then you probably deserve to be the National Champion, and Sarah-Jane Perry, having done just that, is the new British Champion.

It was an epic match, Perry coming back from 1-5 to take the first then holding on to a slender lead to go two up. Massaro fought back as she does, taking the third convincingly but only just holding on to a 6-1 advantage in the fourth.

In the decider Perry took a slight early advantage, then from 5-all accelerated away with increasing authority to take the title.

"I'm ecstatic," said the new champion. "I'm still in a bit of shock actually, and even if it didn't look like it I really enjoyed the whole match!


"To beat two of the top five players in the world back to back, neither of whom I'd ever beaten before is pretty special, and I'm quite proud of myself!

"I had a bit of a rocky start to the week but my confidence grew as the tournament went on and today I told myself I had nothing to lose, just to go out and get it."

First on SJ's wish list is to rearrange her flight to Toronto, then she has eyes on bigger things ...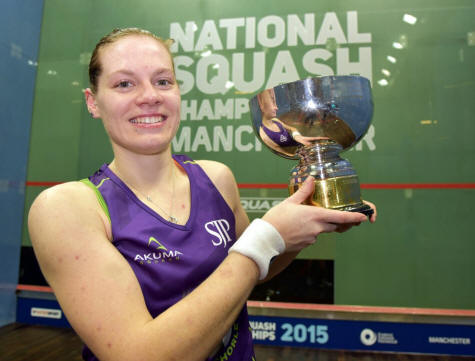 Masters Results | Masters Photos