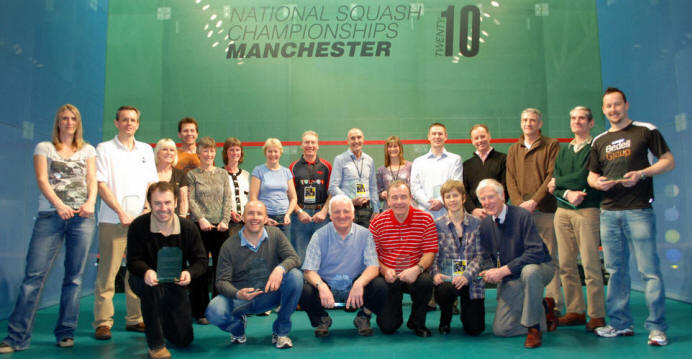 TODAY at the Nationals: Sat 14th, FINALS DAY Steve Cubbins in Manchester
[2] Alison Waters bt [1] Jenny Duncalf
10/12, 11/7, 4/11, 11/7, 12/10 (65m)

[1] Nick Matthew bt [2] James Willstrop
11/5, 11/6, 11/6 (49m)
Malcolm on the finals


EDSA Jamie Mathews bt Matt Hewitt 11/5, 11/8, 11/4

Masters

M35 Nick Taylor bt Clive Ewins 11/5, 11/2, 11/6 (23m)
M40 Rick Weatherall bt Kevin White 12/10, 11/7, 3/11, 11/7 (40m)
M45 Eamonn Price bt Jonathan Foster 7/9, 9/3, 9/4, 9/6 (63m)
M50 Richard Millman bt Jeremy Goulding 9/5, 9/0, 9/3 (25m)
M55 Mark Cowley bt Peter Alexander 3/9, 2/9, 9/6, 9/1, 10/9 (64m)
M60 Barry Featherstone bt Bob Robinson 9/5, 6/9, 8/10, 10/8, 9/6 (72m)
M65 Adrian Wright bt Bill Wilson 9/6, 9/6, 4/9, 9/6 (46m)
M70 Pat Kirton bt John Woodliffe 9/3, 9/2, 9/3 (25m)

W35 Jeannine Cowie bt Gayle Kerrison 9/6, 10/8, 9/7 (23m)
W40 Nikki Fowler bt Isabelle Tweedle 9/7, 9/1, 10/8 (32m)
W50 Julie Field bt Jacky Gardner 1/9, 9/5, 9/0, 9/3 (26m)
W45 Heather Tweedle by Mandy Akin 2/9, 7/9, 9/3, 10/9, 9/4 (60m)
W55 Winner, Averil Murphy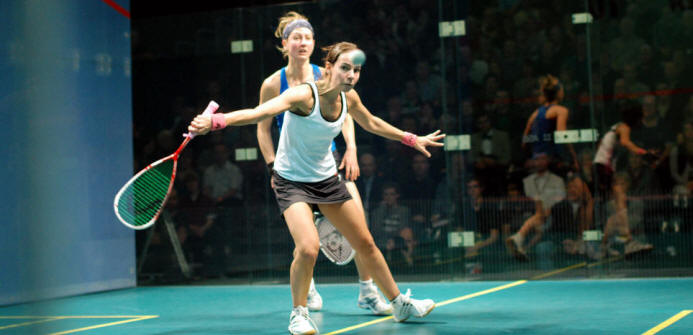 Alison Waters bt Jenny Duncalf
10/12, 11/7, 4/11, 11/7, 12/10 (65m)

Waters dethrones Duncalf

Alison Waters and Jenny Duncalf have dominated this event in recent years, winning the last three between them, so it was fitting that they should contest the final in front of a packed Sportcity crowd.

And what a final they gave them, 65 minutes of world class squash that swung one way then another, with the result in the balance until the very end.

The opening game went point for point, Duncalf edged ahead from 8-all to 10/8, Waters levelled, but Duncalf took it with a nick on the sidewall (remember that for later) and then put away a loose dropshot from Waters.

The second was also point for point to 7-all, but Waters sped away to 11/7 to equalise.

The third was the only game where one player dominated, and it was Duncalf, who raced to a 5/0 lead and never looked back as she regained the lead.

Throughout all this time, throughout the whole match, the squash was excellent. Both players were working the ball and working their opponent well, the error count was low, and the crowd were loving it.

Waters held a slender lead at the start of the fourth, was pegged back to 6-all, then pulled away to take it 11/7 and set up a decider.

It looked all over as Jenny reasserted at the start of the fifth, and at 6/1 not many would have predicted Alison's comeback to 6/5, which she worked hard for and deserved. She threw her arms in the air as she made two poor mistakes to give Jenny some breathing room, but from 9/5 down dug in again to level it at 9-all.

Jenny got the first matchball opportunity, forcing a loose boast which she put away delicately, but then hit the tin to take us into extra points.

The next rally was a long one, and Alison finished it with a fortuitous nick on the sidewall (now you remember) to give herself match ball.

One more rally, they edged towards the front, exchanged a couple of short balls each, then Jenny's last shot clipped the top of the tin and we had a new champion.

"That's one of the best matches I've ever played, it was neck and neck all the way and I hope it was good for the crowd!

"I kept telling myself to keep down the errors. It's hard – we're good mates. Neither of us wanted to lose."

"We have good matches with each other when we play well, but when we're actually on court it's very serious - I hope we're still friends now!"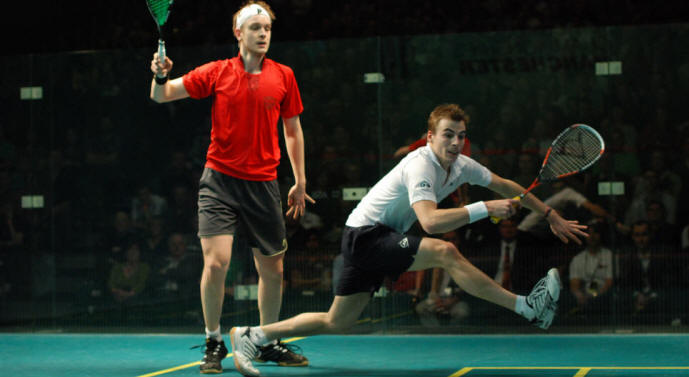 [1] Nick Matthew bt [2] James Willstrop
11/5, 11/6, 11/6 (49m)

Nick's Hat-trick

Nick Matthew made it a hat-trick of Nationals victories in five years (he was injured for the 2007 and 2008 editions), extending his unbeaten run to 15 matches with an impressive straight games win over James Willstrop.

The opening exchanges were tough, the rallies long, and it looked as though we were in for another marathon, nailbiting final like the women's.

It didn't happen that way though, as Matthew seemed to step up a gear from the middle of the game, pulling away from 6/4 to ultimately take a comfortable lead.

And it happened again in the second and third games - Matthew dominated from 6-all in the second and 5-4 in the third with Willstrop unable to do anything about it as Nick made it nine wins in a row against his Yorkshire rival.

"You prepare for two hours against James, so anything less is a bonus.

"His preparation wasn't ideal this week so maybe it was just one match too far for him. He was labouring a couple of times, but it's a fine line with him, if you try to take advantage by going short you're playing to his strength.

"I just had to keep the pressure on and managed to pull away in the middle of each game.

"That will go down as one of my best performances – I didn't make many errors and it's not often you beat James 3/0.

"It feels good – it always feels good at this venue – I'm at home on the court. Celebrate? I'll go out with family and friends – have a meal and a glass of win – maybe some champagne."



"There were some tight points in the early exchanges then his superior physicality completely found me out, like it hasn't done for a while.

"I just felt lacking physically, no push, no spark, I couldn't inject and so couldn't use my racket.

"I'm very disappointed obviously, but I really couldn't do anything else, he made me feel uncomfortable, his physical presence was so strong, his squash was better than mine, he was just too good.

"I feel absolutely not disappointed, there was nothing else I could have done."





EDSA Jamie Mathews bt Matt Hewitt 11/5, 11/8, 11/4

Another title for Jamie
Malcolm on the EDSA final

The final of the British Deaf Championships featured world number one and world champion Jamie Mathews and world no 4 Matt Hewitt. Matthews won his world title in South Africa in 2007 and will defend it this year in New Zealand. He plays on the world tour and has a ranking of 255.

He began well with his easy movement and relaxed technique and was soon ahead of his twelve year older opponent, who was too keen for his own good. He won the first game 11/5 and went well clear 8/1 in the second before Hewitt seemed more settled.

Hewitt had his best moments in the match and aided by a couple of uncharacteristic Matthews errors he fought back to 10/8 before Matthews won the game 11/8.

Mathews continued to control matters and eased through the third game to win it 11/4, adding the British to his World title. He is a very capable player and certainly easy to watch.