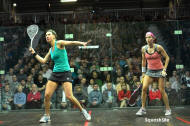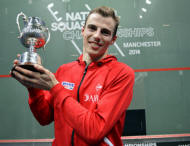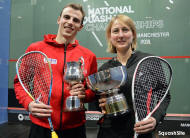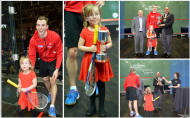 16-Feb, Day SEVEN: MASTERS UPDATES
Finals :

[2] Alison Waters 3-0 [3/4] Madeline Perry 11-3, 11-6, 11-6 (32m)

[1] Nick Matthew 3-1 [2] James Willstrop 5-11, 12-10, 11-4, 11-8 (78m)

Defending champions Alison Waters and Nick Matthew defended their titles in Manchester, taking their joint tally to ten titles ...


follow on TWITTER | photos & videos GALLERY
It's four for Waters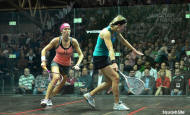 Alison Waters made the most of her record-equalling eighth appearance in a Nationals Final as she beat first-time finalist Madeline Perry 11-3, 11-6, 11-6 in just over half an hour to claim her fourth National title and a second in a row.


Waters was ahead throughout and Perry, try as she might, just couldn't close the gaps as Waters pressed home her advantage, volleying as she loves to do on this court to keep her opponent under pressure.

Waters was never likely to lose a lead of 8-1 in the first, and although Perry held it to 4-all in the next two games, Waters pulled clear in both and never looked back.
"So pleased, I've had plenty of tough battles against Madders in the past so I was ready from the start.

"I just played my game and was confident going into it. I'm so excited to have won a fourth title.

"Big respect to Madeline, I know how long she's wanted to get a National final, she's 37-years-old and if I'm still playing as well as she is at 37 I'll be delighted!"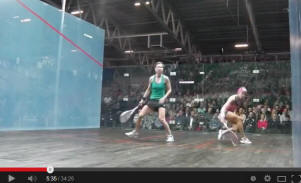 Watch the final from the front wall
And it's six for Matthew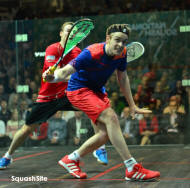 In a repeat of the last two finals, Nick Matthew extended his record Nationals title to six as he came from a game down to neat long-time Yorkshire rival James Willstrop.

Willstrop, himself a two-time champion, started brilliantly, forging ahead in a long forst game to take the lead 11-5.

Matthew struck back in the second, but his 6-2 lead was whittled down by Willstrop, who levelled at 7-all and went 9-7 ahead. Matthew got to game ball first though, eventually levelling the match 12-10 on his second opportunity.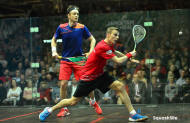 Many times in the past Matthew has worn Willstrop down, exerting more and more control as their matches progress - "I'm about 800-1 down" joked Willstrop after the semifinals - and in the third and fourth that pattern emerged again, with Matthew controlling the rallies, Willstrop having to work hard to stay in them.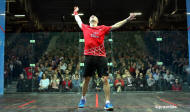 Matthew took the third 11-4 and continued to control the match up to 9-3 in the fourth. Willstrop started to come back though, got to 9-8 before tinning a simple dropshot, and Matthew only needed one opportunity to finish off a tremendous match to bring the 2014 Nationals to a close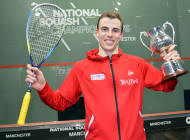 "That's got to be up there with one of my best ever wins against James. Some of his backhand drives were ridiculously tight, he was in such great form that at the moment it's relief more than delight! Although I'm sure I'll be happy in five minutes!

"I won't be playing for much longer – you're a long time retired which is why it means a lot to me, having all my family here and my support staff. I know I haven't got many more times left on this stage so I really do appreciate everyone's support."


Watch Game 1 from the front wall

Watch Game 4 from the front wall