Sat 5th,
Day One
Round One,
Top Half:



Two upset on day one as Mo

saad ousts El Hindi and Ghosal delights the home fans ...

Azlan limps out to finish the day ...

Action photos
by Vishal Kelkar

[14] Stewart Boswell (Aus) bt Ali Anwar Reda (Egy)
11/6, 11/8, 11/3 (44m)
Omar Mosaad (Egy) bt [11] Wael El Hindi (Egy)
10/12, 11/8, 11/9, 12/10 (69m)
[6] James Willstrop (Eng) bt Jonathan Kemp (Eng)
11/5, 6/11, 11/3, 11/5 (44m)
[5] David Palmer (Aus) bt Tom Richards (Eng)
11/9, 11/6, 11/7 (41m)

[2] Amr Shabana (Egy) bt Mathieu Castagnet (Fra)
11/5, 11/9, 11/5 (37m)
Saurav Ghosal (Ind) bt [15] Cameron Pilley (Aus)
11/8, 11/2, 10/12, 11/8 (77m)
[3] Ramy Ashour (Egy) bt Hisham Ashour (Egy)
11/13, 11/6, 11/8, 11/3 (35m)
[12] Mohamed El Shorbagy (Egy) bt Azlan Iskandar (Mas)
14/12 rtd
PREVIEWS



Squash Giants to play in city


by Pradeep Vijayakar





Masters is back


TRAVELLING AWAY
09.30. London Bahrain. Great, I've got the most overweight passenger of the plane next to me, and as I'm not skinny, things are not going well.... (read more)
FIRST CONTACT

I'm so glad I was able to come to the venue(s) yesterday. Although I just landed, it was crucial that I took my marks. The minibus, on time, took us from the Taj to the courts. The glass court is on the Gymkhana ground, but we still have four matches per day for the first three days played on an air conditioned traditional court minutes away from the Main Ground.

Ok, it's a bit basic here, I mean, at the back courts. No internet connection, but two lovely girls that have been assigned to me, Payal and Munira, who will run between the venues to send Steve reports, photos, etc, while I'm covering the first matches. A bit of a juggling act, but hey, you won't die if you've got to wait for a few minutes to get the results, will you??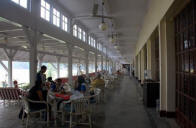 [14] Stewart Boswell (Aus) bt Ali Anwar Reda (Egy)
11/6, 11/8, 11/3 (44m)

REVENGE TIME

A sharp and concentrated Australian imposed his pace today. Long rallies on a good air conditioned court, tight drives, Stewart was able to contain the magic of Ali's racquet much better than he did in Egypt the last two times I saw them play. Last time, the Australian was making unforced errors at will, and getting frustrated. Today, it was more or less the reverse.

In the first two games, Stewart took a serious lead, 6/1 each time, controlling the rallies to perfection, frustrating a still extremely patient Egyptian, working very hard to clip his last shot at the back of very long and gruelling rallies. Then at each game, Stewart probably relaxed a bit, at the same time as Ali was picking up the pace to get his opponent out of his comfort zone. Then Stewart would close up the game again, getting more accurate on his length and width, again frustrating Ali in some errors to let the Australian lead a nice and comfortable 2/0.

In the third, as the players got tired, the lets became more frequent, and a few calls seem to upset Ali a lot, and he probably felt that he was playing against two instead of one – in that case, four actually, as we had three refs – and his mind seemed to shift in and out, allowing Stewart to take a "non recoverable" advance, 5/1, then 9/2.

Unforced errors crept in nearly every rally for the Egyptian, and soon, the match was over. The long battle I expected didn't occur today, in 44 minutes, Stewart got his revenge at last…




"I was pretty focused today, as he beat me the last two times. I know how patient he can be when it gets close, and also that he retrieves better than me, so I made sure I made sure I took a good start.

"I don't think he played as well as he did in Egypt, and also, my preparation was better this time, I was sharper, so probably, a combination of the two… "



"Today he was playing better than I did, he sent me a lot to the back, I was trying to play my game, but he prevented me from doing so.

"He wanted to win more than I did, I was focusing too much on the refereeing, and he was just a better player."


"I'm very happy, especially as it comes after a few disappointing results, like my loss against Mathieu Castagnet in London.

"I needed to get my confidence back, so I trained very hard and that helped me today to win this match. I actually want to thank my fitness coach, Defrawy, and also Mohamed, my squash coach, for the work they are doing with me.

"I was a bit nervous at the start of the match, but I found my game after that, and it was very close, even if Wael takes it, 12/10. The third was the easiest for me, and the fourth, well, I knew that if we went into a fifth, Wael would get his confidence back, and would make my life very difficult, so, I really didn't want to lose that game…"



Omar Mosaad (Egy) bt [11] Wael El Hindi (Egy)
10/12, 11/8, 11/9, 12/10 (69m)

OMAR CONSISTENT

We all know Wael's game, don't we. He is brilliant at counter attacking and slowing down the pace. He is also very good at oneliners, like today to the refs "you guys, do you know Specsavers?", or to the ball – yes, Wael speaks to them too – "what are you doing???".

It was a hard match, full of stopping and starting, as ever, but what was stunning today was Omar's consistency. As he knows Wael's game pretty well, so he never lost his focus, waited when Wael was taking time to serve, was ready quickly when he was serving fast, never lost his calm when his opponent was chatting away with the ref… Focused at all times.

The pace was sometimes very fast, sometimes very slow, Wael was dictating it, but Omar retrieved all what had to be retrieved, found great winners, kept digging in, and in the fourth, although he was really nervous, he just kept pushing through until the end. It took him two match balls to get there, but he finally gets a well deserved victory: in my eyes, he is the one that was hungrier today…

"I was not supposed to be here, I got my visa at the last minute, I only arrived yesterday, and nothing was working for me really today.

"I had trouble adapting to the court, I just never knew where the ball was going to go.

"I was not tired at all, but I kept on switching off mentally, and was struggling with my motivation. This is the end of the year I guess, we are all tired.

"Oh well, one down, one more to go. Maybe this loss is a blessing, it will help me find my will to win again… "


[6] James Willstrop (Eng) bt Jonathan Kemp (Eng)
6/11, 11/5, 11/3, 11/5 (44m)

FAST AND FURIOUS

Good thing is with those two, you never go over time… When James plays Jonathan, you know the pace is going to be out of this world, that there will be no prisoner, that Jonathan will volley absolutely EVERYTHING, and that James will attack even more than normal.

In the second, James just couldn't go past his opponent, who was as sharp as possible. But of course, all that twisting and turning took an awful lot out of Jonathan, who then arrived on the ball that fraction of a second later, late enough for James to adjust a bit more his shots, and for Jonathan to find the tin too many times.

But honestly, as ever, each game could have gone either way. Such an awkward opponent that Jonathan is. The fact that he is a lefty doesn't help either I guess…

"Jonathan plays at such a fast pace. Like I've said before, he presents a different proposition to the player. I think he's made an effort to play a more contained squash, but his pace certainly hasn't gone down, it's still as fast as ever.

"It's so difficult to play against him, the pace is so fast, you are tempted to go with it, really, and to try and stop his attacks, because he's got so many weapons he can hurt you with.

"About three years ago, we had a very tough 3/2 in Qatar, and last time I played him in the Worlds recently, that game stuck in my mind, and I played really well, it was 3/0.

"Because he plays so differently, he forces you to be more ready for him, to play better, and he challenges you tactically as well. "



"This was not as fast a pace as it can be when James and I play, it was quite controlled actually…

"I had a bad start in the first, and he was just too good. All the games were about the same really, we both worked very hard in the first half of the game, but I just couldn't push as hard as I wanted in the second half…

"James is so clinical, one loose ball, and it's the end of the rally. One thing I would do differently, is I would play more straight drops. I was setting up the points nicely, but would get him back into the rallies… more straight drops my coach said… "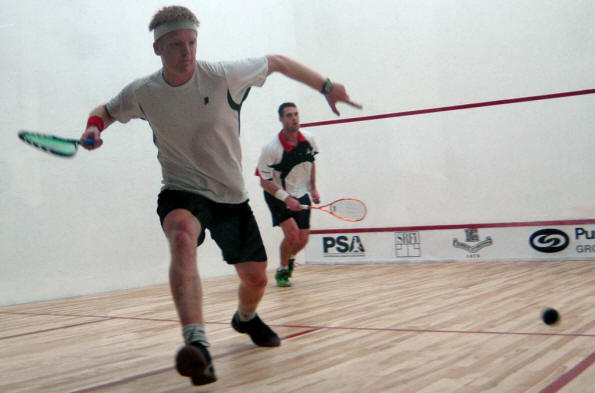 "Well, I can't read his forehand, and his backhand – an area where I like to attack – was so tight, he didn't give me much really… A few fluctuations in the game, he was working hard, then he would relax a bit, so I would play better, and so on…

"I went on there thinking let's make it as disciplined and as tough for him as my game will allow, and overall, I'm happy. But I guess that at the key points, he just sensed the kills, and gave it a big push…"



[5] David Palmer (Aus) bt Tom Richards (Eng)
11/9, 11/6, 11/7 (41m)

"I feel better, although I don't think I still have made the work that is necessary to challenge the top guys yet. We just moved from Boston to Orlando, where the weather is very close to the Australian one, and all my girls are happy. My contract with the University Club in Boston was coming to an end, and I'm now coaching two families in Orlando, a much better quality of life for my family. The timing was not good, though, it was like a week before and a week after the Worlds, so I just couldn't do the work, and at my age, I just cannot afford it…

"I was happy with my performance against Nick in Qatar, that gave me my confidence back. Of course today, I would have rather played on the glass court, but it's mainly for the top four guys, and I understand that. I can't complain really, I benefitted from that system for years when I was up there, I'm not going to complain now! I just need to produce the work to get back up.

"Tom and I we met five times this year, and honestly, he surprised me. I made him work pretty hard for a game and a half, and I thought he was going to pack up physically, but he kept coming back. This is definitely the hardest match we played out of the five.

"He is such a dangerous player, especially as he comes to the tournament with nothing to lose. I had a few lapses, and he was right in there. Thankfully, I felt the danger soon enough not to let him run away with it.

"I thought I was going to play Wael, but I'm now playing Omar, who must have played well to beat him. He is a big guy, very strong, it will be a good match. Now, I'm having a day off, and I will try to do my best and win to get through to the next round…. I'm so looking to play on the glass court, it's looking fantastic! So far, it's a very good tournament, good hotel, good venue, the Gymkhana club is just an amazing place, for a first time here, it's really a success…"


"First of all, I want to express how lucky I feel I was able to come here and play, not only in this event, but also on the glass court, and against Shabana, who I respect so much.

"Actually, maybe I respected him a bit too much, there were a few points where I was a bit too careful not to bang into him, I didn't want to cause him any injury or anything, whereas with another player, I would have just gone for the ball… And on a few attacks, I could feel I was less aggressive I would normally be…

"But what an experience to play against such a player, he is so accurate on court, we are talking inches' accuracy. And he is such a nice guy on court, so respectful of his opponent.

"I'm happy with the way I played, I went on there as to win, no pressure.

"I would have liked to take the second one, that would have been really nice! But I'll go home with a lovely smile on my face…"



[2] Amr Shabana (Egy) bt Mathieu Castagnet (Fra)
11/5, 11/9, 11/5 (37m)

NO SURPRISES BUT…

Honestly, I was rather proud of my young compatriot today. In view of the conditions he got here – at the last minute, playing Shabana on a glass court where he basically never gets to play – I thought he did bleeping well!

If he tried to attack too much at the start – clever, against Shabana, euh, I don't think so – he became better both accuracy and tactically wise. Of course, the Reigning Masters Champion was never under threat, but that match was I believe perfect for him, as it was tough enough to make him find his way around the court, but relaxed enough not to exhaust himself…

"I believe that Mathieu was both lucky and unlucky. Lucky because he got to take part in this tournament, but unlucky as he arrived only yesterday, and got to play me as well on the glass court!

"I could feel that, as the court became darker, he was getting more relaxed, and played better and better. It was comfortable enough, but thanks to the conditions he got to play in, I realise that. Mathieu has had some good results recently, and I had to be careful the whole match.

"The toughest match is often the first round, so any 3/0 victory means that you are playing well, which always a good sign.

"It killed me not to play in Qatar, I had a shoulder injury, and I really couldn't play, although a participation would have given me the world number one position. I kept watching all the matches over on the internet, I was squash craved…

"And it's exciting at the moment, it's so close that any of the top five can be world number one!!!"


Saurav Ghosal (Ind) bt [15] Cameron Pilley (Aus)
11/8, 11/2, 10/12, 11/8 (77m)

Saurav makes squash history
Pradeep Vijayakar

Indian squash champion Saurav Ghoshal gave the Punj Lloyd PSA Masters a dream start when he beat Aussie Cameron Pilley ranked 18 places above him to be the first Indian to make the second round at the all-glass courts at the Bombay Gymkhana ground on Saturday night.

Saurav is ranked 33 while Pilley is No 15. No Indian had beaten as high ranked a player in the PSA events. Saurav had beaten No 11 Alex Gough of Wales at the World team in Chennai three years ago but it was not a PSA event. He had beaten someone in the top 20. The other current great Ritwik Bhattacharya had beaten Azlan Iskandar of Malaysia when he was No 33.

There were about 200 squash fans to egg Saurav on especially when he looked like frittering a 2-0 lead. It made Saurav re-focus on the task ahead, to win the fourth set and not brood on the one he had lost.

There were any number of distractions like the court getting wet because of the sweat and needing to be mopped but Saurav kept attacking when under pressure. He kept the taller six-footer Pilley to the back which forced a few errors on his part like the last shot, an overhead volley which he put into the tin. Saurav later said, "It was better that way for him to make an error than me hitting a winner. He had fought back so well, he was picking everything so it may have been tough for me to finish."

The win was creditable because Pilley, the Australia No 3 had never lost to a player ranked below him. And he had a higher percentage of winning tie-breaks and the third was on a tie-break. Said the Aussie rather sportingly, "Saurav deserved to win. I knew he would play well in Indian conditions in front of his home crowd. My game wasn't as tight as it should have been under the circumstances.''

The match was topsy turvy. Saurav won the first two games with amazing retrieving. Luck didn't go with him in the third, a few millimetres separating a drop from back from being good which would have given him an 8-7 lead.

Luck however smiled on Saurav in the fourth - a mishit scoring a point, a Pilley drop going down, Saurav putting a high ball service away when he had missed a few, and a stroke that put him ahead 6-5 and gain at 8-5 topped by the final Pilley overhead into the tin that prompted the crowd to erupt in cheers that could have been heard as far as the Brabourne Stadium which has been monopolising them at the cricket.



"This is my biggest win in PSA, and it arrives in India. I was so close all year, I lost so many 3/2, against Adrian in Spain, I played well against LJ, against James in Qatar. But today, it's just incredible…

"Now I can concentrate on my squash I don't have anything to worry about, it's just squash, no exams nothing, and that makes a whole difference. Also, working with Malcolm [Willstrop] for the past four years have make me the squash player I am now. Of course, I worked before with Cyrus [Poncha] and Major Maniam. But Malcolm really has been supporting me and teaching me so much.

"And I'm so happy tonight I'll come to call him and tell him at last, Malcolm I won!!!! So may times, I called him recently, telling him, Malcolm, I played well, I came close, but I just lost, and he kept telling me, be patient, the win will come. And tonight, it did come! And it's so nice to have James and Mick here [Mick Todd, James' and Saurav's manager] too. And I can also call my parents and my grand parents, and share this with them, they are the most important people in my life…

"I'm so happy I'm almost speechless…. [NOT!!!!]

"This is my biggest win, and it happens in Bombay, it's the Bombay Power!!!! It's brilliant, I'm so happy, it's so great for the spectators to come and have a chance to see the Shabana, Ramy, etc. I'm so grateful for those who have organised this event, may it last for so many years to come…



"After the Dutch, I found myself having trouble getting back into it, I had such a massive high in the semis, and such a low in the final, it was such a mental blow, and I struggled to get back in gear for this one…

"At the end of the first, the ball became very slow, very spongy, and he realised it before me, and played short from the start.

"But also, I went on court without thinking about what I wanted to do, just went on there and sort of saw what happened. And that didn't work!!!!

"The conditions were not at the top tonight, but we were both players having to cope with it, and he handled it better.

"Also, he was probably a bit hungrier than I was…"
<![if !supportLineBreakNewLine]>
<![endif]>






"He has come of age."

Prakash Ghoshal, father who was in his corner


"It is a big boost to the event."

Ziad Al Turki,
PSA Chairman
"He had the potential to do it in front of his home crowd and in home conditions. It was a matter of self belief. We all know his retrieving is very good."

Mick Todd, Saurav's manager at Pontefact

"He is tough mentally. Pilley was exhausted, the fact that he had to change his shirts thrice and Saurav not once proves that."

Lee Be

a

chill,

PSA COO

"Saurav does well at home. He had match-point against me at Kolkata recently. It is good for Indian squash."

Ong Beng Hee


"We Indians are good to be among the top 20. All we need is self-belief and Saurav showed that tonight."

Ritwik Bhattacharya
"He gave an amazing display of attacking squash."

Akhil Behl,
1998 National champ

"It is good for Indian squash. I expected something like this but beating Pilley was something because of late he had had some good wins under his belt."

David Palmer,
Aussie No 1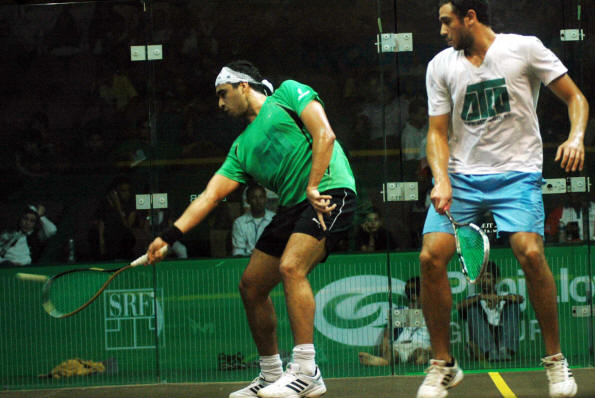 "All those emotions when you are playing your brother, it didn't feel comfortable at all.

"From the start, when I started to play well, I couldn't help thinking, this is my brother, his room is next to my room at home, I know it's maybe not professional, but that's the way I felt. Maybe I'm too emotional, I don't know…

"When I started getting in the zone, I played a few shots, and then I thought, he is the one that taught me those shots. It was really uncomfortable, I never enjoyed it, and I hope we'll never have to play against each other again.

"I hope that he won't be too depressed, I'm so glad it's over, but it's a long way to come to India, and lose in the first round. It could have been me. I'm so happy I'm through, but not that comfortable. So glad it's over, so glad.

"I've been really happy since the minute I arrived on this event, I feel like being home here, it feels like Egypt, and I'm so grateful of the welcome we are all receiving here.."



[3] Ramy Ashour (Egy) bt Hisham Ashour (Egy)
11/13, 11/6, 11/8, 11/3 (35m)

Ramy wins Brotherly Battle
Quick summary from Steve

It's never easy when you get two compatriots, let alone two brothers, playing each other in a major competition. And when the two involved are both called Ashour, you know that some of the finest racket skills in the world will be on show.

To call the rallies quickfire would be an understatement - 74 points in 35 minutes tells you there were an awful lot of short rallies, both unafraid to go for their shots, both having a good idea where their opponent was likely to put the ball next, some good guesses and some bad guesses.

Hisham took a good lead in the first, 5/2 and 7/5, only to see Ramy pull it back to 10/8, but some wonderful winners gave Hisham the game 13/11.

Ramy was always ahead after that, but Hisham wouldn't let him get away, and a couple of those winners rather than tins at 7/5 in the second and 9/8 in the third would have made it very interesting.

It was hugely entertaining, at times frantic, but it was Ashour the younger who prevailed as Ashour the elder fell away in the final game, Ramy finishing off the match neither would have wanted with a rarity, a dying length.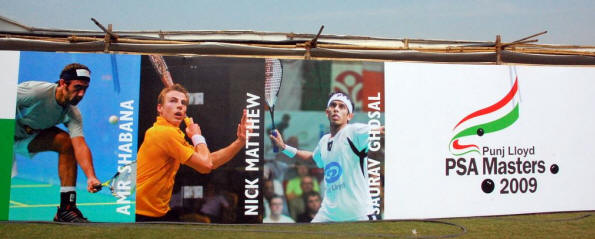 [12] Mohamed El Shorbagy (Egy) bt Azlan Iskandar (Mas)
14/12 rtd

AWFUL END OF THE DAY

What a shame, what a bleeping shame.

This encounter between Mohamed and Azlan was just of the highest level. Mohamed was nearly patient enough, Azlan was nearly playing his own game, and the result was a ridiculously fast and entertaining game of squash.

The court was becoming a bit slippery, and at 6/6, Azlan did mention how hard it was for him to actually get to the ball. "It's for future reference," said the Malaysian. Famous last words…

Azlan got his first game ball at 10/7. But a bit of pressure from Mohamed, some great shots, a few tins, and we were back at 10/10. Azlan got a fourth game ball at 11/10, which he tinned, was able to set up the fifth one at 12/11, but just slipped very badly, pulling a nasty hamstring injury.

The court was cleaned once again, but Azlan just couldn't lunge anymore, and had to limp out of a match, yet again. So frustrating. So annoying. So unfair. I know, sport's law and all that, but still…