[3] Ramy Ashour (Egy) bt [4] Nick Matthew (Eng)
11/6, 9/11, 11/9, 11/9 (79m)
RAMY FINDS HIS LENGTH…

When the Egyptian started the match, I actually asked Hisham if his brother just got a new brain, as he was actually playing a mature, tight and powerful game!!!!


It was great stuff from Ramy, patient at the back and lethal at the front, with a Nick that like yesterday, was not as his best, and looked slightly off timing wise. A few errors from both players, four tins each, but Ramy really ahead score wise, 6/2, Nick coming back a bit, 6/8, but Ramy with game ball at 10/6.

A bit of confusion with a superb return of serve from Nick called down by the ref, Ramy walking out, called back to replay the point, not that happy about it all, but still getting the point on a superb winner.

In the second Ramy, still upset with the refs, goes back to his junior squash, and as ever, that doesn't work, does it, Ramy? Five tins later, Nick is leading 7/1, when Mr Ashour decides to switch his brain back on again.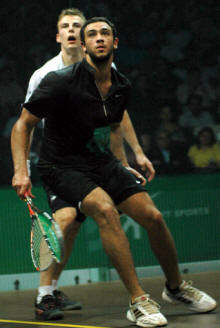 From 4/10 game ball for Nick, Ramy will claw back, offering a large and committed crowd something to cheer for, saving six game balls. Again at 6/10, confusion with a shot called out, actually being good, oh well, Nick clips it anyway, and Ramy saves another game ball, only to see his last 9/10 winner called down, and Nick taking the game.

The third and fourth were really similar I have to say, with the two players gasping for air at the start of the third, a bit of scrappy patch there, but after that, point for point till 7/7 all in the fourth, and Ramy playing better and better, with that confidence that comes from being 2/1, and close to the finishing post.

Like Nick stated, it was not the best match they played, and Nick in particular was not as impressive he was all week, but for Ramy it was not only a physical test, like he said, but a mental one. Not a long time ago, he would have lost it, and walked out mentally.

Like Shabana, who used to tin matches away, only to become of the All Mighty of Squash when he got wise, Ramy is growing up, Ramy is maturing.

At last.


"It was tough…!

"Tonight, the court was a bit slippery, but we both managed to keep moving, even if it was a bit tricky at times…

"This was a big test for my fitness, I need to thank my fitness coach, Mems, I think I did well this week in that department.

"In the beginning of the third, we both got tired, and I felt it was anybody's match. But I got my confidence back, I regrouped one more time…


"I've got great respect for Nick, he played so well tonight, he's really improving his attacking game, and he mixed up his pace really well. I think Nick and I really play well together, we seem to have a complementary game, and to keep pushing each other up. So, I would like to invite him to come and train with me, in England or in Egypt, it doesn't matter… This is an open invitation…

"This is my first win of the year, I'm so happy, and I hope I'll just keep on playing like that in Saudi, and after that. Win or lose, I just want to play well…

"I want to thank my sponsor, M. Ziad Al Turki, for the support he's been giving for all those years, and of course, the man that has made it possible for us to be here, Mr Punj.

"And to all the crowd, who has been fantastic all week, please come back next year!!!!"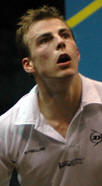 "He was playing better squash than me today, that's about it…

"I'm disappointed with my performance, my movement to the front was not good enough, and of course, all credit to Ramy, who was 80% responsible for it, his racquet skills, his movement, his shots, but I still lost 20% of it, and that made the difference.

"David Campion was very helpful today, he was trying to keep me positive between the rallies, and I wanted to thank him for his support all week…

"The stoppage didn't suit me at all, contrarily to what Peter thought yesterday, I like a continuous game, and trust me, asking for the court to be swiped was not a tactical move! Certainly not against Ramy who's got the shots!!!!

"I didn't feel this was a good match quality wise, it was exciting, but certainly not a great match. It was average squash up to 7/7 in the 4th, where the great rallies started pouring in.

"I guess there was a lot at stake today, the PSA Masters title, the world number 1. It was a lot to handle, and maybe, I was thinking about it too much.

"I've learnt from this, and I'll be keeping challenging for the number 1 spot…"