Mon 7th, Day 3
Round Two:





Action photos
by Vishal Kelkar



Photo Gallery

[12] Mohamed El Shorbagy (Egy) bt [6] James Willstrop (Eng)
7/11, 11/5, 11/4, 5/11, 13/11 (64m)
injury break for Willstrop at 5/8 in 2nd... total 140m
[5] David Palmer (Aus) bt Omar Mosaad (Egy)
11/9, 11/9, 11/5 (40m)
[7] Thierry Lincou (Fra) bt [16] Ong Beng Hee (Mas)
11/5, 8/11, 11/6, 13/15, 13/11 (104m)
[8] Peter Barker (Eng) bt [10] Alister Walker (Eng)
7/11, 11/9, 11/5, 11/7 (64m)

[2] Amr Shabana (Egy) bt Saurav Ghosal (Ind)
11/6, 6/11, 11/5, 12/10 (48m)
[3] Ramy Ashour (Egy) bt [14] Stewart Boswell (Aus)
11/9, 11/7, 11/7 (41m)
[4] Nick Matthew (Eng) bt [9] Adrian Grant (Eng)
11/3, 11/5, 11/7 (42m)
[13] Laurens Jan Anjema (Ned) bt Daryl Selby (Eng)
11/7, 9/11, 11/9, 11/5 (82m)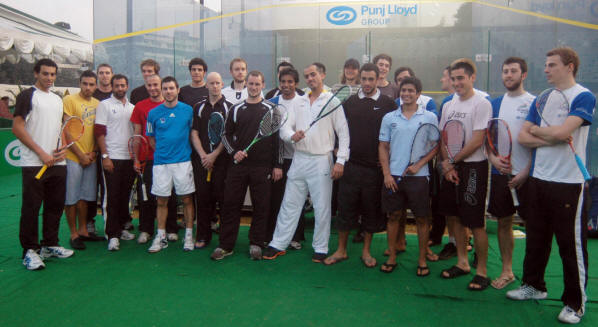 [5] David Palmer (Aus) bt Omar Mosaad (Egy)
11/9, 11/9, 11/5 (40m)

NOT MUCH MARGIN

David had to play at his best today to beat the young Omar. It was actually an excellent match, with so little contact between those two big boys. Only in the second, at 6/6, a pretty crucial time, we had a succession of lets, but honestly, the rest of the match was just perfect movement on there.

Omar started the three games far too excited, far too keen to take a good lead, was impatient and made a few errors. He then relaxed into the game, and came back around mid game, with David giving it an experienced big push at the end, to clinch both the first and second from the Whiskas really…

I was impressed by both today, by David first, who is finding his form at the end of the season, by playing more competitive matches, and becoming really dangerous for the top guys I feel. And also by Omar, who showed respect, still, hunger to win, good spirit and lovely fair squash. A real pleasure to watch…



"I haven't played him for a while, last time was two years ago, I think, in the US, Baltimore maybe, and it was a hard 3/2, a bit of a physical match. I wasn't sure how he was going to play today, but it was a really fair game, minimum contact, and that's the way it should be played…

"The court suited me better than him, really, I was able to absorb his power, whereas on the glass court, he could have been very dangerous. Also, I was sharp myself, but he showed today how dangerous he can be. He's been hovering at the top 20, giving good scares to everybody. We all know how dangerous he is, he just didn't have his break yet, and I certainly didn't want to be the one to give it to him!

"My game plan was, how would I play John White? I would try and make it hard for him, and try to force errors out of him. And that's what I played today, and it worked. Like with Johnny, it was all about a ratio of Winners/Losers, and most of the time, not much to do with the way I played! I was lucky today he made a few errors…

"I like the day off thing. I think there should be a law for us over 30's! One day play, one day rest, suits me fine…

"



"The first two games were so close, I played well, but he played better, controlling nearly every rally, especially at the end of those games, and I lost a bit of concentration, made too many unforced errors, that is always my problem.

"Still, if I had taken any of those games, I think things could have been really different.

"














[12] Mohamed El Shorbagy (Egy) bt [6] James Willstrop (Eng)
7/11, 11/5, 11/4, 5/11, 13/11 (64m)

BLOOD, ADRENALIN & DRAMAS…

Well, what a game. Out of 2 hours 20 minutes of official game, only 64m were played, and honestly, only one was to be really disputed, the last one.

First game, all about James, Mohamed not there. In the second, James not there, all about Mohamed, and at 8/5, racquet in James' forehand, big break for bleeding. Such a long break the refs decide to go for the following match while James is looked after, first by a dentist – don't think so – then by a really efficient doctor, who successfully prevents the bleeding to reoccur.

But when James comes back on court, he is nowhere on court mentally. He'll lose not only the second, but then the third in no time. The fourth will be like the first, all about James, Mohamed all over the place.

The fifth was a classic really, a battle to be remembered for centuries to come. James seemed in complete control at 5/1, made three tins, and puts Mohamed back into a match we thought he'd lost. Then Mohamed finds stunning counter attacks after great accurate squash at the back and takes the advantage, 9/6. Surely match over?

Nope, James plays out of his skin, patient, relentless, equalises at 9/9, and gets his first match ball, 10/9. Mohamed finds a winner from I don't know where, as James' shots were so tight and glued to the walls. James sets himself a second match ball. Six lets and one stroke later, 11/11 we are. A stunning drive for the Egyptian, first match ball. And match on a last amazing winner that James this time cannot retrieve.

Mohamed's mum, Basma, jumps in the air and rushes on the court. "He won because he had a good coach today," she laughs. All Egypt is rejoicing with her. And all England is felling for James…

"After the worlds I lost all confidence, and by that, I lost my game, I thought, how can I go for my shots if I don't trust my game. And the same in Qatar. So I called my parents, and told them, I need two things. One, I need you two with me, and two, I need to be with Jonah. So my dad left everything and came back to England, and so did my mum, and we all went to Millfield.

"Jonah worked with me, especially on the mental side, he understands how my head works, we had some very useful sessions, with Ian Thomas as well, his head coach there, and I got my confidence back. But I came here with no expectation, my only goal was to make it as hard as possible for the top guys, and then, it suddenly all came together today…

"In the first game, I played eight or nine unforced errors, and against James or any of the top players, you cannot afford that. In the second, I played much better, and unfortunately, I hit him at 8/5, which I really didn't want to.

"When he came back, he didn't seem to be all focused, and lost that end of game and the next one really quickly, but he played so well in the fourth again. Hisham gave me really good advice, he told me that I shouldn't hit so hard the ball on that court, that it was useless, and also to be wary of James, who although down, could come back and win. So that was in the back of my head in the fifth.

"In the last game, James was very patient, but at 5/1, he hit three unforced errors in a row, and that game me back my hope in the match. At match ball down 9/10, I don't know where I found the heart to play that nick, but that saved me really, and after that, it was 50/50. Just luck. I can only remember telling myself to run and run and run till I won the rally.

"I'm so happy, I needed a win to get my confidence back, and now, I'm BACK!!!!!!!!!!!"


[7] Thierry Lincou (Fra) bt [16] Ong Beng Hee (Mas)
11/5, 8/11, 11/6, 13/15, 13/11 (104m)

TWO DEAD PLAYERS WALKING

Guys, the matches are starting on the glass court, and here, Ali and Peter only started their encounter… So I'm going to try and make it short…

In a nutshell, if Beng Hee lost his marbles completely yesterday, couldn't find a lob or a length, and no volley drop shot in sight, blimey, he found them in Thierry's bag!!!! They both played a titanic kind of match, with exactly the same style of game: crosscourt perfect height lobs, stunning opportunistic volley drop shots and perfect tight drives. A squash school exhibition really.

The fourth game itself was 36m long, and to be honest, I thought Thierry went a bit negative from the middle of it. He was up 7/4, then 9/6, but Beng Hee, who lost a bit of his accuracy up to that point in the game, found some speed out of nowhere. Match ball for Thierry still at 10/8, another one at 10/9, but BH forcing a tie-break, 10/10. A last match ball in that game, 11/10. Then three game balls for BH, with so many lets – Thierry really had trouble getting out of the way by then. The Malaysian finally quite rightly forcing a decider, 15/13.

By that point, they were both absolutely dead. How they were able to play in fifth, I'll never know, they probably don't either.

An excellent start for BH in the 5th, 4/0. Thierry comes back, 4/4. Again BH takes a comfortable lead, 8/4. Again the Frenchman equalises at 8/8. Lets for ever, match ball Thierry, 10/8. This time, it's BH that claws back to set up his own match ball, 11/10. But there, the Malaysian was absolutely cooked from his previous match, I could see it in his eye, and Thierry was that little fresher. The fifth match ball was going to be the good one.

I'm not sure how Thierry won this, or how Beng Hee lost it. I'm not really sure they know either…

"I just came back from the Abyss, from the bottom of Hell!

"As the ball was very slow, it was so hard to give any kind of pace to the match, we had to go high, and volley a lot, a game all in accuracy really.

"I played a bit more on his forehand first because I thought he was attacking a lot on the backhand, and also because by the end of the 4th, I had lost any kind of lucidity, I didn't know how to win a point, and just didn't know what to do anymore…

"At 4/8 down in the 5th, I remember telling myself, come on, let go of the arm. I was so tense in the 4th, I didn't know the heck what to do, complete lost of lucidity, so I was forcing every shot, and burned myself out completely…

"This shows how hard it is to play Beng Hee when he is relaxed, he can really put you inside out with his flicks…"



"It's all a question of confidence really. Yesterday, I was so tense, I was so afraid I would lose in the first round again. And today, I was so relaxed. And Thierry would make anybody play his best, because if you don't, match over in 20mn…

"If I could play like that every time, I would have no complaints!

"I've lost so many matches, 13/11 in the fifth recently, Hisham, Cameron, James in HK, Thierry here… I'm confident that the win will come…

"If we both win our first round, Thierry and I are supposed to meet again in Saudi, so I'll hope he'll have a very long and very good run here!!!!!! "


[2] Amr Shabana (Egy) bt Saurav Ghosal (Ind)
11/6, 6/11, 11/5, 12/10 (48m)

Shabana sneaks past Saurav
Quick summary from Steve

The four-time world champion is through to the quarter-finals, but he was given a good workout by Saurav Ghosal, spurred on by his home crowd.

At times it looked as though the Egyptian was trying to get through to the next round without expending too much effort, but if he was playing within himself Saurav made sure that he needed to exert full effort when it mattered.

Shabana took the first comfortably enough, but Saurav wasn't going to give anything up, and took advantage of too many errors from the Egyptianin the second to level things up.

Back to his best in the third, Shabana slipped to a 0-5 deficit in the fourth - more careless tins - and really had to work hard to avoid it going to a decider. Hard work it was too, as both were unafraid to go for their shots, hardly ever the same one twice in a row and both were having to make repeated trips to all corners of the court.

Shabana drew level at 6-all but Saurav stuck in, taking it to 7-all, 8-all, 9-all, and earned a game ball with a lovely volley drop. He almost took it too, just clipping the tin with a flick dropshot that Shabana would have struggled to retrieve.

10-all then, and the Indian crowd were disappointed to see Shabana get a fairly soft stroke in the front right corner, and dismayed when he finished the match off with a volley drop into the same corner.

So, it's an all-Egyptian quarter-final (how many times have we said that) as the senior world champion takes on the junior world champion ...

"He was up for it, and I underestimated him a bit in the second. He stepped in front of me, found some great shots at the front, and ran away with the game.

"In the third, I was able to do to him what he did to me in the second, but the fourth was point by point all the way.

"I was up 9/8, but only managed to sneak it 12/10.

"Overall I'm happy, it was a good match, I'm feeling good.. I knew it was going to be tough playing against him in front of his home crowd…"





"He's a legend already, so it's an honour to be able to play him in front of my home crowd.

"I though I played well, I did the right things and proved I could stay with him for most of the match so it bodes well for the future.

"It's Saudi next then the Nationals in Delhi so it's a busy end to the year ..."








[8] Peter Barker (Eng) bt [10] Alister Walker (Eng)
7/11, 11/9, 11/5, 11/7 (64m)

PETER AT THE FRONT

Strangely enough, whereas I thought that Ali was going to attack, and Peter control the match from the back, it was Peter who kept very positive and attacking with accuracy, flair and power, and Ali was more in the counter attack department, but lacking a bit of strength probably…

A good match, squash wise, although I wish – and trust me, I told him – that Peter would ZIP IT!!!! It's doing no good to his game to let his mind wander chatting in a completely sterile way to the ref. But the good thing is that he really starts to realise it…

"I hated every moment of it. Ali is one of my best friends, and I hate playing my friends. But hey, the English boys are doing well, so, that bound to happen more and more…

"I'm happy with my attacking game today, but I need to SHUT UP!

"It was always going to be difficult to play Ali, he played better than me in the first, I managed to win the second, and played better and better, but there was not much in it at all, not much at all…

"Also, it was so difficult to wait more than two hours to get on court, we warmed up like three or four times, then Beng Hee won the fourth…. By the time you get on court, you're a bit flat…"



"I enjoyed it. I think he was moving more explosively than I did, I was moving smoothly, but lacked a bit of speed to get to the front.

"Still, compared to how I felt two weeks ago, I'm now much better, nearly back to where I was before I got ill. And I think that for Saudi, I'll be back playing better, as my movement is the most important for me."


[3] Ramy Ashour (Egy) bt [14] Stewart Boswell (Aus)
11/9, 11/7, 11/7

"I felt very comfortable today, it was hot on there, basically the conditions I'm used to! I thought I played well, last time we played I lost, so I'm really happy with my performance today. I just hope that I can keep it coming throughout the tournament.

"I'm a big guy, he is tall too, so we really had to move well both of us today. I have a lot of respect for him, and I had to play very well to beat him.

"I know that every point, every rally is precious, but I just need to keep attacking, because it's my game, even if sometimes, I realise I do it too much. But he kept the pace up today, and I had to go along and keep with him, playing my shots with confidence…

"This is my best performance for a while, tactically and in the head I mean. And also, I was ready for a five setter, which is good, which means that I was really into it.

"At every point today, I had that balanced feeling, between feeling the danger, the fear I could lose, and at the same time, that reassurance to know deep inside everything was going to be ok…"



"I knew it was always going to be a fast pace, and in fact, against Ramy, you don't have much option than to take it to the front and cut off the shots.

"I tried to kept it as simple as possible, straight as much as I can, but no ball is quite safe with him, he's got such a variety of attacks, and today, I just didn't have enough to combat his mixing of shots, spirit and change of pace…"








[4] Nick Matthew (Eng) bt [9] Adrian Grant (Eng)
11/3, 11/5, 11/7 (42m)

NICK JUST TOO GOOD

Yes, Adrian made a lot of errors today, three in the first game, six in the second, and same in the third. But he was working so hard, keeping a good mid position on court, and moving really well, with the correct game plan.

But he just run out of options at the end of long rallies, where Nick was just picking up everything, and sending it back with change on top. So Adrian had to go for that much more, for that much too close to the tin.

Nick was extremely impressive tonight, and I don't see how Thierry, with a 104 minute match today, and playing for the first time tomorrow on the glass court, whereas Nick has played there from the start, could threaten the English number one.

But then again, Squash is such a strange sport, everything is always possible…

"I enjoyed playing today at 8pm instead of 6 last time….

"Adrian twisted me a lot, the rallies were tough, but he just managed to clip his shots at the right time for me, and at the wrong time for him.

"Tomorrow I'll be playing Thierry, who is at home on the glass court, and probably looking forward to playing on it. He's got so much experience, we've always had great battles together.."


[13] Laurens Jan Anjema (Ned) bt Daryl Selby (Eng)
11/7, 9/11, 11/9, 11/5 (82m)

"I thought I played pretty well, and Daryl's efforts for the past two weeks have been amazing. He just won the Dutch Open, and he must have been playing pretty well yesterday to beat Greg too, so, a lot of effort there, and to be honest, I felt more fresh physically than he did on there.

"Still, it was so hard to expose him physically… When you win a tournament, you get a lot of confidence from it, but at the same time, it's physically tiring. And Daryl is not the kind of guy that's going to say, I've won a few matches, I'm going to stop now. No, he still fights and wants to win the next one….

"Finally my first platinum event quarter final, thank God…"



"I think that today I played better than yesterday. Yesterday, I did what I had to do, no disrespect , but I think I played much better today.

"Today, LJ's comitttment to the rallies was impressive, he was 100% committed to all the rallies. I was 100% committed on 90% of the rallies, and that difference of points made the result today… His concentration was more consistent than mine.

"The third was crucial, although I still believe I could win after losing that game. thought that maybe LJ was going to suffer a bit physically, as he didn't have as much squash as he would have liked this past week, but he was very strong…

"Obviously disappointed, but not disappointed to lose against LJ, the way he played today. He played a great match, hard and fair, with a great respect for his opponent. He fully deserve this win, and I still enjoyed it very much…