18-Feb-13:
Sekisui Chemical Group Supports
"SEKISUI OPEN Squash Tournament"
in Europe


SEKISUI CHEMICAL CO., LTD. confirms its support to Squash.

After a successful trial PSA Challenger 5 tournament organized in Switzerland in May 2012, Sekisui Chemical Group agreed to a 2013-2020 sponsoring concept.

As a support to the squash 2020 Bid, the sponsor title SEKISUI OPEN Squash tournament will be held again in Switzerland (Home of the International Olympic Committee) in 2013 and every year until 2020. The tournament category will be scaled up to a PSA Challenger 10 and even to a PSA 20 in the years 2016 and 2020.

SEKISUI OPEN will be organized in Partnership with the Swiss Squash Federation and the Squash Festival Association, under the guidances of the Professional Squash Association.

The foreseen dates for semis and finals matches of the 2013 SEKISUI SQUASH OPEN are May 25-26.
SEKISUI OPEN website: www.squashsite.co.uk/sekisui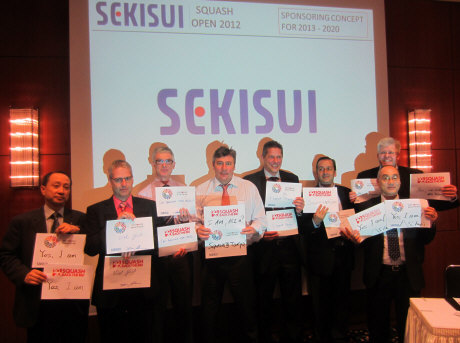 Sekisui Chemical Group in Europe Managing Directors
back the Squash 2020 Bid

List of Affiliated Sponsors

1) SEKISUI ALVEO AG 

2) SEKISUI CHEMICAL, G.m.b.H.

3) SEKISUI S-LEC B.V.

4) SEKISUI SPECIALTY CHEMICALS EUROPE, S.L.

5) SEKISUI DIAGNOSTICS (UK) LIMITED

6) American Diagnostica G.m.b.H.

7) SEKISUI VIROTECH G.m.b.H.

8) SEKISUI SPR EUROPE, G.m.b.H.

9) ESLON B.V.

Duration of this agreement
-From 13 February 2013 to 31 December 2020

Sponsoring fee
-US$ 122,000 (total amount in 2013-2020)