21-May, Finals:
Fuller wins a thriller, Kandra in three
Alexandra Fuller won the women's title in Kriens, beating top seed Julianne Courtice in a thrilling battle that ended 12-10 in the fifth to the South African seventh seed.

In the men's final top seeded German Raphael Kandra beat Mazen Gamal, the second seed from Egypt, in straight games.


20-May, Semis:
Sekisui finals are set

It was the end of the road for giant-killers Dimitri Steinmann and Cristina Gomez in the semi-finals in Kriens as both fell in the semi-finals to the top seeds.

Steinmann threatened another upset as he took a 2-1 lead over Raphael Kandra, but the German recovered to claim a place in the final, where he'll face second seeded Egyptian Mazen Gamal, who proved one seed too far for Kuwait's Ammar Altamimi.

In the women's semis England's Julianne Courtice won three close games to stop Gomez's run, but the other semi-final produced an upset as South African Alexandra Fuller beat second seed Anna Serme in straight games.

Full results in the draws
19-May, Quarters:
Steinmann and Gomez continue upsets


Local qualifier Dimitri Steinmann continues to progress in Kriens, coming from a game down to beat third seed Iker Pajares - winner of the Jersey Open - to reach the semi-finals.

He'll face top seed Raphael Kandra, who won his all-German match against Jens Schoor in four games.

The second men's semi will see second seeded Egyptian Mazen Gamal take on Kuwait's Ammar Altamimi, who produced a second successive upset as he beat fourth seed Chi Him Wong in straight games.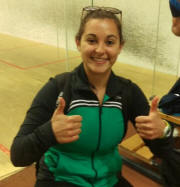 The women's semi-finals will also see the top two seeds take on unexpected opposition - Julianne Courtice beat Sina Wall in straight games and she'll face Spanish qualifier Cristina Gomez, who came from one-two down to beat fourth seed Tinne Gilis.

Second seeded Czech Anna Serme came from a game down to deny Enora Villard a possible upset, and her semi-final opponent is South African Alexandra Fuller, a straight-game winner over third seed Ineta Mackevica.

18-May, Round One:
Steinmann stops Frost

Check the results in the draws ... 2017 DRAWS
There was a big upset in the men's draw as home qualifier Dimitri Steinmann beat two-time Sekisui champion Kristian Frost, the sixth seed. A second upset came as Kuwait's Ammar Altamimi beat Austrian Open champion Aqeel Rehman.

In the women's draw Spain's Cristina Gomez was the only player to upset the seedings as she beat Cheyna Tucker to reach the quarter-finals.
17-May, Qualifying Finals:
What they Said:
Elise Romba bt Gaby Huber: w/o

Cristina Gomez bt Cindy Merlo 3-1
Cristina: Today I felt better than yesterday but my game hasn't been the best. I wasn't concentrated 100% and Cindy knows my weaknesses because I started to play against her when we were younger, like 11 years old hahaha.

For the next one I'll try to do my game more aggressive and not making mistakes. It's always a pleasure playing against Cindy, amazing Player and good friend. Nice match ;-).

Ambre Allinckx bt Tereza Svobodova 3-0
Ambre: Really happy that I won my second qualifying match. I played really good and tried to focus all the time on the game. Happy with my peformance, was better than yesterday. Looking Forward for my next match.

Julie Rossignol bt Eva Fertekova 3-1
Julie: Today, I didn't Play my best. I could have played better but Eva is a good Player and I found it hard to play against her.

I'll do my best against Anna tomorrow and I'm very happy to made it to through the quali. Very excited for tomorrow.

Sebastien Bonmalais bt Benjamin Fischer 3-1
Sebastien: I'm happy to be in the maindraw and won my last match against Benjamin Fischer. He is a good player, that was a good match.

I played well and I have a good feeling. I'm sorry to my friend Benji, who lost today.

Yannik Omlor bt Benjamin Aubert 3-1
Yannik: The first match was pretty long. After this I guess he lost a lot of energy because he was ill. I hope that I manage to win against a seeded Player tomorrow in the maindraw.

Roee Avraham bt Sean Conroy 3-2
Roee: This was a very intense match. I was 2-0 down in games and managed to come back to win 3-2. A bit of a weird game for both of us, but I'm happy I was the one fighting a bit harder to win today and qualify in my first 10k.

It is great to be here in this weather and great views. I hope to come stronger for my first round.

Dimitri Steinmann bt Mark Broekman 3-0
Dimitri: I'm happy that I've won today. He is a very skillful Player and it was hard to read him in the first two games. In the third I started to straighten it up and was able to close it out 3-0 in the end.

Looking Forward to Play tomorrow in the main draw.