What they said ...
[Q] Youssef Ebrahim (Egy) 3-0 Claudio Pinto (Por)
11/6, 11/8, 11/6 (27m)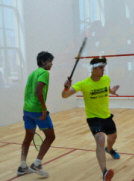 I didnít know what to expect, so I just did my best. Iím so happy with my performance,

itís the first time for me in the main draw, and only my second psa tournament.

Iím so excited, and looking forward to my next match!


Adil Maqbool (Pak) 3-2 [Q] Ahmed Hussein (Egy)
9/11, 11/7, 7/11, 11/4, 12/10 (49m)
It was a pretty weird match, all the points that I lost were mistakes. The games that I won, I played more winners than mistakes.

I won my 10th National Title last week in Abu Dhabi, so I mentally exhausted. Iím just happy I got a win.

For tomorrowís match, I have nothing to lose, so I am going to give it my all.


[8] Andrew Wagih (Egy) 3-1 Robert Downer (Eng)
11/8, 7/11, 12/10, 11/6 (60m)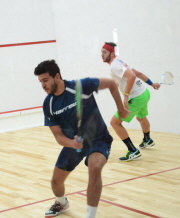 He was playing well, he surprised me with the way he played actually. We are good friends off court as well, so it was a nice match to play.

My confidence is at minus 0 at the moment, when you keep losing in the first round of the qualifying of major tournaments for 6 months, it doesnít help you feeling confident! I had a good peak after Qatar, where I push Greg in 5, I won the London Open and right after, the Valencia Open. So I had a good moment, but then I got injured.

During the British, I went to have treatment in hospital, actually, I had to go to the Police Station to have my visa extended, as my appointment was 1 day after the end of my visa (thanks Yathreb and Fram for giving me that advice, that shows you should listen to women). The body feels a bit better now, and hopefully, Iíll be back in really good shape next season.


[7] Zahed Mohamed (Egy) 3-1 Saadelin Abouaish (Egy)
11/8, 6/11, 11/5, 12/10 (51m)
Iím a bit under the weather, a bit of a cold, Iím taking antibiotics, and it feels like my body is asleep! Plus, a lot of pressure on me, because Iím the higher ranked and he is the young hungry player, and itís the first round!

In the last game, I was up match ball 10/6, then I relaxed, thought I won too fast, he came back at 9/10, stroke for him, and 12/10 finally for me!


[5] Mohamed Abouelghar (Egy) 3-0 Ahmed Ashoush (Egy)
11/5, 11/3, 11/4 (21m)
Heís got a good reach on the ball, and really good hands. I tried and put the ball away, a few nice crosscourt, and played the right tactic. And no birdsbrain in sight because you canít afford that against a young and talented player.


Ali Farag (Egy) 3-0 [6] Laurens Jan Anjema (Ned)
11/8, 11/4, 11/3 (40m)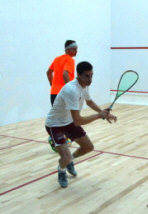 Hamdullah. Thatís all I can say. Really I didnít expect that.

I did my homework really well, I watched him a lot, and I asked my brother how I should play him. I was a bit nervous at the start, but once I stuck to the game plan, I was alright and it went my way.

He is too good in the middle of the court, and very tall. So I tried and kept the ball as far away as possible from the middle, minimised the crosscourt, and attacked everything I could, even more than normal, trying to make him move to the front a lot.

I am so happy.


Shehab Essam (Egy) 3-0 Tom De Mulder (Bel)
11/9, 11/4, 11/9 (29m)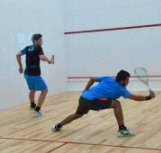 Iím so happy to get through this match. I played well today, but I know I have to play better tomorrow for my match against Fares. I was surprised by my opponentís performance, as I wasnít really sure what to expect. Time to focus for my next match.



[Q] Mazen Gamal (Egy) 3-0 Jaymie Haycocks (Eng)
11/7, 11/6, 11/6 (28m)
My draw is hard, I got very unlucky I thought. Today I played the seed number 9, but recently, I got used to hard matches.

I had to pick up the pace. I went in with the state of mind that I really had to attack every rally. As last time we played, it was 5 years ago, but I remembered how slow the pace was, and how good he was at it. I just came back from South Africa, and the altitude there was very high. So I came back fitter and faster.

This is how I was able to set up a fast pace throughout the match. For tomorrow, Iím playing Zahed, last time I won, but it was a really long match. I hope Iím going to be able to choose the right tactics.

I would like to thank my training mate Karim Aly, and my feeder Baher Coutry.


Youssef Soliman (Egy) 3-0 [Q] Omar Marei (Egy)
11/4, 11/2, 12/10 (30m)
I feel well, I played good, and extremely happy to reach the second round. First two games, I was comfortable, but the third, it was a bit harder, and he was leading 7/3 up, but I came back to clinch it 12/10.

He started to make mistakes, at the end of long rallies, he got tired a bit I think, and thatís how I managed to win. I really wanted to win in 3, thatís why I gave it a big push.


Ammar Altamimi (Kuw) 3-0 [Q] Karim Amer (Egy)
13/11, 11/7, 11/5 (35m)
I was 10/7 down in the first, I was playing too short too early, attacking from the back of the cour,t, and it was not working. So I slowed down the pace, and kept it tight to the wall. It worked fine.

After taking the 1st, I kept the same tactics, straight drives, no crosscourt, as he was killing them, he started opening the court, and I just waited for the good opportunity. Maybe the fitness also played its part.


Ahmad Alsaraj (Jor) 3-2 [Q] Basem Makram (Egy)
11/6, 3/11, 6/11, 11/4, 11/8 58m
It was a great match, I really enjoyed it, I knew I had to toughen up from the beginning, he was trying to set a slow pace, and I was trying to speed it up, but couldnít really do it.

My only option to hit it as hard as I could and keep it in the very back of the court. Last game, I was down 4/7, and thought I had lost, but thatís when I started playing the best squash of my life.



[3] Omar Abdel Meguid (Egy) 3-0
[Q] Hesham Mohamed (Egy) 11/4, 11/4, 11/9 (25m)
It was a nice match to start the tournament and find my marks on the court. Actually, when we finished playing, I asked him if he wouldnít mind playing another game! So we did stay a bit longer on thereÖ



[4] Mazen Hesham (Egy) 3-0 Hossam Nasser (Egy)
11/2, 11/7, 11/2 (21m)
I think he was a bit injured, and he was not too keen in playing rallies, and I was struggling a bit to get any kind of page. My shots were or great shots, or in the floor!

I am happy with my squash, I won the Houston Open, I did good in the British, but I find that I am a bit mentally drained. I was lucky he was injured, so it gives me a day more to get my head back into the competitionÖ


[2] Fares Dessouki (Egy) 3-1 Edmon Lopez Moller (Esp)
11/8, 11/13, 11/5, 11/2 (35m)
I am a bit tired, as I just landed from London, and only had 2 hours to rest and focus on this match. But it doesnít take anything away from him, as he played really well and we are going to see a lot of him on tour for sure.

This short turn over is actually something to learn from, as next season, we are going to have tournaments everywhere, like the World Champs in the US, then off to Hong Kong, and Qatar. Thatís really good experience and I will learn from it.

Now, time to rest and refocus for my next match tomorrow. Iím play Shehab, a very dangerous player. And I will have to raise my game if I want to win.



[1] Karim Abdel Gawad (Egy) 3-1 Matias Tuomi (Fin)
11/4 10/12, 11/2, 11/8 (34m)
Itís hard to play two tournaments in a row with only a couple days to rest, but it was a good match to start the event, my body needed a bit of work for next match.

In the second game, he played well, and I wanted to do too many complicated and difficult things, and made 7 or 8 unforced errors. Lost of focus really, but I founded it again for the next two. Tomorrrow, Iím playing Arafa, I havenít seen him play.

Karim Abdel Gawad