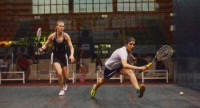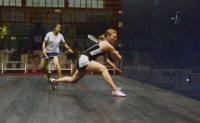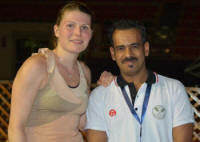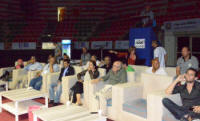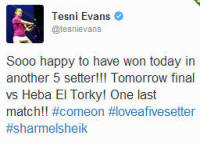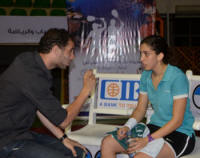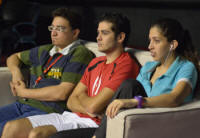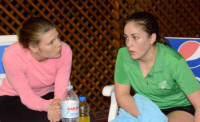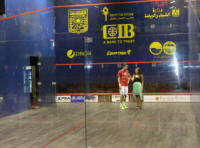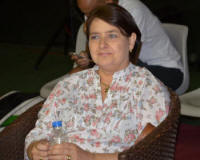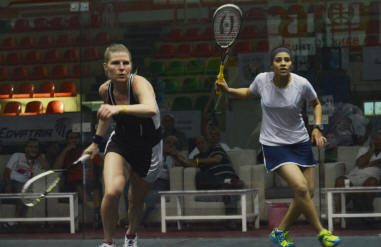 [5] Heba El Torky (Egy) 3-0 [6] Line Hansen (Den)
11-8, 11-8, 11-4 (44m)
A very strong squash performance from the Egyptian. She hit very powerful shots today, mixed with lovely boasts and a perfect width. Line never put a feet wrong, and kept fighting as she always does till the last shot. But Heba hitting and accuracy were just too good today.
Line is a such a great player, I watched her playing Raneem in the British Open, it was a super match, so of course, I was a bit nervous and afraid today.

I am really happy with the way I played, my drives were good, I played a very straight game, low, accurate and I kept to the plan (no I still won't tell you).

She was playing really good shots, so even if I was playing well, she was better, and stringing points! But my motivation was that she beat my sister earlier in the tournament, and I had to avenge the family honnour!!!

I need to thank Ahmed Taher, who was coaching me today. He is now head coach at the Smouha Club in Alexandria, but we have a long history together, as he is the one that trusted me when I was 10 years old to play in the National Teams while he was National Junior coach.


Ali Farag (Egy) 3-1 [4] Mazen Hesham (Egy)
12-10, 5-11, 11-4, 11-6 (55m)
Mazen has been pushing very hard to get to those semis, like Fares yesterday, he was pretty dead upon arrival! But still he had a good start in the first game, leading 6/4, 9/6 with his infamous chopped drop shots and magic angles. But Ali just sloooooowed down the pace to a stand still, frustrating Amazing Mazen, who just wanted to finish the rallies/game. Down 10/8 game ball to Mazen, Ali just hung in there, to take the game 12/10.

Mazen came back very strongly, Ali didn't, 11/5 in the second, then the reverse in the 3rd, 11/4 for Ali! It looked we were heading for the 5th when Mazen went up 4/0, but 6 tins later, Ali was closing the match 11/6....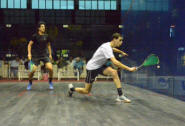 Not our best squash match ever! We never played well at the same time, I think we were both mentally exhausted: him because he had an incredible run, me because of last time match against Fares.

It was all who would play the best tactical game: I tried and slowed down the pace, and squeezed errors out of him more than played winners.

Oh well, tomorrow is another match, actually, another tournament!



[7] Tesni Evans (Wal) 3-2 [8] Yathreb Adel (Egy)
11-5, 8-11, 11-9, 7-11, 11-8 (69m)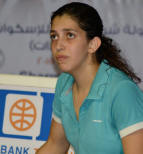 That one people was a weird one. First of all, because I felt and wrote in my note book that Yathreb was flat as it comes. It can't be from yesterday' match. She was playing, then not playing. Pushing and then not pushing. Oh well, what do I know.

Secondly, we had some issues to say the least with one of the refs (centre one) that basically was getting the score wrong every three points. I had noticed the previous days that if his decisions were correct, his score keeping was not the best. But today, with the fatigue that comes from refereeing so many matches all week, he basically didn't know where was what.


It got bad at the end of the second, but the third was comical. According to my book, Tesni lost at least one point, probably two. Not to mention that he got carried away, called a let when both his side refs were giving strokes! I must say I was glad (sorry Yathreb) that the Welsh girl took that game, because it was so close that it would have been truly unfair, border official complaint.
As for Miss Evans, she kept on doing what she does best: fight. Fight for every point. Run after every shot, whether she gets it or not. And against a shot maker/hard hitter like young Yathreb, it makes a great show for us spectators!

Fourth was very close up to 7/7, Yathreb scoring the last four points. The fifth was different, 5/5, then Tesni seems to take control, 8/5. Yathreb comes back close, 7-8, saves a match ball on a stroke at 10/7, but tins the last point, 11/8, in one minute short of 70m.
It was a similar game to yesterday's, same style of pattern. But I'm happier with the way I played today, although it was still a bit scrappy. I think I played better shots, and instead of just defending and retrieving attacks, she attacked and I attacked off.

I'm fresh as a daisy, Fram, I luuuuuve playing 5 game matches...


[1] Karim Abdel Gawad (Egy) 3-0 [3] Omar Abdel Meguid (Egy) 11-8, 11-8, 11-4
So many times you hear/read "oh we are very good friends off court" and it's not that true. But it is for those two boys. They were rooming together the whole week, they just get on pretty well, and have tremendous respect for each other.

Karim was truly worried with his injury at the start of the week, and basically didn't thing he would pass the first round. He is now reassured that his body is fine, and has been playing better and better as the week unfold.

As for Omar, he won't hate me when I say it was the poorest performance I ever saw of him. He has had a lot on his mind recently, and it showed today. Karim's pace was just too much for Omar today, he didn't have enough time on the ball.

Basically, a Karim Samy at his best, and a bad day at the surgery for Omar Azbawy. You didn't know? For some strange reason, some of the Egyptian players have got different names inside Egypt and outside Egypt. Don't ask, I am not...
First of all, I would like to say all the respect I have for Omar. He is a very successful person in life, he graduated from one of the toughest colleges in Egypt, he is an established dentist, and he still managed to get to top 30 in the world. And I'm sure he is going to climb up very soon.

It was very tough to get on court against him, we know each other so well, we've been playing in the same club for 8 years now, and he is such a good friend of mine. I had to put that friendship aside today, and focus on the result. It was a very fair and clean match, hardly any decisions.

I'm happy to play Ali, we are the same age, and he is a very good friend of mine.

I'm also happy that today is the first day I didn't focus on the movement at all, I just was able to concentrate on my squash...