Buler Challenge Cup 2012
17-22 Apr, Hong Kong, $15k+$10k
22-Apr, Finals:

[2] Joey Chan (Hkg) bt [1] Rachael Grinham (Aus)
11-7, 4-11, 11-9, 10-12, 11-9 (51m)

[1] Max Lee (Hkg) bt Dick Lau (Hkg)
11-4, 11-8, 11-7 (32m)

It's a Buler Cup home double in HK

The crowd at the Hong Kong Squash Centre went home happy after witnessing a double home triumph in the finals of the eighth running of the Buler Challenge Cup.

First up was the women's final with home favourite Joey Chan taking on top seed Rachael Grinham, the Australian former world number one currently ranked six.

Chan, the left-handed world #19 who at 23 was some 12 years younger than her opponent, took the first, regained the lead at 2-1, but Grinham fought back again to level it 12/10 in the fourth.

It was Chan who prevailed 11/9 in a tense decider to claim her fifth WSA title, keeping the Buler Cup in Hong Kong hands as she succeeded Annie Au as a popular champion.

A home winner was already assured as the men's finalists Max Lee, the top seed, and Dick Lau, who had survived three marathon five-setters to reach the final, took to the three-glass-walled centre court.

This one was a much simpler affair as Lee, the reigning HK national champion, won in straight games in just over half an hour to add a second Buler Cup title to the one he won in 2008, making it six career PSA titles.

"Managed to do my classic "when in doubt lose by 2 points in the 5th"... That was a crowd-pleaser for the locals to say the least. I quite enjoyed it myself tho. Joey is such a fair player and in a 5-set match that went right down to the wire you could probs count the referee decisions on one hand (although shame one of them had to be a questionable stroke on matchball - not that I'm dwelling on it clearly ha).

"I guess I gotta say that I'm disappointed to have lost that, given that it was so close and could have gone either way, but I'm actually really happy just to have been able to get in 4 matches on the trot and other than the expected stiffness from playing competitive matches I've come out of it feeling injury-free.

"That's a win in my book at the moment, as well as feeling no hesitance in my movement for the first time since tearing my hamstring in January, so overall this week served its purpose to get in some competitive match practise leading up to the British Open and I'm actually really pleased with how I'm feeling physically at the end of it."

Rachael Grinham on Facebook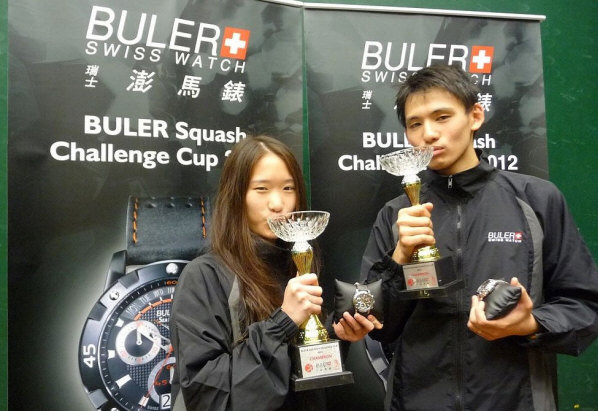 Buler Challenge Cup 2012,
17-22 Apr, Hong Kong, $15k
Round One
19 Apr
Quarters
20 Apr
Semis
21 Apr
Final
22 Apr
[1] Rachael Grinham (Aus)
11/4, 11/7, 9/11, 11/3 (37m)
[Q] Tong Tsz-Wing (Hkg)
[1] Rachael Grinham
11/7, 6/11, 11/3, 11/5 (35m)
[6] Joshna Chinappa

[1] Rachael Grinham

11-4, 11-3, 11-5 (21m)

[Q] Ho Tze Lok

[1] Rachael Grinham

11-7, 4-11, 11-9, 10-12, 11-9 (51m)

[2] Joey Chan

[6] Joshna Chinappa (Ind)
11/9, 11/6, 11/3 (21m)
Karman Siu (Hkg)
[3] Siyoli Waters (Rsa)
11/5, 9/11, 11/9, 11/6 (30m)
[Q] Ho Tze Lok (Hkg)
[Q] Ho Tze Lok
9/11, 9/11, 13/11, 11/7, 11/8 (68m)
[7] Olga Ertlova
[7] Olga Ertlova (Cze)
11/3, 11/7, 11/6 (39m)
Carmen Lee (Hkg)
[Q] Harshit Kaur Jawanda (Ind)
11/3, 11/3, 11/7 (19m)
[5] Siti Munirah Jusoh (Mas)
[5] Siti Munirah Jusoh
4/11, 8/11, 11/8, 14/12, 11/6 (65m)
[4] Misaki Kobayashi
[5] Siti Munirah Jusoh


11-4, 11-5, 11-9 (26m)

[2] Joey Chan

Sarah Cardwell (Aus)
11/8, 11/6, 11/4 (23m)
[4] Misaki Kobayashi (Jpn)
Coline Aumard (Fra)
11/8, 11/9, 11/9 (39m)
[8] Liu Tsz-Ling (Hkg)
Coline Aumard
11/6, 12/10, 11/6 (24m)
[2] Joey Chan
[Q] Pansy Chan (Hkg)
11/5, 7/11, 11/1, 11/2 (24m)
[2] Joey Chan (Hkg)
18-Apr, Qualifying Finals:

Tong Tsz-Wing (Hkg) bt Chu Ka Hei (Hkg) 11/6, 11/13, 11/5, 11/4 (37m)
Pansy Chan (Hkg) bt Ho Ka Wing (Hkg) 11/5, 11/4, 11/5 (18m)
Ho Tze Lok (Hkg) bt Sin Kea Tsang (Hkg) 12/10, 11/9, 11/6 (25m)


Harshit Kaur Jawanda (Ind) bt

Ho Ching Chan (Hkg) 11/5, 13/11, 4/11, 11/4 (32m)
Buler Challenge Cup 2012
17-22 Apr, Hong Kong, $10k
Round One
19 Apr
Quarters
20 Apr
Semis
21 Apr
Final
22 Apr
[1] Max Lee (Hkg)
11/6, 9/11, 11/2, 11/4 (47m)
Harinderpal Sandhu (Ind)
[1] Max Lee
11/2, 11/3, 11/5 (29m)
Ahmad Al-Saraj

[1] Max Lee

11-9, 7-11, 11-5, 11-2 (46m)

[4] Leo Au

[1] Max Lee

11-4, 11-8, 11-7 (32m)

Dick Lau

Ahmad Al-Saraj (Jor)
14/16, 11/4, 11/9, 4/11, 12/10 (82m)
[Q] Michael Harris (Eng)
Elvinn Keo (Mas)
6/11, 11/5, 11/9, 3/11, 13/11 (59m)
[Q] Valentino Bong (Mas)
[Q] Valentino Bong
11/2, 11/5, 11/7 (24m)
[4] Leo Au
[4] Leo Au (Hkg)
11/5, 11/7, 11/8 (24m)
[Q] Yuta Fukui (Jpn)
Geoffrey Demont (Fra)
8/11, 11/8, 12/10, 8/11, 14/12 (82m)
[3] Ivan Yuen (Mas)
[3] Ivan Yuen
7/11, 11/7, 11/9, 9/11, 11/5 (46m)
Kam Hing Choong

Kam Hing Choong

10-12, 12-10, 8-11, 11-4, 11-9 (63m)

Dick Lau

Cheuk Yan Tank (Hkg)
11/6, 12/10, 11/9 (28m)
Kam Hing Choong (Mas)
[Q] Tsuke Shinnosuke (Jpn)
11/5, 11/2, 11/7 (27m)
Mahesh Mangoankar (Ind)
Mahesh Mangoankar
5/11, 11/8, 11/9, 6/11, 11/5 (70m)
Dick Lau
Dick Lau (Hkg)
11/9, 4/11, 11/6, 4/11, 11/9 (65m)
[2] Muhd Asyraf Azan (Mas)
18-Apr, Qualifying Finals:



Tsuke Shinnosuke (Jpn) bt

Tristan Eysele (Eng) 10/12, 11/7, 11/5, 11/3 (37m)
Valentino Bong (Ms) bt Dan West (Eng) 117, 11/9, 1210 (35m)
Michael Harris (Eng) bt James Huang (Tpe) 11/6, 9/11, 11/6, 6/11, 11/6 (66m)
Yuta Fukui (Jpn) bt Wong Hon-Fung (Hkg) 11/8, 11/7, 116 (32m)

17-Apr, Qualifying Round One:

Tsuke Shinnosuke (Jpn) bt Alex Lau (Hkg) 11/4, 1/4, 11/7 (22m)
Tristan Eysele (Eng) bt Chris Lo (Hkg) 6/11, 11/8, 11/3, 11/9 (41m)
Dan West (Eng) bt Le Roy Loeon (Mas) 11/4, 11/2, 11/6 (21m)
Valentino Bong (Ms) bt Henry Leung (Hkg) 11/9, 11/3, 11/8 (31m)
James Huang (Tpe) bt Yeung Ho-Wai (Hkg) 11/8, 8/11, 11/6, 11/5 (61m)
Michael Harris (Eng) bt Ma Tsz-Hei (Hkg) 11/7, 11/4, 11/7 (35m)
Yuta Fukui (Jpn) bt Ng Ka-Yiu (Hkg) 11/4, 11/3, 11/2 (17m)
Wong Hon-Fung (Hkg) bt Yuen Tsun-Hei (Hkg) 11/5, 11/3, 11/4 (22m)
22-Apr, Finals:

[2] Joey Chan (Hkg) bt [1] Rachael Grinham (Aus)
11-7, 4-11, 11-9, 10-12, 11-9 (51m)
[1] Max Lee (Hkg) bt Dick Lau (Hkg)
11-7, 4-11, 11-9, 10-12, 11-9 (51m)

21-Apr, Semis:
Dick wins another thriller
to set up all-HK men's final

With five Hong Kong players appearing in the semi-finals of the Buler Challenge Cup, hopes of home success at Hong Kong Squash Centre were high, and they weren't disappointed.

Second seed Joey Chan was first to reach final, as she despatched Malaysia's Siti Munirah Jusoh in straight games in 26 minutes.

Not to be outdone, top seed Rachael Grinham put paid to the run of young qualifier Ho Tze Lok in 21 minutes.

The first men's semi-final was an all-HK affair, and it was top seed Max Lee who prevailed, beating Leo Au (whose elder sister Annie reached the semi-finals in Texas scant hours before) in four games.




That left Dick Lau with a chance of making it an all-Hong Kong final, but true to form he found himself embroiled in a third successive hour-plus five game thriller.

"Another thriller from dick ... omg so intense," commented the watching Misaki Kobayashi.

This time Dick found himself 2-1 down to Malaysia's Kam Hing Choong, but battled back to take the match 11/9 in the fifth after 63 minutes.

The final will be a repeat of the pair's meeting in last year's Hong Kong Nationals final.

20-Apr, Quarters:
Five out of five for HK in Buler quarters

It was a great afternoon for the home players and fans at Hong Kong Squash Centre as all five local players won their quarter-finals of the 8th Buler Challenge Cup.

In the $15k women's event second seed Joey Chan beat unseeded Frenchwoman Coline Aumard in straight games, but the big upset was by young Ho Tze Lok who came from two games down, taking the third 13/11 and going on to beat Czech seventh seed Olga Ertlova in a 68-minute thiller.

She now faces top seed Rachael Grinham while Chan meets Malaysia's Siti Munirah Jusoh, who also came from two down to beat fourth seed Misaki Kobayashi in another hour-plus five setter.

The men's $10k semi-finals will feature three HK players.

In the top half of the draw top seed Max Lee and fourth seed Leo Au both progressed in straight games to guarantee a home finalist, while in the bottom half unseeded Dick Lau, after taking out the second seed yesterday won another marathon affair, edging past India's Mahesh Mangoankar in 70 minutes.

In the semi-final Lau will face a fellow giant-killer after Kam Hing Choong won his all-Malaysian encounter with third seed Ivan Yuen in five games.

FROGS' TALK

Ptit mot de fin du WSA depuis la France.

Bon pas de super perf mais je suis assez contente de mon match contre Joey Chan. Bien mieux que la dernière fois, j'ai réussi à la faire douter un peu. Surtout dans le 2eme où j'ai deux balles de jeux mais je n'ai pas réussi à conclure.. Contre la 19mondiale un petit manque de longueur/largeur et c'est sanction direct surtout sur ce court vitré 3murs sur 4.

Je sais sur quoi je dois bosser encore, mais il y a du mieux dans mon jeu. Voila petite semaine de repos/entrainement et Focus sur les Europe par Equipe. Hâte d'y etre avec les filles et le reste du groupe... Tres motivée pour ma part !!

D'ici la Merde à Cam pour sa finale !!

A très vite

19-Apr, Round One:
Lau outlasts Asyraf
as locals progress in HK

There is plenty of home interest in the quarter-finals of the Buler Challenge Cup in Hong Kong after local players impressed in the men's and women's first rounds as Hong Kong Squash Centre.

Second seed Joey Chan beat namesake Pansy 3/0 to progress in the Women's $15k WSA event, and she'll play France's unseeded Coline Aumard who beat eighth seeded youngster Liu Tsz-Ling in straight games.

The biggest upset of the day though came from another HK youngster as Ho Tze Lok beat third seed Siyoli Waters 3/1 to set up a meeting with Czech Olga Ertlova.

The other quarter-finals will see top seed Rachael Grinham take on Joshna Chinappa while fourth seed Misaki Kobayashi meets Siti Munirah Jusoh.

The Men's $10k PSA event has substantial home interest too - first and fourth seeds Max Lee and Leo Au are on course for a semi-final meeting in the toip half, while Dick Lau came from 2-1 down to beat second seeded Malaysian Muhd Asyraf Azan in just over an hour.

The longest matches of the day though were two 82-minute marathons, won by third seed Ivan Yuen and unseeded Jordanian Ahmad Al-Saraj.


FROGS' TALK

Hello Fram,

Ptit message d Hong Kong ou je suis avec Geoffrey :-)

Bilan du premier tour assez positif car je gagne contre la tête de série 8. J'ai pris le risque de venir ici mais j'ai eu la chance d'avoir un bon tirage, alors j'ai pris ma chance et je gagne 3/0.

Je suis assez satisfaite de mon match même si il y a des points à améliorer mais dans l'ensemble mon jeu qui est basé sur la puissance et mon physique ont fait la différence...

Ce soir je joue Joey Chan sur le meme court qu'en decembre, mon objectif est que les jeux soient plus serrés, je veux sortir du court vidée, en ayant donné mon meilleur pour ne pas avoir de regrets, j'ai un assez mauvais souvenir de notre dernier match alors faut pas que ca se répète !

Pour Geoff, il a fait un super match hier, je ne le vois pas souvent jouer mais là il m'a surprise ! C'était vraiment un match de qualité et il méritait tellement de gagner. Il n'a pas été aidé par l'arbitrage dans les moments importants du match et à ce niveau laà, ça pouvait faire la différence; Enfin, j'espère qu'il prendra sa revanche très bientôt !!

Merci à lui en tout cas pour le coaching d'hier, car ca m'a beaucoup aidé. Plaisant de ne pas être seule au bout du monde ...

Bizzz a tout le monde et Merci a tous pour les petits messages de soutient :-)


Salut Fram, Un mot pour te donner des news d'Hong Kong.

J'ai pu être derrière le match de Coline et essayer de lui donner quelques conseils. Elle était confrontée à une jeune hong-konguaise, mieux classée qu'elle.

Elle a dans l'ensemble bien géré ses débuts de jeu. Malgré quelques décisions défavorables par moments, Coline est restée dans son match, a su le remporter grâce à sa puissance en fond de court qui lui a permis de se créer les ouvertures nécessaires pour enfoncer son adversaire.

Je jouais donc une heure après la fin de son match contre Ivan Yuen.

Pas grand chose à dire sur les deux premiers, j'ai bien démarré, puis un peu plus de fautes en milieu de second jeu... 11/8, 8/11
Dans le troisième le score est resté très serré. Puis je mène 9/8 quand... l'arbitre signale un "foot fault" juste après mon service, ce genre de chose qui n'arrive jamais ! Suivi d'un stroke sur un simple let, évidemment... Dur dur, je perds le jeu 10/12, je le méritais pourtant celui-là...

J'ai pris un très bon départ dans le quatrième, 6/1, puis 7/3, il remonte, 8/6 et je m'en sors 11/8, avec quand même du mal à finir le jeu, la fatigue commençait à bien se faire sentir !

Dernier jeu, 4/1 pour moi quand on se percute, ses dents sur le haut de ma tête, on était un peu sonnés tout les deux, je saigne, et un peu plus de 5 minutes de pause avant de reprendre le match à 4/2.

Le score ne bouge pas trop, beaucoup de contacts et de décisions. 9/10, il fait la faute, 11/10 balle de match, je fais la faute à mon tour sur un croisé de l'avant, si elle passe je gagne c'est certain !!! Je sauve une autre balle de match, 12/12, un no let 12/13, fixation, j'y suis pas, 12/14...

La fin se joue vraiment à pas grand chose, la perf aurait été belle, donc déçu de ne pas avoir pu conclure sur une victoire ce soir, mais je vois que je progresse dans le bon sens, et qu'il y a nombres de points positifs à retirer de ce match.

C'est encourageant pour la suite...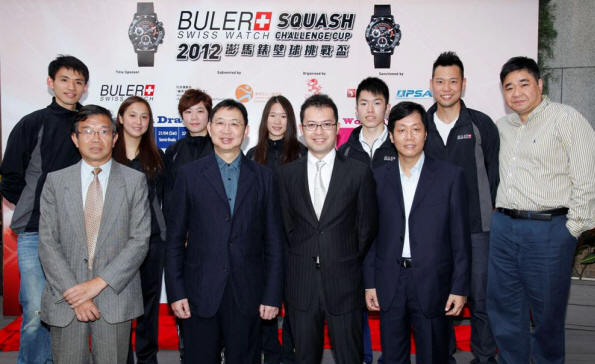 HK players well prepared
for the 8th Buler Cup

Organized by Hong Kong Squash, subvented by Home Affairs bureau (Arts & Sport Development Fund) & Leisure and Cultural Services Department, sanctioned by the WSA and the PSA, the "Buler Squash Challenge Cup 2012" is set to welcome and bring world-class players from all four corners of the world to Hong Kong for the 16 in main draw plus the qualifying draw on both Men's and Women's competition with the total prize money of HKD200,000, to be held at the Hong Kong Squash Centre on 17 to 22 April.

This is the eighth time that "BULER WATCH, SWITZERLAND" title sponsor this world top satellite event in HK which has attracted overseas players from 9 countries including Australia, Czech Republic, England, France, Japan, India, Jordan, Malaysia, South Africa, etc to compete. The event is an ideal competition for our Hong Kong Team members including Joey Chan Ho-ling, Liu Tsz-ling together with Max Lee Ho-yin, Dick Lau Siu-wai and Leo Au Chun-ming as a warm-up tournament before they complete in the Asian Team Championships which will be held early next month in Kuwait.



The competition will also help our local players to gain valuable world ranking points on both WSA and PSA events. HK's top players Max Lee will be the top seed in the men's main draw while Joey Chan will be the second seed in the women's main draw.

"We are extremely grateful to the title-sponsor BULER WATCH, SWITZERLAND for their continued support of this tournament for the eighth year. With such a great support, the local Asian Games medallists will make every effort in the tournament not only to fight for the professional ranking points but also to demonstrate their best skills to the local squash fans. Thanks also go our close partner, Home Affairs bureau (Arts & Sport Development Fund) and the Leisure & Cultural Services Department for their funding and logistics support," said Mr. David Mui, MH JP, Chairman of Hong Kong Squash.



"We are proud to be the title sponsor of this world-class squash tournament since 2003 and hope our contribution can help in the development and promotion of the Squash in Hong Kong. We wish all players and spectators a memorable week of competition," Mr. Stanley Lau, MH, JP Managing Director of Buler Watch, Switzerland.