European Individual Championships 2012
23-26 May, Helsinki, Finland
26-May, Finals: Full playoff results

[2] Camille Serme (Fra) bt [1] Natalie Grinham (Ned)
8/11, 11/6, 11/6, 11/9
3rd/4th Lucie Fialova bt Gaby Huber 3/2

[3/4] Olli Tuominen (Fin) bt [2] Borja Golan (Esp)
11/8, 11/9, 11/3
3rd/4th Simon Rosner bt Mathieu Castagnet 3/1

New EICC champions crowned in Helsinki

Olli Tuominen drove the home crowd wild on the last day of the European Individual Closed Championships in Helsinki, Finland. The 3/4 seed 33-year old world number 23 from Helsinki became the first Finn to win the title after beating number two seed Borja Golan of Spain 3/0 in the men´s final.

Tuominen showed his supporters his best play. In the first game the ball did not reach the back wall too many times, as both Tuominen and Golan were hitting hard and low and volleying as much as possible. Tuominen seemed to secure the first game with is as he raced to 8-5 lead. Golan fought his way back and tied the game at 8/8, but Tuominen could not be overtaken. He took a 10/8 lead and ended the game with an explosive backhand crosscourt from the front.

In the second game it was the world number 20 Golan who was already 9/5 ahead before Tuominen got back his pace and took 6 points in a row to win the game 11/9.

In the third game Tuominen continued his one-inch-above-the-tin dropshots and Golan lost faith. Tuominen took the game 11/3 and secured the gold medal.



"To tell you the truth, I would never have believed that I'll win the title", the happy winner said in the midst of celebration and compared the feeling to winning the European Junior Championship in front of a home crowd in 1997.

"This was a great ending to a season that has been better and better towards the end. Now a good summer training and I'll come strong to next season", Tuominen continued.

The men´s bronze went to Simon Rösner of Germany, who did not let the first time semifinalist Mathieu Castagnet (5/8) surprise him. He lost the first game but won the match eventually 6/11, 11/7, 13/11, 11/7.

It was a new winner in the ladies´ draw as well. The final was a replay of last year's final, only this time it was 23-year old Camille Serme (2) of France who fought a 3/1 victory over the experienced Natalie Grinham of Netherlands.

The ladies' final will not go in to history as a classic. Both players had some difficulties keeping the length in their shots and avoiding mistakes. It was Grinham who managed with fewer faults in the first game, winning it 11/8. In the second and third game it was Grinhams turn to make the mistakes and Serme marched to a 11/6 win.

The Australian-born world number 9 fought bravely in the fourth game but finally had to give in to an increasingly confident Serme. The world number 10 from Paris took the fourth game 11/9 and raised her hands in the air to celebrate her first title in front of the French team.

"I think I'll buy champagne for the whole team tonight," the young champion smiled. "I don't know if I could have handled a fifth game. It's been a long season and this tournament took a lot of energy," she continued.

The runner-up Natalie Grinham took comfort in the fact that she had good time to make it to her flight back home to celebrate her son´s second birthday on Sunday. "Neither of us played our best game. I wasn't very comfortable with the court and the lighting outside it. But Camille would have been a tough opponent anyway," Grinham said.



If the final was not that much of a show, the bronze match gave the audience its money's worth. It took full five games for Lucie Fialova (3/4) of Czech Republic to take her first European medal as she beat her close friend Gaby Huber-Schmohl (3/4) of Switzerland.

The world number 37, Fialova, seemed to march to victory taking a quick 2/0 lead before the aggressive style of Huber-Schmohl started to bear fruit. She tied the games to 2/2. In the fifth game Fialova quickly raced to 8/2 lead but Huber-Schmohl did not give in. She fought her way back in to the game before Fialova secured the bronze medal with a 11/7 win in the fifth.

"I was pretty nervous. Last time I played Gaby I was 2/0 up and lost 2/3. I decided that this time it won't happen," Fialova said after the game. "I was not expecting a medal. This is a perfect way to start the summer vacation," concluded the 23-year old from Prague.


photos by
Petteri Repo MORE
EICC 2012, Men's Draw
Round Two
24 May
Quarters
24 May
Semis
25 May
Final
26 May
[2] Borja Golan (Esp)
11/4, 11/6, 11/8
Roman Svec (Cze)
[2] Borja Golan
11/1, 11/5, 11/7
[5/8] Henrik Mustonen

[2] Borja Golan

11/8, 11/9, 11/4

[5/8] Mathieu Castagnet

[2] Borja Golan

11/8, 11/9, 11/3

[3/4] Olli Tuominen

[5/8] Henrik Mustonen (Fin)
11/6, 9/11, 11/2, 11/7
Aqeel Rehman (Aut)
[5/8] Mathieu Castagnet (Fra)
11/2, 11/2, 12/10
Daniel Mekbib (Cze)
[5/8] Mathieu Castagnet
11/3, 7/11, 11/6, 11/4
[3/4] Nicolas Mueller
[3/4] Nicolas Mueller (Sui)
11/7, 11/6, 11/3
Sebastiaan Weenink (Ned)
[3/4] Olli Tuominen (Fin)
14/12, 5/11, 11/3, 11/9
Bart Ravelli (Ned)
[3/4] Olli Tuominen
11/7, 11/9, 11/8
[5/8] Julien Balbo
[3/4] Olli Tuominen

11/9, 6/11, 11/3, 11/4

[1] Simon Rosner

Frank Hartkoren (Ned)
5/11, 11/6, 11/3, 11/4
[5/8] Julien Balbo (Fra)
Matias Tuomi (Fin)
11/3, 11/4, 11/9
[5/8] Gregoire Marche (Fra)
[5/8] Gregoire Marche
8/11, 8/11, 11/4, 11/5 11/4
[1] Simon Rosner
Rusian Sorochynskyi (Ukr)
11/4, 11/3, 11/9
[1] Simon Rosner (Ger)
23-May, Men's Round One:

Roman Svec (Cze) bt Tatu Knuutila (Fin) 11/4, 11/2, 11/8
Aqeel Rehman AUT bt Marcin Karwowski (Pol) 11/3, 11/2, 11/7
Henrik Mustonen (Fin) bt Dmitry Ivanov (Rus) 11/3, 11/2, 11/1

Mathieu Castagnet (Fra) bt Janne Järvinen (Fin) 11/8, 11/6, 11/9
Daniel Mekbib (Cze) bt Pidro Schweertman (Ned) 8/11, 11/6, 11/8, 6/11, 12/10
Sebastiaan Weenink (Ned) bt Denys Podvornyi (Ukr) 11/1, 11/7, 11/9

Olli Tuominen (Fin) bt Ondrej Uherka (Cze) 11/6, 11/7, 11/4
Bart Ravelli (Ned) bt Alexey Severinov (Rus) 11/0, 11/4, 11/8
Frank Hartkoren (Ned) bt Konstiantyn Rybalchenko (Ukr) 11/7, 11/7, 11/5
Julien Balbo (Fra) bt Sergey Belyaev (Rus) 11/4, 11/1, 11/4

Gregoire Marche (Fra) bt Jaakko Vähämaa (Fin) 11/4, 11/3, 11/3
Matias Tuomi (Fin) bt Wojciech Nowisz (Pol) 11/8, 11/8, 7/11, 11/6
Ruslan Sorochynskyi (Ukr) bt Martin Svec (Cze) 11/3, 11/3, 5/11, 11/3
EICC 2012, Women's Draw
Round One
24 May
Quarters
24 May
Semis
25 May
Final
26 May
[2] Camille Serme (Fra)
11/1, 11/6, 11/1
Anna Jurkun (Pol)
[2] Camille Serme
11/2, 11/3, 11/1
Maud Duplomb

[2] Camille Serme

11/4, 11/7, 11/6

[3/4] Gaby Huber

[2] Camille Serme

8/11, 11/6, 11/6, 11/9

[1] Natalie Grinham

[5/8] Olga Ertlova (Cze)
7/11, 11/2, 11/6, 11/5
Maud Duplomb (Fra)
[5/8] Orla Noom (Ned)
11/8, 11/3, 11/6
Julia Lecoq (Fra)
[5/8] Orla Noom
5/11, 11/9, 11/3, 11/2
[3/4] Gaby Huber
[3/4] Gaby Huber (Sui)
11/4, 11/3, 11/3
Dominika Witkwska (Pol)
Xisela Aranda (Esp)
11/7, 11/3, 11/6
[3/4] Lucie Fialova (Cze)
[3/4] Lucie Fialova
11/4, 11/4, 11/7
Laura Pomportes

[3/4] Lucie Fialova

11/7, 11/4, 11/6

[1] Natalie Grinham

Laura Pomportes (Fra)
9/11, 11/9, 11/7, 11/9
[5/8] Birgit Coufal (Aut)
Saara Voltola (Fin)
11/5, 11/1, 11/7
[5/8] Coline Aumard (Fra)
[5/8] Coline Aumard
11/6, 11/4, 11/6
[1] Natalie Grinham
Melissa Meulenbelt (Fin)
11/7, 11/3, 11/4
[1] Natalie Grinham (Ned)
23-May, Women's Qualification:

Anna Jurkun (Pol) bt Emilia Korhonen (Fin) 16/14, 12/10, 9/11, 11/7
Julia Lecoq (Fra) bt Ekaterina Marusan (Rus) 11/5, 11/2, 11/4
Dominika Witkowska (Pol) bt Aliis Allas EST 5/11, 11/5, 11/7, 11/8
Xisela Aranda (Esp) bt Irina Belyaeva (Rus) 11/4, 11/3, 11/2
Melissa Meulenbelt (Ned) bt Emilia Soini (Fin) 8/11, 11/8, 2/11, 121/8, 12/10
Tuominen topples top seed
Poku Salo reports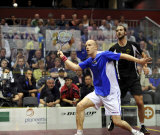 Olli Tuominen fulfilled the home crowd's wish and plays in Saturday's final for a first ever Finnish individual gold medal in the European Individual Closed Championships in Helsinki. In the semi-final Tuominen defeated a four places higher ranked Simon Rösner from Germany by 3 games to 1.

The Match started evenly with both players trying to keep the ball close to the walls, mainly the backhand wall, Tuominen fought the first game to his name, but that woke the German up and he came focused to the second game and took control.


In the third game Rösner lost the control and a decision against him made him also lose his concentration. Tuominen took advantage of that and cruised to a 3-1 victory.

"The key to winning today was in my will to play. I deliberately tried to hit good lengths especially from the backhand and put pressure because that would give opportunities to hit winners," said Tuominen after the match.

The crowd supported Tuominen wildly and they knew that by winning Tuominen would make Finnish squash history. About his preparation Tuominen said in an Olli-like way, "Quite a basic set, rest, meal and a knock up in and then we see how it goes."


Borja Golan from Spain secured a place in the final by beating France's Mathieu Castagnet in straight games. Golan was the favourite but the Frenchman fought hard. First game to Golan 11-8 and the second 11-9. In the third Castagnet couldn't put up to Golan who cruised to a 11-4 victory.

Not only is a new men's winner guaranteed in tomorrow's final, a first non-French champion since the event was reinstated in 2004 will be crowned.

The women's final will be a replay of last year's final where Natalie Grinham from the Netherlands will meet Camille Serme from France. Both finalists had a fairly easy afternoon with Grinham beating Lucie Fialova from the Czech Republic and Serme Gaby Huber-Schmohl from Switzerland in three straight games.

"I beat Camille in the final last year but lost to her a couple of weeks later so we will see how it goes. When the match starts it's a 50-50 situation," commented Grinham after the match.

24-May, Quarters:

Castagnet marches to semis


Mathieu Castagnet of France was responsible for the upset of the day as the 5/8 seed took Switzerland's 3/4 seed Nicolas Müller by surprise in four games on the second day of the European Individual Closed Championships 2012.

Castagnet controlled the game and Müller never really found his game pace. "I was confident I could win. I've played Nicolas several times in the Swiss league and I know how to play with him", the 25-year old Frenchman said after reaching his first semifinal in individual European Championships.

Castagnet will meet second seed Borja Golan of Spain. Golan had an easy walk as as he dismissed Finland's Henrik Mustonen 3-0.

On the other side of the draw, number one seed German giant, the 6 foot 2 tall Simon Rösner came back from 0-2 down against Frances Gregoire Marche.


"I beat him in five games in El Gouna International Squash Open in April, so I could expect a tough match", said Rösner. "Tomorrow's game will be a tough one as well.

Olli plays in front of a home crowd, so he will be even tougher than usual", Rösner said referring to the Finn Olli Tuominen, who comfortably removed Julien Balbo of France 3-0 in his quarterfinal match.


No surprises in the ladies´ draw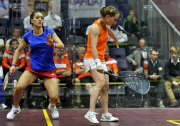 In ladies draw, number one seed Natalie Grinham of Netherlands beat Coline Aumard of France comfortably 3-0.

Grinham will meet the Czech Lucie Fialova who beat France's Laura Pomportes just as easily.


On the other side of the draw, second seed Camille Serme of France took a comfortable 3-0 victory over compatriot, 9/16 seed Maud Duplomb.

"I am glad it was not that closely fought match, so I'll be in shape tomorrow", Serme smiled after the game. "Now I am going to sit down with my coach and we'll develop a plan for tomorrow," Serme added.

Serme will be challenged by Gaby Huber-Schmohl of Switzerland, who dropped the first game against Orla Noom of Netherlands and fought a close second game before marching to 3-1-victory.
Finnish trio advance on day one

Poku Salo reports

The first day of the European Individual Closed Championships went according to expectations. In the men's event the only top four seeded player in action was Olli Tuominen whose match against Czech Ondrej Uderka acted as a good warm-up for Thursday's two rounds.

"This first match was easy but the opposition is getting stronger is the next rounds. My preparation has been good so everything is ok", said the motorcyclist from Helsinki. Tuominen has only once before participated in the EICC, two years ago and then he got the bronze medal.

Finland's 16 years old champion Emilia Soini had a close encounter with Holland's Melissa Meulenbelt. Soini fought well and was only beaten 12-10 in the fifth. Soini's coach was unable to be present but was watching the live stream and gave advice by phone between games.

Henrik Mustonen who has recovered from an injury appeared no for the first time in six weeks and had no difficulty in beating Russia's Dimitry Ivanov in straight games.

The third Finn to reach the second round was Matias Tuomi. Poland's Wojciech Nowisz managed to take one game but Tuomi was more or less in command from start to finish.

In the men's second round and women's first round on Thursday the rest of the top seeds will start their campaign for the Championship and the quarterfinals will also be played on Thursday night.
Preview:
One more title to claim in Finland

It's the end of the season in Europe with just one more title to be claimed, that of European Individual Champion. Helsinki's new 12-court Talihalli facility will host the event, which will see a new men's champion crowned after the withdrawal for personal reasons of six-time champion Gregory Gaultier.

Germany's Simon Rosner is the top seed, with Spain's Borja Golan seeded to meet him in the final. Swiss Nicolas Mueller and Finland's own Olli Tuominen are the 3/4 seeds in what should be a very competitive draw.

Top seed in the women's event - which also saw the withdrawal of the top seed and three-time champion Jenny Duncalf - is France's Camille Serme, her final opponent expected to be Natalie Grinham, the defending champion from Holland. With Gaby Huber and Lucie Fialova as 3/4 seeds - both ranked in the 30s - anything other than a repeat of last year's final in Poland between the top two would be a major surprise.