Nash Cup 2012
17-22 Sep, London, Ontario, $10k
21-Sep, Finals:
ILLINGWORTH AVENGES
THE BATTLE OF 1812!


Dave Morrish reports



Finals day was eagerly awaited and this year's Nash Cup has been one of the most exciting and most competitive.

Before the final, I had a chance to chat to the players and get their thoughts on their upcoming final.

JULIAN ILLINGWORTH:
"Gonna go for a lot of nicks and open up the court"! Only joking! I hope I play well and if I do, I will put myself in a good position to win the tournament. Oli is a good player so I will need to be at my best.

" I have not played my best yet this tournament. The margins of error are so fine and I have been missing a bit of stability and feel. I have not felt super comfortable which is what separates playing ok and playing well. I am looking forward to the match tonight."

OLIVER PETT: "I am feeling good – it is obviously going to be tough and I am going to have to play my best if I am to have a chance of winning, and am relishing the opportunity.

"I have never played him before. Seen a lot of him this week so have an idea of how he plays. I plan on trying to restrict him at the back of the court and force him into opening it up. I will need to vary the pace too. As I said, I am going to have to be at the top of my game if I am going to have a chance of winning."



JULIAN ILLINGWORTH (USA) beat OLIVER PETT (ENG)
6-11; 11-9; 11-6; 11-6 (59 mins)

Oli came out of the blocks sharp, purposeful and looking like a horse destined to win the race. He raced to a 3-0 lead without doing anything special. Julian got himself on the score board thanks to an error. Oli controlled most of the game and forced Julian into some unforced errors and won 11-6. Yann Perrin had Julian an odds on favourite at the start of the match but changed his mind after the first and made Oli odds on favourite).

Yann's change of heart looked good as Oli raced into a 6-2 lead, courtesy of good attacking squash and unforced errors from Julian. The game was about to change, as was Yann Perrin's mind! Julian seemed to have found his rhythm, his length and above all his confidence. Oli was still attacking but it was filled with errors. From such a promising start, Oli went on to lose the game 11-9.

Yann certainly changed his mind and said Julian was definitely odds on favourite now. Noting against Julian, but I still thought Oli could pull it off!

At the start of the 3rd game it was clear Julian was back! The first 4 points were shared, and then Julian started to pull away. He was playing error free squash, keeping the ball tight and forcing Oli to take some risks – result was a 11-6 win for Julian.

The crowd was looking for a comeback – it looked possible up to 4 all but then Oli imploded and made error after error (some forced, some unforced) and before we knew it, it was 10-6 championship points. Julian is an experienced campaigner and made sure of his first match point to secure a victory, which at the start of the week, not many people would have put their money on…. Not even Yann Perrin!

Sam Cornett and Stephanie Edmison reporting on Julian Illingworth:

Julian had a tough time getting to the finals this week. "I felt fine going in", he said, despite having a five-setter in the quarters (against Anthony Graham) and a four game semi-final against crowd favourite Andrew Schnell.

"I was cramping after the quarters, but was able to recover in time for the semis." When asked how the court played in the final, as we referred to him as 'No-shot Illingworth', he commented on how it was difficult to play any shots on the court throughout the tournament.

Julian is off to the US Open next. He is feeling fit and very glad to have had the opportunity to work out some of the kinks in his games before competing in such a large event.

The Nash Cup is the largest (size) trophy that Illingworth has won to date on the tour, and we wish him the best of luck this season. We look forward to having him back to defend his title next year!

Sam Cornett and Stephanie Edmison reporting on Oliver Pett:

It was clear that the bleachers were filled throughout the week for Oliver's matches, as he was clearly able to bring forward a very… 'attractive' game. When asked how he was feeling going into the finals today, Oli said "I had great energy, and was feeling very confident. "I was frustrated by the loss given the confidence I had going in"

He had a strong start to the match, taking the first with gusto. He confessed, however, that nerves seemed to take a toll on him. This was especially evident in the fourth and final game, which he quoted as being "riddled with errors", despite working hard to move Illingworth around the court.

Oliver's next event is Santiago and we cannot wait to follow his results. We look forward to seeing him again next year.

Jay Nash ended the presentation ceremony by announcing that not only will we be having a WSA event next year, but also that we will be upping our "purse" to $15k next year!

What a great end to an unbelievable week.


We opened the evening with a women's exhibition. Sam Cornett and Steph Edmison, two of Canada's top female squash players, entertained the crowd to a great exhibition! Sam sneaked home!

What the crowd did not know until after the men's final was that next year's Nash Cup will be both a PSA and a WSA event. We asked Sam and Steph for their reaction to this:



Sam Cornett: "This is huge for London Squash to put on a WSA event.

There are only 4 on Canada at the moment (2 in Montreal, one in Winnipeg and one in Toronto). Looking at the way the Nash Cup PSA event has grown over the past 5 years, there is every chance that Jay Nash will grow the WSA event into something special as well.

London Squash is renowned for its friendly atmosphere and hospitality and keen members".



Steph Edmison: "As Sam said, this will be massive for the women.

The NSA (National Squash Academy in Toronto) has been such a positive addition to Canadian squash and if we can get more WSA events around the country it will definitely help with the competitive development of our female competitive players."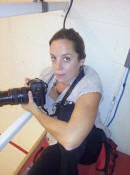 The overworked: London bar staff and Kim the Photographer (and Dave too!)
Nash Cup 2012
17-22 Sep, London, Ontario, $10k
Round One
19 Sep
Quarters
20 Sep
Semis
21 Sep
Final
22 Se
[1] Julian Illingworth (Usa)
11-6, 11-6, 11-5 (36m)
Scott Arnold (Aus)
[1] Julian Illingworth
11-9, 2-11, 11-7, 6-11, 11-5 (74m)
Anthony Graham

[1] Julian Illingworth

7-11, 11-8, 11-7,
11-9 (56m)

Andrew Schnell

[1] Julian Illingworth

6-11, 11-9, 11-6, 11-6 (59m)

[4] Olivier Pett

Anthony Graham (Eng)
7-11, 11-6, 11-4, 11-7 (55m)
David Letourneau (Can)
Andrew Schnell (Can)
11-5, 11-2, 15-13 (30m)
[Q] Tyler Hamilton (Can)
Andrew Schnell
11-13, 11-6, 11-13, 11-1, 12-10 (70m)
[3] Jan Koukal
[3] Jan Koukal (Cze)
12-10, 11-6, 11-4 (30m)
[Q] Adrian Dudzicki (Can
[Q] Fred Reid (Can)
15-13, 9-11, 11-6, 11-9 (36m)
[4] Olivier Pett (Eng)
[4] Olivier Pett
12-10, 11-8, 11-4 (26m)
Yann Perrin

[4] Olivier Pett

11-7, 7-11, 11-8,
13-11 (56m)

Clinton Leeuw

Yann Perrin (Fra)
11-3, 12-10, 5-11, 11-3 (46m)
Andrew McDougall (Can)
Thomas Brinkman (Can)
16-14, 11-5, 5-11, 11-7 (46m)
[Q] Matt Serediak (Can)
Thomas Brinkman
13-11, 11-1, 11-7 (39m)
Clinton Leeuw
Clinton Leeuw (Rsa)
9-11, 11-7, 11-9, 9-11, 13-11 (97m)
[2] Shawn Delierre (Can)
18-Sep, Qualifying Finals:



Fred Reid (Can) bt Micah Franklin (Ber) 4/11, 11/8, 11/8, 11/4 (32m)




Adrian Dudzicki (Can) bt Tom Pashley (Eng) 11/8, 11/9, 11/6 (34m)




Tyler Hamilton (Can) bt

Eric Dingle (Can) 11/6, 11/13, 9/11, 11/8, 11/7 (44m)




Matthew Serediak (Can) Mike McCue (Can) 11/9, 7/11, 11/2, 5/11, 11/0 (67m)



17-Sep, Qualifying Round One:

Fred Reid (Can) bye
Micah Franklin (Ber) bt Yeshale Chetty (Can) 12/10, 11/9, 11/4 (35m)

Adrian Dudzicki (Can) bt Tashlin Reddy (Can) 11/6, 13/11, 11/5 (25
Tom Pashley (Eng) bt Maxime Bloouin (Can) 11/4, 11/7, 11/4 (26m)

Tyler Hamilton (Can) bt Brad Hanebury (Can) 11/5, 7/11, 11/4, 11/5 (32m)


Eric Dingle (Can)

bt Cameron Stafford (Cay) 11/4, 11/9, 9/11, 7/11, 15/13 (58m)

Mike McCue (Can) bt Albert Shoihet (Can) 8/11, 11/3, 11/5, 11/8 (48m)
Matthew Serediak (Can) bye
21-Sep, Semis:
Illingworth and Pett
through to Nash Cup Final

After a number of amazing matches already this week, the atmosphere in the club was electric. Members could be heard discussing the form of the players over the week and what they should and could do (rather like the majority of the nation chatting about football (or soccer as they call it here!).

Well, the crowd was not let down tonight. There were 2 great matches which could have gone either way. They had everything- breathtaking retrieving, outright winners, deception, controlled length…

Ironically, both matches were 3-1 and both matches lasted 56 minutes!
Tonight we had 2 pro players give their thoughts on the game as well as the thoughts of the players themselves.

First on court were local hero Andrew Schnell from Calgary in Alberta, and top seed Julian Illingworth from Connecticut on the East coast of the USA. Both players had marathon five setters the day before – did they have anything left in the tank?



JULIAN ILLINGWORTH (USA) bt ANDREW SCHNELL (CAN)
7-11; 11-8; 11-7; 11-9 (56 mins)

MICAH FRANKLIN REPORTING:

It was a shaky (nervous) start for both players – there were 4 unforced errors in the first 6 points. Schnell made his move and tightened up his game whilst Illingworth appeared to get frustrated and lacked speed off the T. A relatively slow place first game which Schnell won 11-7.

Andrew continued attacking in the second and the pace was raised. Julian was more settled and confident now. It was a close game with both players playing good attacking squash. Julian controlled the pace better and executed some great volleys.

Julian played a strong 3rd game, placing the ball effortlessly where he wanted. Schnell did not just sit back though and dug deep to stay in the game with some incredible retrieving. Julian's FH drop was lethal.

A five setter looked on the cards as Schnell raced to a 5-1 lead. An exchange of unforced errors (2 from Schnell to 1 from Julian) and the score reached 8 all. A huge rally followed that had everything in it, with Schnell winning it. Sadly this was followed by a couple of unforced errors from Schnell and Julian won the match on his first match point.

JULIAN ILLINGWORTH: "I felt that I played well, the match was hard fought but I was able to pressure Andrew into making some unforced errors which allowed me to take the win. There were times during the match where I felt flat, almost pancake like. However, a win is a win so I will take it.

"I hope I have saved the best of my matches for last, Oliver is a good player and I will need to bring my A game. But all in all I am happy to win and advance to the finals, and I am looking forward to playing Oliver."

ANDREW SCHNELL: "I have to give credit to Julian; he played a very solid game and deserved to win. I just did not capitalize on my chances like I did yesterday. I played an impatient game at times, went for some risky shots that did not always pay off so Julian benefitted from my mistakes.

"There was also another element to the game that I had to contend with and that was the attractiveness of the crowd, it was just too distracting at times. Overall, loved the experience! London Squash is great!"

OLIVER PETT (ENG) bt CLINTON LEEUW (RSA)
11-7; 7-11; 11-8; 13-11 (56 mins)



YANN PERRIN REPORTING

Oliver started the match very strong – with precision and patience; he took the ball early. Clinton wasn't there. At 6-1, the first long rally, Oli still controlled the pace. The rallies were getting longer but Oli was in really good shape and finished the game with good shots.

The real match started in the second game. There were long rallies and Clinton tried to take the ball earlier and got on to the volley more – and it was working. He was to put more pressure with his backhand drop, and he won the second. After the 3rd and the 4th, it was really close; but a few errors from Clinton gave the opportunity to Oli to finish the point.

Still the game was really close, with good squash played by both players. The last point exemplified what the match was all about – a great rally and some fantastic retrieving, ending with a cross-court flat dead nick from Oli reaching back under pressure high on the forehand."

CLINTON LEEUW: "Credit to Oliver, he played a great game, had good length and an overall strong match. Oliver is just too good of a player to not play 100% against. If I played 100% I still would only have had a 50% chance at winning, that's how good he is. I had a great tournament though, played some amazing matches and had some good wins.

The London Squash Club made me feel at home and comfortable which helped me to play my best. Thanks to Dave, all the organizers, the members and of course the amazing interviewer for a great tournament experience!"

OLIVER PETT: "It was a hard fought match! Clinton was playing with a lot of confidence and I was nervous because I knew I was next on his to-do-list. Luckily, I was able to squeeze some mistakes out of him and take the match. To be honest, the longer the match went on the more nervous I became so I was very happy to get the win.

Clinton was running me around the court for a good portion of the match, thankfully I enjoy burning calories. I love London Squash, everyone is really nice and the gym is great, although, this interview is like getting blood from a stone (only joking, just a bit of good old British humour!)"

Ask the Ref ...

We also decided to get the views of the referee! Players often give their views! Steve Flude officiated both matches.

"Illingworth versus Schnell: I had the impression that Andrew was a bit nervous at the start and really was in the end 1 or 2 shots away from winning this match. The big difference was in the big points which Julian played better – just that little bit more steady and controlled.

"A year from now could be a completely different story. Andrew has gained so much experience from this tournament. He is bright and has a great attitude. They were indeed a pleasure to referee".

"Pett versus Leeuw: Clinton started way too slow and let Oli run over him in the first but to his credit he came back strong and made a real match of it. They looked evenly match from up top, with similar styles. It was an easy match to officiate – both players got on with it.

The Nash Cup amateur draw started tonight with 112 players from all over Ontario descending on London Squash. There is no doubt that watching the pros is a draw card and added bonus to coming to London for this event.

20-Sep, Quarters:
TOP SEED ILLINGWORTH
TAKEN THE DISTANCE
Dave Morrish and Otley Cullen reporting



The London Squash Racquets Club was treated to another feast of squash tonight. The 4 quarter finals followed each other on the show court which was a total sell out…. And they certainly got their money's worth! Top seed Illingworth narrowly escaped an early exit whilst last year's finalist and 2010 champion Jan Koukal lost at the death.

ANDREW SCHNELL (CAN) beat JAN KOUKAL (CZE)
11-13; 11-6; 11-13; 11-1; 12-10 (70 mins)

This was a roller coaster of a game and Andrew was to some extent in control of his own destiny tonight and nearly committed suicide! He dictated so much of the play and forced Jan into a waiting and absorbing game.

Jan's retrieving was often breathtaking. Andrew most definitely took the game to Jan tonight and attacked at every opportunity, both short and deep. His error rate was pretty high for a match of this level but at the end of the day, squash was the winner as Andrew hit a few more winners than he did errors! Jan to be fair did not look like the player that got to the final last year – he looked laboured at times with his movement, but nothing must be taken away from Schnell – he wanted this and played well for his win.

A good start to the night and a great start for Canada!



ANDREW SCHNELL: Well Jan and I played a while back, that game also went to five, so I knew that when things got tough in today's match I could pull through and take it. Really excited to get through considering Jan is a very good player and you never know how matches like that will go. Looking forward to tomorrows match, excited for the semis!

JAN KOUKAL: Pretty gutted! He played so well tonight and I struggled to cope with that. I was in and out of focus and struggled to turn when he held me. I wasn't not getting onto the ball as early and comfortably as I would have liked to. I have been coming here for 4 years and it is in my top 3 favourite tournaments. I will definitely be back next year!

OLI PETT ENG) beat YANN PERRIN (FRA)
12-10; 11-8; 11-4 (26 mins)



This game was a bit like a 20/20 cricket game – or at least from Yann's side! He was for sure the more attacking player and definitely played more winners (and hit more sixes!) than Oli….. but a lot of errors too. It was clear that Oli found it difficult to get a rhythm (possibly Yann's game play) but he was the steadier of the 2 players and countered at the given moments and kept a solid length. Credit to Yann for his flare- if everything comes off that he goes for, he is capable of beating the best.

OLIVER PETT: I definitely played a better game tonight then I did yesterday. Yann was very impressive, gave me a tough match. The first game was very tight but after I managed to settle into a rhythm and I was able to take the match on fitness. Overall it was a great match!

YANN PERRIN: The match started well, felt good, but he played really well and I just got tired after the second game and he was able to take it. I knew I had to stay focused and be patient with my shots, but Oliver played very well and was able to penetrate my focus and I realized halfway through that I was just not going to be able to accomplish what I wanted. It was my second tournament and I really need to get in shape for the rest of the season!



JULIAN ILLINGWORTH (USA) beat ANTHONY GRAHAM (ENG)
11-9; 2-11; 11-7; 6-11; 11-5 (74 MINS)

This was a very entertaining game that had a beautiful contrast of youth and experience. Ant in many people's eyes snatched defeat from the jaws of victory. He dictated so much of the play, and at times totally out-played his higher ranked opponent. Along with some of his fantastic play were cheap errors and this at the end of the day cost him the match.

Ant lost a narrow first and dominated the 2nd only to play a loose 3rd which against a player like Julian is not bright! He came back well I the 4th but Julian showed his experience at 5-5 in the 5th game by keeping the court closed and giving nothing away. A great match!

JULIAN ILLINGWORTH: I feel really lucky to have made it through today! I checked out for a bit but luckily for me I was able to pull myself together and come back. Seriously, Anthony is great and I feel lucky to get the win. He is young and has a lot of talent which, if he nurtures it well could be anywhere in the top 40.

ANTHONY GRAHAM: Gutted! I thought I played well, but I lost my concentration in patches and just couldn't come back. If I had adapted to the change of pace that occurred during the third game that would have put me in a better position to take the match. A lot of positives to take out of this match- just need to learn to play better at the business end of the game.

CLINTON LEEUW (RSA) beat THOMAS BRINKMAN (CAN)
13-11; 11-1; 11-7 (39 MINS)

Clinton certainly looked as though he was feeling the efforts of yesterday's match against Shawn. Thomas came out of the block quickly and took the game to his opponent. The experience showed at the end of the game when Thomas had a game ball, only to tin out.

This was the turning point as the score would suggest and Thomas never really got back into it. His error rate was high but he probably knew he had to take the game to Clinton. As Clinton got into the game, he got better and better. He did however write the number 7 on the wall 4 times!



CLINTON LEEUW: I am quite pleased to win. My goal was just to try and stay positive and make it as tough as possible on Thomas. I saw Thomas play in April and he has improved so much since then, I realized early on that I could not take this match lightly. Thomas has such amazing hair that I had to beat him because I could not let him have everything. Final thoughts, I am pretty sure I pulled off my lime green shirt better than Anthony!

THOMAS BRINKMAN: At first I thought I could catch him off guard because of his hard match last night, which was not the case. In the second game he was all over me physically….and not in the good way. I really thought I would do better, I thought I could extend the rallies but I just could not get it done. I went into the match not wanting to feel and play like a mop – in the end I played more like a vacuum, I sucked!
19-Sep, Round One:
TITLE HOLDER DELIERRE
CRASHES OUT IN FIRST ROUND
Dave Morrish and the London crowd report

What a night of squash! 3 of the 8 matches were won in straight games, with a further 4 matches going 3-1, and a marathon 3-2 at the end of the night.

We decided to get the view of the spectators tonight, so they analyzed the matches and interviewed the players.

Here is their story:
18-Sep, Qualifying Finals:
CLEAN SWEEP FOR CANADIANS
IN QUALIFYING FINALS
Dave Morrish and Laura Savage reporting

It was a great night for Canadian squash in the qualifying finals at the Nash Cup.

Fred Reid beat Mikah Franklin 3-1, Adrian Dudzicki beat the higher seeded Tom Pashley 3-0. Tyler Hamilton beat Eric Dingle 3-2, and to complete the evening, another 5 setter, Matt Serediak beat Mike McCue 3-2.

The quality of squash was phenomenal and what potentially on paper looked like some one-sided matches ended up being a real treat for the enthusiastic London Squash members.

FRED REID (CAN) bt MICAH FRANKLIN (BER)
4-11, 11-8, 11-8, 11-4 (32 MINS)

In the first game, Micah played a good steady game with few errors, and kept a good length. Fred was impatient and forced the points resulting in errors or opening up the court, which Micah pounced on. Fred came out strong in the second game, but again, a few errors let Mikah back in.

It was close, but towards the end of the game Micah lost his length and allowed Fred space and time to wield his magic wand and close the game out.

The third saw Micah go 8-3 up, and to cut a long story short, he didn't score another point. Credit to Fred for some brilliant racquet work from all corners of the court to which MIcah had no answer. This seemed to be Micah's breaking point as Fred closed the match 11-4.

FRED: I was nervous, even when warming up – I was even shaking. I know I was impatient in the first game and didn't have much length.

My discipline got better in the second and my nerves started to leave me and I got into a groove. I don't know how I got 8-3 down in the third, but I steadied up and started to use my openings.

After winning the third I went into the fourth very confident and felt I played a great game. I hope I can take this momentum into the main draw, as any lapses in concentration like I had today will get severely punished.

MICAH: I started off well, taking the ball early, and felt sharp. I felt my length was good and was surprised how quickly I won the first. He tidied it up in the second and played less "silly shots." In the third, 8-3, I guess I took my foot off the gas – why? I don't know. I went into a daze and couldn't snap out of it, and it was downhill from there.

He's a dangerous player when he gets confident, and I gave him that confidence. I'm very happy with the tournament, the points I get will improve my ranking. Still very keen and looking forward to training with Jamie Hickox in the fall.

ADRIAN DUDZICKI (CAN) bt TOM PASHLEY (ENG)
11-8, 11-9, 11-6 (34 MINS)

Dudzicki got off to a great start, and Pashley found it difficult to fire himself up, and only did so halfway through the game, when he started to play well, but Dudzicki kept the court closed and finished off the game. Dudzicki started the second as he finished the first, but with Pashley playing a lot better, it was nip and tuck all the way.

Some great retrieving from both, very few errors, could've been anyone's game, but Dudzicki snuck it. Dudzicki got a good lead in the third and stayed in front. He did appear to get a bit nervous towards the end when he saw the finishing line, but Pashley's head was already down, and he was able to close it out.

ADRIAN: Some of the best squash I have ever played. I felt physically good, and made the rallies hard. I felt my length and my width was good, and that forced him into coughing up openings.

Gary Waite told me I needed to shorten my swing and quicken my hands, and that certainly paid dividends tonight. Jamie Hickox (national coach) has been working on my pace and taking the ball earlier – this definitely paid dividends tonight. Right now I'm one very happy bunny!

TOM: Never felt so bad! Couldn't move, felt heavy and slow. Don't know why because I felt good coming into this tournament. I tried to play my game at a high pace, but it just didn't feel comfortable. Credit to Adrian – he played so well. I didn't make many errors, but I didn't feel he gave me much to play with.

Two weeks ago, I was playing so well, got to the semis of Nottingham, and came here full of confidence. Can't explain my performance – back to the drawing board, and hope things will go better next time.

TYLER HAMILTON (CAN) bt ERIC DINGLE (CAN)
11-6, 11-13, 9-11, 11-8, 11-7 (44 MINS)

Tyler started off strong and set the tone of the game. He exerted his authority and forced Eric into a lot of unforced errors. Maybe the effort of yesterday's marathon was already taking its toll!

Eric had other ideas, and turned things around. He was much tighter and his retrieving was superb, lifting the ball when under pressure, and forcing errors out of Tyler. Maybe Tyler felt Eric was spent and took his foot off the gas.

Eric wasn't finished, and proved that in the third. He actually led 7-3, but Tyler drew it back to 7-all. A few errors at the business end of the game led Eric to clinch it and lead 2-1.

The fourth was close up until 5-all, then Tyler won 2 points to Eric's 1, to take it to a decider. The fifth was a great battle, and Eric gave his all. He actually led 5-2 at which point Tyler made sure Eric had to fight for every single ball. His length was superb as was his width and that was probably the deciding factor.

TYLER: After the first game I felt super confident and felt like I was controlling most of the points. I still felt comfortable, but he got some amazing returns and forced me into some errors.

Even at 2-1 down, I still felt that if I straighten my game up and stay disciplined, I would come through, and fortunately, I did.

Credit to Eric – he stuck in there until the bitter end, even after yesterday's immense effort. I've never seen him fight like that. It was a great game and I'm very happy to have got through to the main draw, and am really looking forward to tomorrow.

ERIC: A lot of positives to take out of this tournament. 48 hours ago I wasn't even in this event! I certainly didn't think I would play so well. I was within a sniff of winning this, but I have to say we both played well.

I'm delighted with my performance and will definitely be back next year. The points I got will improve my ranking and that's a big bonus.

MATT SEREDIAK (CAN) by MIKE McCUE (CAN)
11-9, 7-11, 11-2, 5-11, 11-0 (67 MINS)

Matt held a one point lead for the most part of the game. He volleyed more, and kept the pressure on Mike. The rallies were long and hard fought. Mike came out in the second with a better length and really attacked the front. This was helped by Matt's loss of length and slightly loose play.

The stage was set. Matt came out in the third strong and authoritative and never really let Mike into it, keeping him away from the front with superb length. Mike was beginning to look tired and played too short too soon, and Matt punished him accordingly. The fourth was a different story.

Mike got his length back and his movement, and his confidence, and forced Matt into making some uncharacteristic unforced errors. At 2-all, it was anyone's guess who would win, but Matt had other ideas! He played the perfect fifth, as the score line would suggest.

MATT: Bit of a roller coaster! At the start I felt very confident, but he was playing well, and gradually ate into my confidence. I was fortunate to always be a game in front in this match.

After the fourth I got some words of wisdom from the number 1 seed Julian Illingworth – he told me to go back to basics with my length and width and that certainly paid dividends.

Really looking forward to tomorrow and really excited to get through today. It has been a great day for the Canadians.

MIKE: I had a plan to keep it straight both with my length and the short volley. He is so strong across the court. I felt like I was always playing catch-up, but thought if I kept fighting I could stay with him, and I did so up to 2-all. The fifth! Was there one? It happened so quickly.

I played the wrong shots at the wrong time and as the score line would suggest, I got bageled! The second time this has happened to me in PSA and no doubt I will be reminded of it for a long time to come.

It's been a great tournament and I'm happy with my progress.



Fundraising for
Western University
17-Sep, Qualifying Round One:
Day One in London
Dave Morrish and Laurie Doherty reporting

The opening day of the 2012 Nash Cup produced some wonderful squash. The Canadians faired well but no locals made it to the second round this year, despite some great efforts.

Due to a few withdrawals (Yasir Butt could not get a visa and Zac Alexander could not recover in time from an injury sustained in Australia) there were two byes in the qualifying draw for Canadians Fred Reid and Matt Seridiak .

We did however manage to get 4 of the top Western University players to play an exhibition. Brian Hong beat James Van Staveren to take over the top spot in the university team and Adrian Ostbye beat Andrew Silvestri.

The London Squash Club members were treated to a great evening of squash with some mouth watering matches waiting for them tomorrow.

MIKAH FRANKLIN (BERMUDA) bt YESHALE CHETTY (CAN )
12/10, 11/9, 11/4 (35 MINS)

YESHALE: My shots were pretty good but the fitness is not quite there yet! Felt I controlled the first game and needed to win that. He stepped it up after that. I am pretty happy with the way I played and getting back to my best. Credit to Mikah, he was the better player today.

MIKAH: He came out strong in the first game and I felt in the back foot. We were both trying to take the ball early. He had some great shots and a lovely hold which kept me on the back foot. I just tried to make each rally tough and make him earn it.

The first 2 could have gone either way. I played a good 3rd game and felt I played a good solid game. Looking forward to tomorrow against Fred Reid – he is crafty! I will need to keep that court closed!

TOM PASHLEY (ENG)bt MAXIME BLOUIN (CAN)
11/4, 11/7, 11/4 (26 MINS)

TOM: I'm happy to get through the first round. I'm moving and hitting well and hope to continue doing the same tomorrow. He was a little awkward to play, he was slow between rallies which made it hard to get comfortable in the beginning (clearly a tactical ploy!).

I'm playing Adrian Dudzicki tomorrow, I haven't seen him play much. He's a good player and I'm looking forward to be playing him. I was here for the inaugural event 5 years ago- the hospitality is still amazing, and the club looks great after the renovations.

MAXIME: I played really bad tonight! Felt like my legs were 150lbs and I didn't have any energy.

No excuses, I did have problems with my flight- arrived a day late and the airline lost my bag! He is a really good player and I needed my "A" game tonight and it wasn't there.

ADRIAN DUDZICKI (Can) bt TASHLIN REDDY (Can)
11/6, 13/11, 11/5 (25 MINS)

ADRIAN: Never played Tash before! Played his cousins before and most of them were here to support him tonight! I have been playing on different courts all summer so it took a bit of adjusting to get used to the traditional plaster but I felt I got off on the right foot.

I had a lapse of concentration in the 2nd game and fair play to Tash, he punished me. I was lucky to get the 2nd. I have Tom Pashley tomorrow – never played him but am looking forward to it and feeling confident.

TASHLIN: Got to the 2nd qualifying round last year which was very pleasing! This year was not meant to be! I let him get ahead in the game and had to play catch up. Took the ball in short too often. Needed to slow it down a bit more.

When I controlled the T I felt I played better, especially in the 2nd where I had 2 game balls. I really should have capitalised on this and am disappointed not to have won a game.

TYLER HAMILTON (CAN) vs BRAD HANEBURY (CAN)
11/5, 7/11, 11/4, 11/5 (32 MINS)

TYLER: Played pretty well for most of the game. Got a bit passive in the 2nd and Brad took advantage of this and deservedly took the game. I realized I needed to step up and attack the ball more, which I did.

I've just got back from Costa Rica where we played on a 19" tin and as it was so hot, you just needed to push the ball around. Here 17" tin and colder, I had to change my game. Blessing in disguise and I had the extra game and got used to the courts.

I have Eric Dingle tomorrow and I'm certainly not going to take him lightly as he played a great match tonight.

BRAD: Great match! This was the best I have ever done against him (never taken a game) so I have to be happy with that! I felt his length was so good that he was always able to get onto the next shot with a volley and keep me under pressure.

I actually felt I could have played better (not give him as much as I did) but I am still happy with the way I played. I got the wild card for winning the club championships and it was a wonderful experience. Thanks Jay!

ERIC DINGLE (CAN) vs CAMERON STAFFORD (CAYMAN)
11/4, 11/9, 9/11, 7/11, 15/13 (58 MINS)

CAMERON: Gutted to have lost in the 5th after being 2-0 down and getting back to 2 all and having match balls. Don't want to take anything away from Eric as he played a great game and was very fast. Really enjoyed the London squash club experience.

ERIC: What a match! It was about as close as it could get! Great feeling to sneak out a win against a player at exactly the same level as you are. I went 2 -0 up, to be fair he did start slowly. I thought I stayed pretty consistent and he upped his game in the 3rd and 4th.

I was 10-6 down in the 5th and decided to stay steady and make him win it. He went for a few things and before I knew it, it was 10 all. I'm very happy as 48 hrs ago I was not even in this tournament (there were some withdrawals).

I have Tyler tomorrow, I've never played him, but am looking forward to it.

MICHAEL McCUE (CAN) vs ALBERT SHOIHET (CAN)
8/11, 11/3, 11/5, 11/8 (48 MINS)

MIKE: A bit nerve-racking at the start as memories of the juniors came back to me (he had the better of me until the end of juniors). Struggled with the court a bit as it was both fast and slow – needed to find a good weight on the ball.

Albert is one very talented squash player with superb hands. I needed to keep the court closed. Got Seridiak tomorrow – trained with him all summer, never beaten him, hopefully tomorrow!

ALBERT: Disappointed. Great start but not as fit as I thought I was. I realize I need to train harder to get to that level. I got nervous in the big rallies and made too many errors.

Good start to the season though, and I'm looking forward to a great season with the Western University.




"As a country that does not have national or professional leagues, tournaments like these are crucial to the competitiveness development of our national athletes.

"Most of the top Canadians are here. This a great tournament and people like Jay Nash (founder and sponsor) are a great credit to Canadian squash.

"This is personally the second visit I've had to the club (earlier in the summer I did a camp with the pro Dave Morrish), and it's one of the few remaining "classic" squash clubs left."

JAMIE HICKOX (CANADIAN NATIONAL COACH)
with tournament host
JAY NASH
Five up in London
Preview from Dave Morrish

This will be the fifth Nash Cup and the draw gets stronger each year!

The top four seeds are ranked in the top 50 with Julian Illingworth of the USA (31) and Australian Zac Alexander (36) heading the draw. If the top seeded players find their way through, they will be joined by two previous winners in the semis - Shawn Delierre, last year's winner from Montreal, Canada (45) and Jan Koukal from the Czech Republic, winner in 2010 (47).

Yasir Butt of Pakistan (61) and Olivier Pett of England (58) will be looking to upset the seedings!

There will be a lot of home support for Andrew Schnell (82) and Andrew McDougal, the wild card who is on the comeback trail after a year out with a back injury.

Jay Nash, the founder of the event, has made this event into something special and there are a number of enhancements already planned for 2013…

Results and reports will appear daily.