England and France share the spoils in Helsinki


England and France, having eased through their qualifying groups and the semi-finals, met in the Men's and Women's Division One finals, as they have for the last four years (ten in a row in the men's case), with England's women retaining their title and France's men winning for the second time in three years.

Sarah-Jane Perry struck an early blow for England in the women's final, beating Camille Serme in five games. Debutante Fiona Moverley wrapped up England's 39th title in 40 years with a five-game win over Laura Pomportes.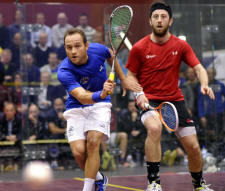 In the men's final it was France who got a good start, Gregoire Marche beating Daryl Selby in four games. Gregory Gaultier - playing his last match as world number on, for now at least - put France further ahead with a 3-1 win over Nick Matthew, and Mathieu Castagnet clinched the title for France as he beat James Willstrop, again in four games.

France move level with Sweden on two wins ('80 & '83), Scotland have won it once ('92), with England winning the other 42 editions.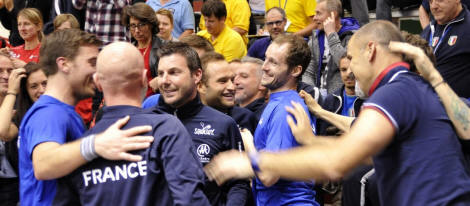 Promotion & Relegation

In Division Two Wales and Denmark earned promotion to Men's Division One (at the expense of Finland and Switzerland), while in the Women's division Germany and Switzerland will join the top eight next year with Spain and Denmark dropping down to Division Two.
EuroTeams 2017 Finland - Playoffs

Men's Final : [1] England 0-3 [2] France

Daryl Selby 1-3 Grégoire Marche
11-13, 11-9, 7-11, 9-11
Nick Matthew 1-3 Gregory Gaultier
10-12, 4-11, 12-10, 6-11
James Willstrop 1-3 Mathieu Castagnet
6-11, 11-5, 5-11, 4-11


[1] England 3-0 [3] Scotland
[2] France 4-0 [4] Germany
Women's Final : [1] England 2-0 [2] France

Sarah-Jane Perry 3-2 Camille Serme
11-8, 8-11, 9-11, 14-12, 11-7
Fiona Moverly 3-2 Laura Pomportes
14-12, 11-5, 4-11, 7-11, 11-8

[1] England 2-0 [3] Netherlands
[2] France 3-0 [4] Wales

Men Div 2 Final : [3] Wales 3-0 [4] Denmark

[1] Netherlands 1-3 [3] Wales
[2] Ireland 1-3 [4] Denmark

Women Div 2 Final : [1] Germany 2-0 [3] Switzerland

[1] Germany 2-1 [7] Scotland
[3]Switzerland 2-0 [5] Austria
MATCH LIST & RESULTS
Photo Galleries
by Peteri Repo