Originally scheduled for December, the Women's World Champs (2015) will be held in Kuala Lumpur in April under the auspices of Azlan Iskandar's SportSpin group.
Top Women to battle it out for
biggest-ever purse and a Citroen DS4 car ...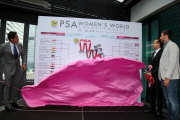 The biggest competition in women's squash is set to return to Malaysia once again as 56 players from 19 nations compete for the most coveted prize in the sport and the World Champion title.

The Naza PSA Women's World Championships will be held at the National Squash Centre in Bukit Jalil, Kuala Lumpur from 23-30 April 2016.

This edition of the World Championships will feature record prize money of US$185,000 purse. Apart from that, the winner will also walk home with a brand new Citroen DS4 [which is worth a few dollars more than the winner's cheque!]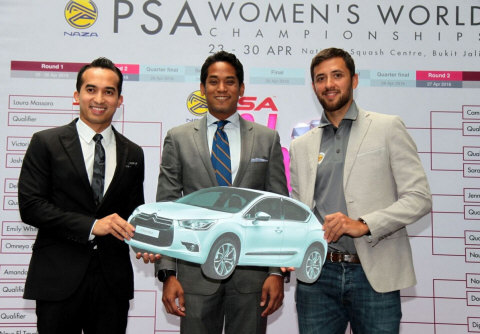 Players and officials will enjoy a pampered and comfortable stay at the Le Meridian Kuala Lumpur, the official hotel for this championship.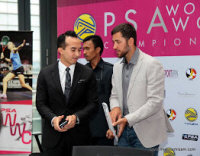 This event of the World Championships sees the Naza Group of Companies come in as the title sponsor, providing Citroen and Peugeot cars as official cars for this championship and sponsoring the Citroen DS4 as a grand prize to the champion.
"Being associated with the World Women's Squash Championship has provided us the opportunity to be associated with sports on the international stage," said SM Nasarudin, Joint Group Executive Chairmanof the Naza Group of Companies.


23 of the top 24 players in the world from 10 nations will automatically qualify into the main draw. With Egypt and England leading the field with six players each in the main draw, while Malaysia will be spearheaded by World #2 Datuk Nicol David, Delia Arnold and local wild card Low Wee Wern, the former World #5.

The remaining 8 spots will be battled out by 32 players who will play a two round qualifying draw that includes 8 local players.


England's Laura Massaro, the World #1 and the winner of the last World Championships held in Malaysia, is the top seed, ahead of local darling David, who won the last championship in Egypt. Egyptian pair Raneem El Weilily and Nour El Sherbini, the Runner-Ups in the last two championships, complete the top four seedings.

The Naza PSA Women's World Championships is organised by Sportspin Event and Athlete Management, who is helmed by former men's World #10 Azlan Iskandar, and is supported by the Ministry of Youth and Sports, National Sports Institute, National Sports Council, Sports Commissioner and Persatuan Squash Malaysia (SRAM).