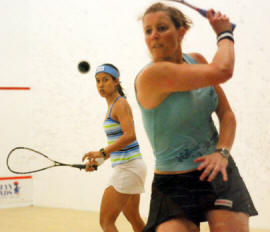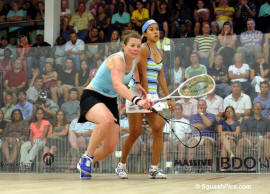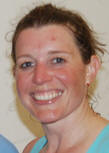 "I made a good start, but not with enough control - I was a bit tense in a way, I wasn't finishing my shots properly I wasn't hitting a good length.

"In these conditions Nicol's always going to be tough to beat, you have to be at the top of your game.

"A good tournament overall for me, fantastic setting and organisation, so I can't be too unhappy overall, just a bit disappointed about the three-nil."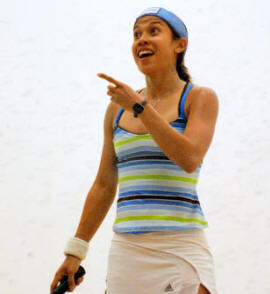 [1] Nicol David (Mas) bt [2] Natalie Grainger (Usa)
11/8, 11/6, 11/5 (33m)
50 and counting for Nicol

Playing her 50th final, world number one Nicol David claimed the inaugural Cayman Open title with a straight-game win over world number two Natalie Grainger, in the process avenging her only defeat in the last 20 months.

Grainger came out of the blocks firing, as she was bound to do, and for the majority of the first game her shots were finding their mark. Leads of 3-0 and 7-4 were earned with some trademark winners, but the end of the game was the Malaysian's, as Grainger lost the last five points with one stroke and four tins.




When Grainger gets on top she overpowers her opponents, winning points quickly, but with Nicol it's the relentless pressure and rock-steady retrieving that gets you.


While Natalie stayed with it at the start of the second, from 5-all it was Nicol in charge as she kept her opponent on the move, finishing the rallies off when she had thoroughly worked Natalie out of position.

The pattern seemed to be set as Nicol continued to apply the pressure, wrapping up the third and the title in just over half an hour.

So, 50 finals, 36 titles, one defeat in almost two years, and no sign of letting up as the champion, who is extending her stay by a day so as to be able to explore Grand Cayman, declared "I just have to come back to defend this title, don't I ..."
"I'm very happy with that. I played my best squash of this yeas, and last year too probably. She played well but with the whole atmosphere of it, with what happened last time we played, I brought it all on to court and it helped me focus.

"Knowing what happened last time you have a good idea of what you need to do, so that it doesn't happen again. She played well last time but I really wanted to play well today.

"This tournament has been so great, the setting, the club, the atmosphere, and Dan has done a fantastic job, I can't wait to come back ..."