Hong Kong Q&A with the Players ...
Nick Matthew and Gregory Gaultier

The Hong Kong Open is one - perhaps the only one ? - trophy missing from Nick Matthew's impressive trophy cabinet. The second seed, who hasn't gone past the quarter-finals since losing to Thierry Lincou in the 2004 final, to is keen to fill that gap this week

To get the chance, he'll probably have to get past third seed Gregory Gaultier, who beat Matthew in last year's quarter-finals, but has also never won the event, despite appearing in four consecutive finals from 2007 to 2010.

What are your memories and impressions of Hong Kong ?

Nick: Iíve been going there since 2001, I missed 2008 and 2009 with injury, but itís right up there in my list of top tournaments and I still have great memories of reaching the final in 2004 of course.

The first time I went to stay we were in the Renaissance Harbour View for the first tme and I was just amazed by the hustle and bustle in the city and the bright lights.

The Renaissance breakfasts, Hong Kong Football Club and the view when you drive around the top of the peak are amazing. This year Iím looking forward to finally going up on the Peak Tram.

I love the food, Sweet and Sour Chicken is my favourite, getting around on the tram is great, the only thing I donít like are the upstairs courts at the Squash Centre!

Greg: Iíve been playing in Hong Kong since I was 18, itís definitely one of my top three events.

Itís always a great tournament, but playing on the harbourfront is just amazing. The people, the hospitality, the food, and the view from the Peak Tram are fantastic, even if the weather is a bit too humid sometimes.

My favourite food is the chicken noodles, and I use taxis to get around mostly, thereís plenty of them!

What have been your toughest matches (so far) in HK:

Nick: Last sixteen against David Palmer in 2001.
Greg: Final with Ramy Ashour in 2010.

How has your preparation been going and what are your targets for this year ?

Nick: Iíve had a good month to prepare for this and the worlds, and itís been going really well. Itís a tough draw, but itís tough for everyone - Iím just aiming to play well in my first match and take it from there.

Greg: My preparation has been going very well, I just need to recover from the jetlag, thatís all!

The draw looks tough as always, but Iím just looking forward to playing and to winning all my matches! Everyone will be sizing each other up for the worlds, but doing well in HK is important to take some form into Qatar.

The IOC will be there. Will they be impressed ?

Nick: For sure, the glass court on Kowloon Harbour must be one of the most spectacular sights in world sport. I havenít played there myself yet, but I hope to one day, it looks great.

I hope the fans come and support us in mass numbers, and create an atmosphere not to be forgotten.

Greg: HK always does a great job, so Iím sure the IOC will be impressed.

We need to communicate as much as possible about our great sport, and we need lots of people to come and support the event.

Playing on the harbour feels great, but itís very hot!

HK in three words:

Nick: Hustle And Bustle
Greg: Warm, Crowded, Enjoyable.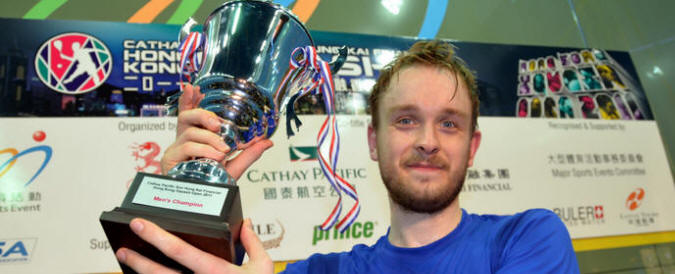 James Willstrop - HK Q&A

James Willstrop became world number one at the start of this year on the back of three major tournament victories in a row, and it was here in Hong Kong where that run started.

Coming back to HK as world number one and top seed, we asked James a few HK questions ...


What are our favourite memories of HK,
and what do you like about the place ?

Iíve been to HK nine or ten times, but in squash terms my best memory is winning here last year, of course. Itís also was where I first properly met Vanessa, so clearly it is a game changing place!

The food ainít half bad, Veggie Noodles in soy sauce is my favourite, but I think it is the people and the atmosphere around the place I like the most.

I haven't even mentioned that unbelievable skyline, or the amazing venue for the glass.

What was the best or toughest match you ever played in HK ?

Best, perhaps the semis and final last year, or when I beat Jonathan Power at the worlds in 2005. Toughest was against Shabana, semi final in 2006.

How has your preparation for HK been going and whatís your aims for this year ?

Preparation has bee going quite well. I can't complain. The draw is hard, as is every draw in a World Series event, but winning would do just fine!

The IOC will be in HK this year, will they be impressed ?

They absolutely will.

If the organisers can arrange for there to be no rain that would help, otherwise the squash will do the talking.

What does it feel like playing on the harbour front ?

It is staggering. In the intensity of the match, sometimes I try to remember how ridiculous it is playing in a glass box on the harbour front of one of the most visually alluring cities on the planet.

Iím looking forward to hopefully playing there again of course, and enjoying the place as usual.


HK in three words: Vast neon hustle







Jenny Duncalf - HK Q&A

World number two for the best part of three years, England's Jenny Duncalf has appeared regularly in the later stages of the Hong Kong Open.

She's never won it - Nicol David has had the monopoly rights on the title - but is looking forward to another HK campaign ...

What is your favourite memory of HK - squash ?

Iíve been to HK ten times or so, my best squash memories are reaching the final and also when I was younger getting to see the top players, PSA & WSA in action on a big stage.

What is your favourite memory of HK - not squash ?

Hmm I think probably the 1st time I came here for a small tournament when everything was new still. Heather looked after us really well & and I was taking in all the sights & experiences for the first time.

What do you like most, and least, about HK ?

I love the foot massages, the turtles in the park, 'Great' supermarket & the bright lights at night. I hate trying to open my eyes in the morning & bad memories of food poisoning twice here.

What was the best or toughest match you ever played in HK ?

Not many spring to mind actually. I can remember just losing out to Nat Grinham in five a few years ago & also beating Tania Bailey in five maybe the round before.

What is your favourite HK food and transport ?
All sorts of food, apart from chicken from the outback steakhouse! It's easy to get around, but I love taking the Star Ferry.

How has your preparation been going ?

Not bad. We've just had the World Teams so a few days at home in between has been good. Iím just looking to play well, having some good matches, good food & good fun!

The IOC will be in HK this year,
will they be impressed ?

I hope so! If they're not impressed then I really don't know what they are looking for.

The harbour front has to be one of the best settings in the world. I've played in the shopping mall before but always wished it was the harbour instead! The back drop is stunning.

HK in three words: Up and Down