Sun 23rd, Day SEVEN, FINALS

[1] Nicol David (Mas) bt [3] Rachael Grinham (Aus) 14/12, 11/13, 11/8, 11/8 (53m)
[1] Amr Shabana (Egy) bt [2] Gregory Gaultier (Fra) 11/9, 13/15, 8/11, 11/2, 11/3 (76m)

Four each for Nicol & Shabana

Two compelling finals, but the end result is the same as the last three years as Nicol David and Amr Shabana were crowned Cathay Pacific Hong Kong Open Champions. Nicol faced her sternest challenge in a while, but kept her 50+ winning streak going. Shabana looked in trouble at 2/1 down but came back strong in the last two games to retain his title ...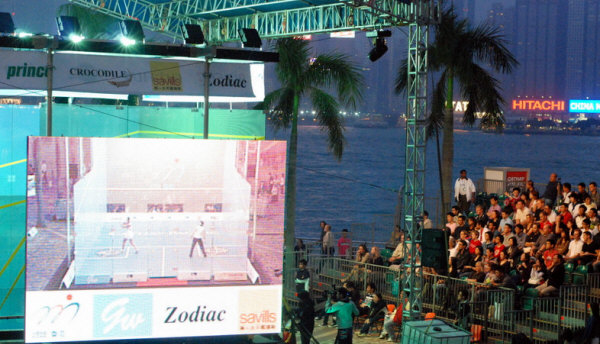 [1] Nicol David (Mas) bt [3] Rachael Grinham (Aus)
14/12, 11/13, 11/8, 11/8 (53m)

It's Nicol Again

Nicol collected her fourth consecutive Hong Kong title with a four-game win over Rachael Grinham, but unlike many of the Malaysian Marvel's matches, the result was in doubt until the final ball was struck.

When Nicol came from 10/6 down to take the first it didn't look good for Rachael, but the Australian stuck to her gameplan and took the second on extra points to level.

Nicol took the third, and at 8/6 in the fourth the world champion appealed after losing the rally and the side refs decided that one of Rachael's balls was out. Having thought she was at 7/8 Rachael found herself instead 6/9 and there was no way back.

A final ball hit out of court and Nicol had her tenth title of the year and was Queen of Hong Kong for the fourth time in a row ...





"This is my third time in Hong Kong, I guess this city is my lucky charm, especially as it's here I won my first World Open, and it's always very nice to have a lot of Malaysians that come here to support me….

"She was confident with the four corners of the courts today, and from the start, I knew I was going to work very hard. Because when Rachael is playing like that, when she's on a roll, the rallies get longer and longer, she is retrieving everything and she read the game so well…. So, you've got to break her between points really, and find a little window to slip yourself in….

"It's all about who is in form on the day really, today, I was the lucky one, even if I never felt that comfortable with my shots, because she took them away from me, and I had to bring somebody else on court to beat her, a lot of extra people!!!!!

"You can't get better than this really…"



"I felt a bit sluggish today, and even when I was ahead scorewise, I find that with that scoring, you still feel a lot of pressure. Mind you, I don't think she was that relaxed either, I think she would have probably liked to move better, so I guess it evened up…

"It's a shame that I was not as lucky today as I was yesterday, when all my shots were going in even under a lot of pressure…

"Of course, I'm a little annoyed, losing, AGAIN, but she is not World Number one for no reason, when it gets close, she grinds it out, buckles down, tightens her game and stops making any errors.

"And you know she is going to do it too, so, you find yourself thinking, "well, if I don't want to be in the same rally in half an hour, I'd better do something soon. And that's normally when you make an error…

"But the good thing about this scoring is that you know it will be over soon, there won't be a hand in, hand out, lasting forever, you know there is an end to it…!

"I'm really happy that I reached the final, that I had a go, and that I was playing Nicol… I'm so tired now…"


ONLY JUST, JUST STILL…



What is astonishing is that, if fear paralyses most mortals, the True Champions dwell on it to get to the next level of achievement…

Queen Nicol was only a Princess when she got on court against Artist Rachael tonight. She was not sure of herself. And Rachael had a lot to do with it, as the Australian has been dominating all her opponents this week, not losing a game, with the poise and strength that took her to the world number one position for so long.

Nicol was in her element here, the court was warm, bouncing a bit, but also slightly slippery, as HK humidity was covering the floor. And quickly, from the first rallies, she was firmly at the front, volleying Rachael's shots, pushing her to make errors that clipped the tin, shots that came off the day before against Natalie.

But slowly, Rachael found her confidence, lobbed Nicol to the back, both the girls playing very tight, and soon the Australian was 10/6 up. Two misshits and four tins later, Nicol was taking the game, 14/12….

Didn't seem good at that point for Rachael, who appeared to be extremely tired, and at 4/2, I thought it was all over to tell you the truth. But the Artist found her second youth, and zoom she went again, 6/6, 7/7, 8/8, 10/10, 11/11, and finally, balanced the score out, 13/11.

The third and fourth were just as close as the first two, the girls battling every bleeping point, every shot they played had a purpose, was calculated to cause as much damage to the other's fitness or mental.

And how accurate those straight drives, so close to the wall, and they were almost outside the court, those lobs, just dying in the corner, or merely irretrievable, those saves, and those volley drop shots…. And their determination too, with Rachael saving three game balls in the third, and two match balls before succumbing.

What struck me was Nicol's improvement in her focus. She used to drift in and out of matches, making life quite difficult for herself, and having to produce comebacks that kept us all breathless. But probably not that good for her own heart bless her. Now, she is way ahead, and maybe in unknown territory, and has let Rachael grind her lead a bit too much probably. That's something I'm sure she'll look at with coach Liz Irving….

But at the end of the day, today, we had two craftswomen, playing yet again accurate, fast, grinding, airy, determined, and intelligent squash. What a showcase for our game…
[1] Amr Shabana (Egy) bt [2] Gregory Gaultier (Fra)
11/9, 13/15, 8/11, 11/2, 11/3 (76m)

Shabana holds on to his title

Another compelling final as Amr Shabana came through a real test before ultimately claiming his fourth consecutive Hong Kong title.

The world number one took the first game - after an amazing four-minute opening rally - easing away from 7-all, and at 10/7 in the second it wasn't looking good for Gregory Gaultier, who Shabana beat in last year's final.

But the Frenchman recovered to take the game into extra points, and saved three more game balls before taking the 22-minute game on his first opportunity. He carried the momentum into the third and took the lead, leaving Shabana in uncharted Hong Kong territory.

A quick start to the fourth eased the Egyptian's many fans' worries, as Gaultier let the last few points go, saving himself for the fifth.

The tactic didn't work though, as Shabana continued to dominate in the decider, taking just 14 minutes to win the last two games and remain the undisputed champion in Hong Kong.
"It doesn't get any harder than that….

"With Greg, we always have great matches, it's very even between us victory-wise I think, one day it's me, then him, today was my turn… He is such an amazing player, and we'll keep on having great matches…


"The thing is, in the first, I was playing so well, it was so easy, so after that, it's very hard to start fighting again, I guess…

"In the second, for a moment, I thought that Greg was going to get everything back! When he starts doing that, you find yourself trying to play better and better squash, and you can't really, run out of ideas, can't get any solutions, so you start clipping the shots…

"So in the third, I told myself to stick in, and see what was going to happen. I had the feeling that we went over the top of our squash, that we had to go back and start from the beginning. And that's what I did…

"At the end, we were both physically tired, and it was all about who would take the better start. I was lucky that it was me, but it could have easily gone the other way…


"But one thing that makes the real difference for me, the reasons why I can stay at the top of my game, is because I had two new great sponsors, Orascom and HSBC. That makes the whole difference, because they take the financial worries away, and I can concentrate only on my squash….

"I've been coming here since 1996. The first time I came, I got to the second round, which was an amazing result for me at the time. But after that, from '97 to 2004, I always lost in the first round! Until I finally won my first one in 2005… I just love this place, I love coming here, and of course, I'll be back next year…

"I'm so happy to win my fourth Hong Kong title, that's an amazing feeling, and for that, I've got to thank God…"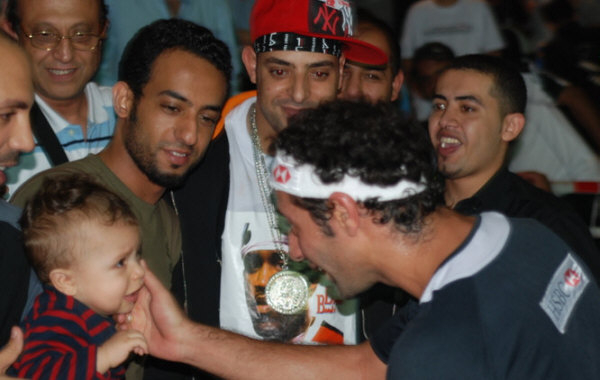 "The tournament didn't finish as I would have liked, but nevertheless, I got quite a few positive elements back into my game this week.

"Today it was really close, and there was not much between us, he was very solid till the end. He has shown yet again the true and great champion he is.

"I would like to thank the organisers of the tournament, they have done such a great job, and of course, Hong Kong Squash, Tony, Heather, everybody who has been helping us during this week.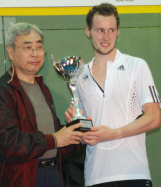 "And I wouldn't be much without the support of so many people, like Pierre, my osteopath, who came from la Réunion to support me here and in Macau, like the French Team players, the French people who came here to support me, and the ones that stay at home, my girlfriend, my family, and all my sparring partners….

"And don't worry, I'll be back here and I'll try again! Third time lucky, who knows…"


SHABANA IN AND OUT…



One thing that will never change with the Prince of Cairo, is his ability to "make the match". I used to tell him, not sure who'll play tonight, you or your grandmother… He still has the tendency to let the elderly come back and have a quick hit, but he can now kindly but firmly escort her out of the building…

If Greg has worked hard on not showing his emotions on his face, he's also worked not to show when he is tired, for example, Shabana's face tells the story: first game, happy face, I won the opening 4 mn rally, I'm playing well, everything is fluid, mmmm, this is easy, too easy maybe

Second game, after 9 tins, yes, 9, six game balls not transformed, angry face. Third game, careful face leading to frustration, because I don't want to make any more tins, so I don't attack enough, and I let Greg walk all over me.

Fourth game, little smile face, with my serenity coming back, I find the right balance, my shots are dangerous enough, but not too high percentage, and I can see he is tired now, but careful.

And the fifth, the master's face. I've done my job, I played the right shot at the right time, took the good start I needed. Now I'm relaxing into my real squash, and imposing my game. I'm about to win the title for the fourth time. I'm happy….

Greg did his job too. He fought on every ball, he stuck in in the second, and forced Shabana to make error upon error, by playing a low percentage and yet extremely dangerous squash. And he received the dividends in the third, when the Egyptian was too careful and withholding his shots.

And he didn't do anything wrong in the fourth or fifth either. When the Prince of Egpyt get on a roll, nobody at this point in time can stop him. Only himself. Greg played his part to perfection, but was not able to frustrate Shabana enough to let the grandmother play one more game. He was close though, very close…
| | |
| --- | --- |
| | |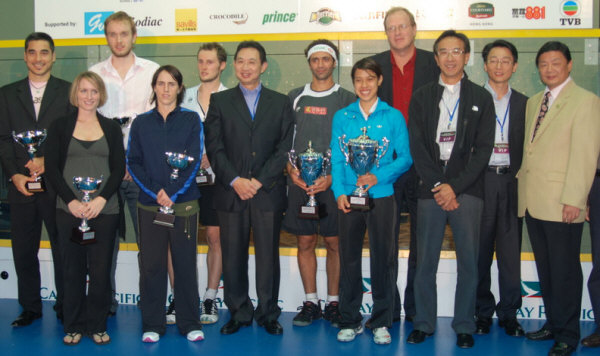 Finals Day in Hong Kong


Finals preview from Malcolm

The men's final in the spectacular Hong Kong Harbour promises plenty. On what we have seen the two best players have reached the final and both Amr Shabana and Gregory Gaultier looked in excellent form yesterday.

It is a repeat of last year's final and the two finalists are clearly at home in Hong Kong, as indeed are most players. Gaultier is likely to make the early exchanges as hard as he can and much will depend on whether he can stem Shabana's attacking skills. The Egyptian starts favourite but it is no foregone conclusion.

The women's final, though, looks another matter. Undisputed world no 1 Nicol David has won over 50 matches in a row and it is doubtful if Rachael Grinham can break that sequence.

Having said that, New Zealand beat Australia in the Rugby League World Cup final, a win that would be equal of a Grinham victory over David. Hope, as they say, springs eternal. Certainly true of sport, if not life itself.

| | | |
| --- | --- | --- |
| En Bref | Photo Galleries | On the BLOG |