TODAY in Hong Kong 2013
Daily News from the Hong Kong Open Fram & Steve in HK

As the winners were taken up the Cultural Centre steps
for the photos overlooking the harbour, Nick said to Nicol:
"That's ten Hong Kong titles between us, then ..."


Sun 8th Dec, FINALS

[1] Nicol David (Mas) 3-0 [3] Raneem El Weleily (Egy)
11/7, 11/7, 12/10 (35m)

[4] Nick Matthew (Eng) 3-1 [7] Borja Golan (Esp)
11/1, 11/8, 5/11, 11/5 (65m) +22 lights out

David and Matthew take it all in Hong Kong

While Nicol David claimed an amazing NINTH Hong Kong title in a row with her straight game win over Raneem El Weleily, for Nick Matthew his 3-1 win over Borja Golan gave him not only a first Hong Kong title, but the world number one position too.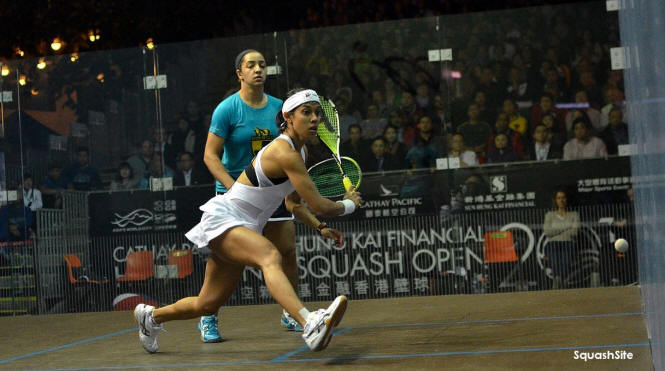 Nicol STILL the champ

Nicol David claimed an amazing NINTH Hong Kong title in a row as she beat Raneem El Weleily in straight games in a repeat of their 2011 final here.

Nit that it was ever as easy as those bare statistics make it sound, the Egyptian third seed was in contention up to the end of all three games, but it was David who, as she so often does, proved stronger in those vital closing points.

El Weleily got the better of the opening exchanges, leading 3-1, but David levelled at 4-all and then pulled clear from 6-all to take the lead 11-7. El Weleily trailed 4-1 in the second but recovered to lead 6-5 but again it was David who kept her form going at the end to take that 11-7 too.

In the third the Egyptian again led, 6-3 and 8-6, putting more and more pressure on the eight-time defending champion. But a couple of unforced errors helped David back into it and she took four points in a row to earn two match balls at 10-8.

Raneem saved them with a crosscourt off David's drop, then a drive down the middle that the Malaysian couldn't pick off her toes. 10-all. Then came the longest rally of the match, and it was Raneem applying the pressure before finally tinning a volley drop.

The final rally again saw Raneem pressing, but a simple tin from the Egyptian racket kept the title in Nicol's eager hands.

"It was a really tough match especially at the end of the third, I just had to be patient and try to hang in there," said a delighted and relieved champion.

"I was lucky enough to get a couple of errors at the end, but it was so close all the way through each of the games, I was on the back foot for most of the third, so I'm really pleased to get through three-nil!

"I can't believe that I've won here again, it's just amazing, Hong Kong is a luck charm for me and the support from the crowd is fantastic! It's always a great feeling coming back to where I won my first World Open title, and that spurs me on every time I come here."

Matthew takes it all

At 10-0 down in the first few would have given Borja Golan much chjance of testing world champion Nick Matthew ad he aimed to claim a first Hong Kong title, and to reclaim the world number one position in the process.

Matthew eventually won the game 11-1 in 34 minutes - at 3-0 someone apparently tripped over a crucial piece of wiring/plug and the court lights went out, to be restored some 22 minutes later (they need to cool down and warm up again).

Golan took his first point to avoid the 'bagel', and for the rest of the match his competitive spirit and solid play made it the sort of tough encounter Matthew would have expected.

The Englishman carried his momentum into the second, leading 7-4 and 8-5, and despite Golan's best efforts doubled the lead 11-8. But it was the Spaniard who made the better start in the third, a quick 5-1 advantage increased to 8-1 and even Matthew wasn't going to pull that back. 11-5 and into the fourth.

It was competitive all the way, but Golan made one or two errors at just the wrong times, allowing Matthew first to pull back and early deficit, then to lead 7-4 and 8-5. Golan was trying to gee himself up with typical grunts and yells of encouragement, but Matthew, this close to two prized goals, wasn't likely to relent now ... and he didn't, driving the ball deep on his first match ball and raising his arms in the air in double triumph.

"I knew my body would hold up even though it was a very tough match yesterday," said Matthew, "so it was a mental challenge again really.

"It was always going to be hard to keep up the level of that first game, Borja is very strong and very determined.

"You'll take any win in a final but I was pleased with how I played. I really thought I was going to go grey before I managed to win here, I've been coming since 2001 and I'd never got to play on the harbour before so this is really special for me, I'm really delighted."