Day THREE, QUARTERS:
Hong Kong quartet and Egyptian
trio through to semis ...

Quarter-finals day at the Queclink HKFC International started with a morning second round match in which George Parker despatched Tayyab Aslam to complete the quarter-final lineups with all eight men's seeds through to the evening's matches.
The women's quarter-finals started with an all-Egyptian clash which saw Hania El Hammamy beat compatrion Zeina Mickawy in straight games.

"Zeina and I played so much in juniors," said Hania [who is still a junior], "but this was our first PSA meeting. It's never easy playing someone from your own country so I'm delighted to win and be through to the semis."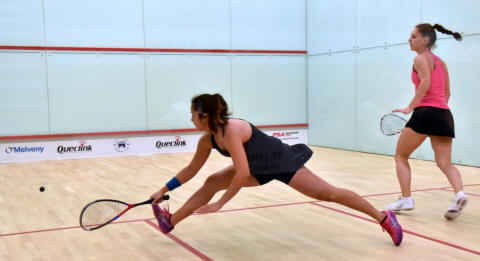 Malaysia's unseeded Rachel Arnold reached by far the biggest semifinal of her career after an abrupt and unfortunate ending to her match against France's Coline Aumard.

After 50 minutes of intense play Arnold was leading two games to one, and at six-all in the fourth an accidental collision saw both players fall awkwardly into the side wall. Coline came off the worse, and after some on court treatment was taken to hospital for checks.

"It's not the way you want to win any match," said Rachel, who received a walkover in the second round after Donna Lobban's withdrawal, "I hope Coline recovers safely and quickly.

"I've been a bit lucky, but I think I'm playing well and I'm really excited to be in my biggest ever semi-final tomorrow !"
Parker was back oncourt for the fist pair of men's matches, and although he took a game off Leo Au, the second seeded defending champion made sure it didnt go the distance as he closed out the match in four.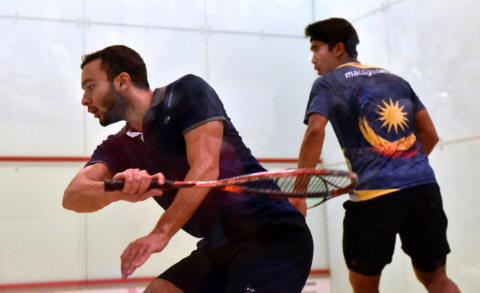 Au's predecessor as champion, Malaysia's fourth seed Nafiizwan Adnan, came up against in-form Egyptian Youssef Soliman, and although every game was close, it was Soliman who emerged the four-ame winner, takin the first and last 12-10.

"I was struggling with my focus and was all over the place at times," admitted Soliman, "he pushed me really hard and I could rarely get control but I managed to sneak the games so that's definitely a good win for me.

"Leo next, tat's a repat of our final last week in Pakistan, but he'll be more prepared and this is his home turf so it should be a good match."
The women's quarters resumed with Hong Kong's top seed Annie Au beating Amanda Landers-Murphy in straight games, although the Kiwi was etting closer each game and and a game ball in the third.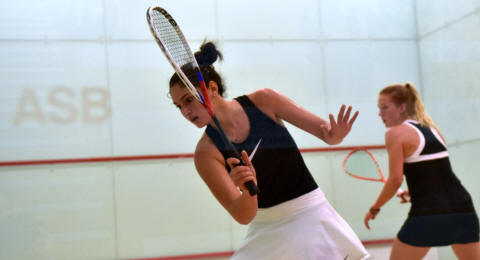 Mayar Hany made it three semi-finalists for Egypt as she came from one-two down to beat Canada's Danielle Letourneau.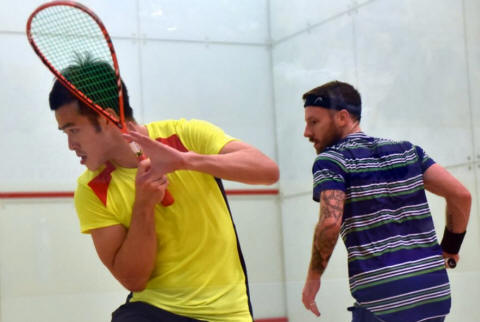 It was all Hong Kong in the last session of play as top seed Max Lee and third seed Yip Tsz Fung beat Harinderpal Sandhu and Peter Creed, both HK players taking two contested first games before easing through the third.

"Our match will be a repeat of the National semi-finals," revealed Max. "He was two-nil and match ball up but I managed to win, so it should be another good match tomorrow!"
Semi-finals start at 5pm and will be played and streamed from court 7.

As usual we'll have some matches on LIVE STREAM, results and updates on our Twitter Feed and Live Scores, plenty of items going into the BLOG, and a roundup report here at the end.