Tue 18 Sep, Day ONE:
Hong Kong women edge through to round two

It was a good day for the home players in the women's draw as the Queclink HKFC got under way in Hong Kong - now thankfully free of Typhoon Mangkhut - as they won four of the eight round one, three of them in five games to beat 9/16 seeds.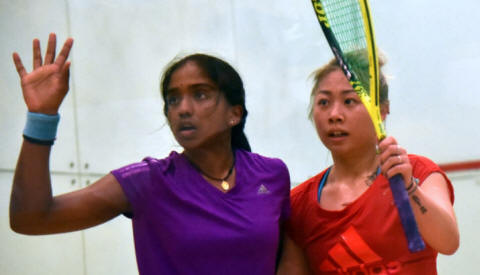 Vanessa Chu had chances to beat rising Malaysian Sivasangari Subramanian in straight games, but was nevertheless delighted to deny Siva's comeback.

"I made a few errors in the third and fourth, so I just threw everything at it in the fifth. I don't know why but I always play well here, delighted to win again!"
Lee Ka Yi and Hollie Naughton, both just back from the World Teams in Dalian, also battled it out in five, the Hong Kong youngster coming from two-nil down to claim a second round spot.

"I wasn't focusing well in the first two games, I knew I needed to do that better. In the third and fourth my volley drops started going in which gave me confidence, and I managed to keep that going."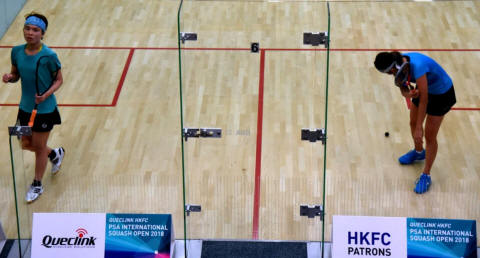 Tong Tsz Wing also beat one of the game's rising young stars in five, easing through the fifth in a seesaw battle with Japan's Satomi Watanabi.

"It's been a good day for us," she conceded, "hopefully we can keep it going tomorrow!"

The fourth home winner was Ho Tze Lok, who eased past wildcard HKFC coach Carmen Lee in three.

The other women's seeding upset saw Malaysia's Rachel Arnold beat Egyptian Nada Abbas in rthree close games.
The seven men's matches - one is being played tomorrow due to late arrival - didn't see any home winners and only one upset as German youngster Yannic Omlor opened the day with a four game win over Egyptian Ahmed Hosny, while five games were needed by Malaysia's Mohd Syafiq Kamal and Pakistan's Tayyab Aslam.
The day also featured an opening function attended by players, officials, sponsors, and representatives from HK and Asian Squash (photos in the gallery) and junior clinics featuring many of the pro players including Leo Au, who was showing off his Asian Games medals !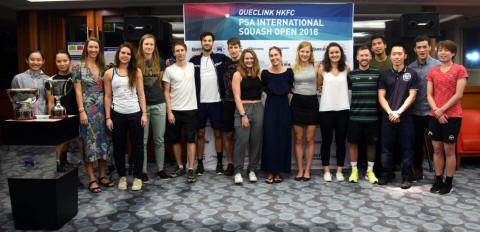 Tomorrow sees the seeded players join the action, another 16 matches starting at 15.00.