Day FOUR, SEMI-FINALS:
Max and Leo set up all HK final
as Annie goes up against Hania

SEMI-FINALS WATCH REPLAYS

[1] Annie Au (Hkg) 3-0 [4] Mayar Hany (Egy)
11-3, 11-6, 11-5 (24m)
[3] Hania El Hammamy (Egy) 3-0 Rachel Arnold (Mas)
11-8, 11-6, 11-6 (26m)

[1] Max Lee (Hkg) 3-0 [3] Tsz Fung Yip (Hkg)
11-7, 11-9, 11-7 (37m)
[2] Leo Au (Hkg) 3-1 [6] Youssef Soliman (Egy)
11-9, 7-11, 11-8, 11-8 (53m)
Semi-finals day at the Queclink HKFC International featured four Hong Kong players, three Egyptians and a lone Malaysian.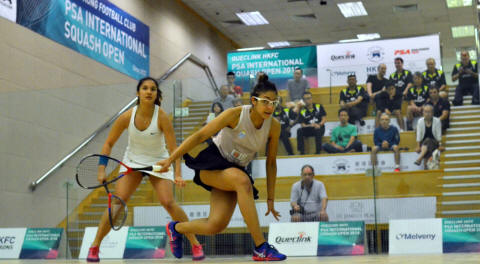 First up weas unseeded Rachel Arnold, who had reached the semis via two uncompleted matches, against third seed Hania El Hammamy.

From the outset it was the young Egyptian on top, and although Rachel fought back at the end of each game, she could never get quite close enough as Hania finished it off in three games 11-8, 11-6, 11-6.

"It was three nil but it wasn't easy, far from it," said Hania. "I would get a lead ineach game, get to two points from winning the game and she would start coming back, that was tough.

"This is by far the biggest PSA final I've reached, so I'm really looking forward to tomorrow and hopefully I can win it!"
Another young Egyptian, Mayar Hany, took on top seed Annie Au in the second women's match, and found the courtcraft - and court knowledge - of the Hong Kong number one too much to handle. Au was always in control, winning 11-3, 11-6, 11-5.

"It's always tricky playing Egyptians, they attack and they never give up," said 2015 champion Annie. "I'm happy with how I played today, controlling the pace and stopping her form getting too many opportunities to attack.

"It's good to be back in the final here after losing in the semis the last two years!"
The first men's semi-final saw defending champion Leo Au take on Egypt's Youssef Soliman in a repeat of their CAS International final last week in Pakistan.

The first two games were shared then Leo took the lead again. As Soliman took an early lead in the fourth it seemed destined to go the distance, but Leo fought back to win in four, 11-9, 7-11, 11-8, 11-8.

"I really wanted to win today, to make up for losing the final last week in Pakistan, and because I'm playing in my home country," said Leo.
"It was another tough match, you couldn't tell who was going to win any of the games, so I'm glad I managed to win it!"
The second men's match was an all-Hong Kong affair, a repeat of June's Nationals semi-final where Max Lee came from two games and match ball down to deny Yip Tsz Fung.

This time it was Max who took the early advantage, and although all three games were close it was the top seed and two-time champion who prevailed, 11-7, 11-9, 11-7.

"I think I was better prepared for today's match, we were both at the Asian Games but he had the world universities too. It was a different atmosphere when we had such a close match in the Nationals, but I was happy with my game today and pleased to make another final here.

"It's always tough against Leo, he knows my game an all the ways of making it difficult for me, but it should be a good match."

The finals start at 3pm on Saturday, with the International 3's tournament running alonside.
As usual we'll have the matches on LIVE STREAM, plus results and updates on our Twitter Feed and Live Scores, and a roundup report here at the end.