Wed 19 Sep, Day TWO:
Mixed day for Hong Kong as
Mickawy and Letourneau ousts seeds

While Day Two of the Queclink HKFC International was a good one for the home men's players, the Hong Kong representation in the women's draw was drastically reduced.
The day started with the last men's round one match - held over due to Typhoon Mangkhut - as France's Auguste Dussourd completed the round two lineup with a five game win over Hong Kong's Tang Ming Hong.

Although now past, the Typhoon still had a effect when it was discovered that one of the club's three all-glass courts had developed a rainwater leak, so some hasty rescheduling was required.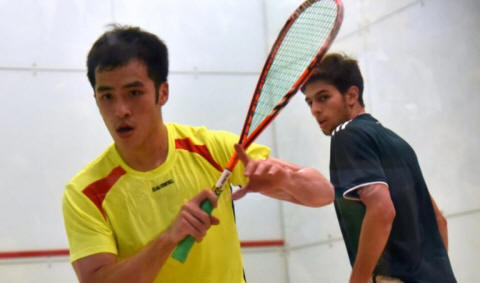 The Frenchman would be back in action in the evening, losing out to birthday boy Yip Tsz Fung, one of three Hong Kong men to reach the quarters. Top seed Max Lee eased past young German Yannik Omlor while defending champion Leo Au was comfortable enough as he beat Indian Ramit Tandon in four games.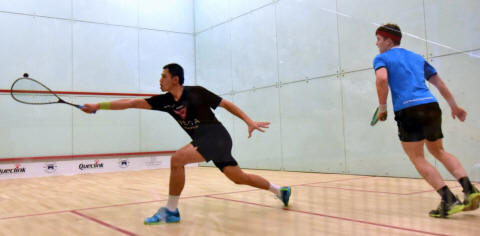 Lee now meets Harinderpal Sandhu while Yip faces Welshman Peter Creed, who ousted HKFC ever-present Rex Hedrick in five games to conclude the day. Leo must wait until the result of the delayed round two match between George Parker and Tayyab Aslam to know his opponent.
The other quarter-final will be between former champion Nafiizwan Adnan and Egypt's Youssef Soliman, who the CAS Internationals title last week in Pakistan but needed five games to get past another Malaysian, Ivan Yuen.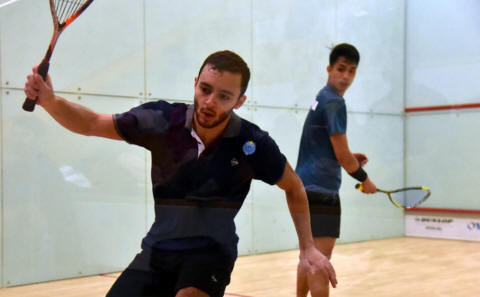 "I had a good intensive summer training, between Cairo and Bristol, and it paid off," said Soliman. "I was delighted to win my biggest title last week in Pakistan. Today was a tough opening match, I was 5-1 down in the 5th so I'm happy with how I came through and looking forward to carrying on the momentum this week."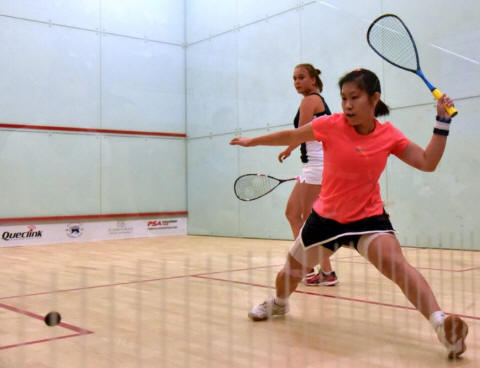 In the women's draw top seed Annie Au was the sole Hong Kong winner out of six, joining brother Leo in the quarters with a three-nil win over Tinne Gilis, who got uncomfortably close in the first two games.

After three-two wins yesterday, Lee Ka Yi, Vanessa Chuand Tong Tsz-Wing all fell at the second hurdle, while fifth seed Liu Tsz-Ling lost out in four games to Zeina Mickawy.
""I was a bit stressed before the match," said Zeina. "I know that Tsz-Ling is a tricky player, and this is her place. So I just tried to keep to the game plan, I'm glad it worked out!"

Mickawy was one of three Egyptians to progress - Hania El Hammamy beat Tong while Mayar Hany despatched Lee. "I lost here last year to a Hong Kong girls, that's why I was so intense today," explained Hany.

Chu fell to New Zealand's Amanda Landers-Murphy while Ho Tze-Lock, who won al all-HK match to reach round two, saw France's Coline Aumard come from one-two down to deny her a second successive quarter-final.

Malaysia's Rachel Arnold progressed to the quarters without hitting a ball after the withdrawal through injury of second seed Donna Lobban, and the only match of the day not to feature a home player saw Danielle Letourneau beat sixth seed Nele Gilis, winner of the recent Nantes International, in straight games.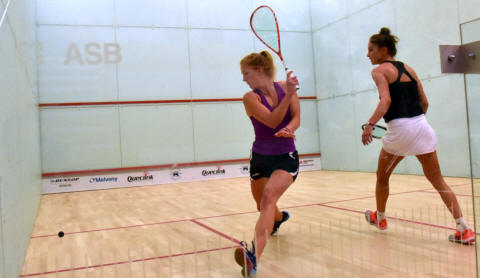 "I felt good on there today," said the Canadian, "but I got too tense and Nele would start coming back, so I just had to try to keep calm and play my game. Delighted to make the quarters!"

After one Round Two match at 11.00 tomorrow, the quarters start at 17.00.