13-Aug-12:
Palmer set for UK Legends debut at the 9Telecom Legends at St. George's Hill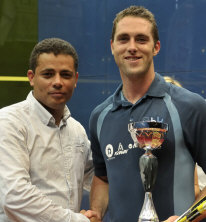 Eventis Sports Marketing has confirmed that the Former World Champion David Palmer will take part in the third edition of the 9 Telecom Legends of Squash at St. Georges Hill Lawn Tennis Club, Surrey.

The Gold Tour event will take place from 14-17th September 2012 and headlining the event this year will be Former World Champion and Ex-World Number One Palmer.

Having made a successful debut on the Legends of Squash Tour in Belgium in May beating Peter Nicol in the final, Palmer will be hoping to continue his success in the UK having picked up four British Open titles during his professional career.

Nick-named 'The Marine', Palmer retired from the PSA World Tour last November but has remained in great shape and will provide a tough test for the returning Legends.

This year's event promises to be the strongest yet featuring four Ex-World no.1s who have amassed over 150 titles during their illustrious careers. However, Messrs Jonathon Power, Peter Nicol and John White will all be keen show Palmer that life on the Legends tour can be just as competitive as it was on the PSA.

Palmer had a phenomenally successful professional career adding two World Open titles to his British Open haul, and he is keen to add to the silverware with success on the Legends Tour.


"It was great to be invited to be part of the Legends Tour," said
Palmer from his home, and training academy, in Florida. "I have had some great battles with the guys over the years and look forward to many more!

"The event in Namur showed that the rivalries can continue for a few more years albeit on a slightly less intense level!

This year ex-World no.7 and the most capped squash player of all time Irishman Derek Ryan also joins the fray. With former World no.4 Simon Parke, 7-time European Club Champion Tim Garner and ex-British National Champion Stephen Meads completing the mouth-watering line-up, it is destined to be a marvellous few
days of squash in Weybridge.
Last year the event was close to a sell-out and tickets priced from £15-£35 for the 9 Telecom Squash Legends event are now on sale from the club on 01932 843541

There are also opportunities to get on court with the Legends with a series of Legends Clinics running over the weekend.

Contact Tim Garner on Tgarner@eventis-sports.com for more information.
Club Address:
St. George's Hill Lawn Tennis Club
St George's Hill
Weybridge
Surrey KT13 0LL

www.stghltc.co.uk