20-Aug-12:
Mouth-Watering Draw announced
for the 9Telecom Legends


Eventis Sports Marketing has released details of the draw for the third edition of the 9Telecom Legends of Squash at St. George's Hill Lawn Tennis Club, Surrey.

The Gold Tour event will take place from 14th-17th September and the pools have thrown up some mouth-watering clashes across the weekend.

Group A

1. David Palmer
2. John White
3. Derek Ryan
4. Tim Garner (w/card)
Group B

1. Peter Nicol
2. Jonathon Power
3. Simon Parke
4. Stephen Meads (w/card)

The 9Telecom Legends kicks off on Friday evening with the pick of the matches being Canadian Jonathon Power against ex-World no.4 Simon Parke.

The latter still keeps himself in great shape turning out in several national leagues around Europe and will provide a stern opening test for the mercurial former World Champion.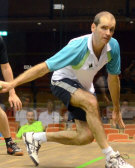 Making his debut in Weybridge, Irish international Derek Ryan will kick off against John White. Ryan has been capped over 200 times for his country, making him the most capped squash player of all time.

As a former World no.7 he will add yet more quality to the field. White, a former world number one, is a firm fan favourite wherever he turns out.



Peter Nicol and Simon Parke have had some high energy encounters over the years, one of the most memorable being an epic in the Super Series Finals at the Broadgate Arena.

Whilst the pace might not be quite at the same level their clash is sure to be the pick of the matches on Saturday with neither player wanting to lose, a true example that 'rivalries never die'!

That same evening Ryan will also look to stop David Palmer's march towards a second successive Legends title. Having lost in four tough games in Namur at the end of May, Ryan will be hoping the best of three format will give him the opportunity to reverse that result.


'Super Sunday' sees old adversaries Power & Nicol lock horns in a repeat of the 2010 9Telecom Legends final, which Nicol edged in four games.

Also that evening Palmer takes on White in a rematch of their 2002 World Open final in Antwerp.

On that occasion White had a match ball, but it was Palmer who came out on top to lift the first of his two World Open titles.
Tickets





Last year the event was close to a sell-out, and tickets priced from
£15-£35 are now on sale from the club on
01932 843541
Group Bookings

Contact Danny Lee on 07905 102094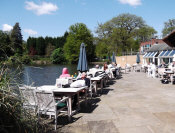 Club Address:

St. George's Hill Lawn Tennis Club
St George's Hill
Weybridge
Surrey KT13 0LL
www.stghltc.co.uk
Legends Clinics

There are also opportunities to get on court with the Legends with a series of Legends Clinics running over the weekend.

Contact Tim Garner on Tgarner@eventis-sports.com for more info