TODAY in
Doha ... daily reports
Framboise & Steve in Doha
EN BREFS
The Infos
you CANNOT afford to miss

Fri 20th, Day Four, Round Two

The last sixteen of the men's and women's draw went smoothly for most of the seeds. With the women's matches played first, the only upset was when Vanessa Atkinson beat Kasey Brown, although given that it was seed #8 versus seed #10, and that Vanessa was champion here in 2004 and 2005, it's not exactly a bombshell.

No, that came at the end of the men's matches.

Six of the top eight seeds all won through comfortably enough, before Aamir Atlas Khan really put the cat amongst the pigeons, beating world number one Gregory Gaultier in four games. Read on ...

Women's Last 16

[1] Nicol David bt [11] Jaclyn Hawkes
11/9, 11/6, 12/10 (28m)
[7] Laura Massaro bt [16] Tania Bailey
11/8, 10/12, 11/9, 12/10 (54m)
[4] Jenny Duncalf bt [14] Rebecca Chiu
11/3, 11/8, 11/6 (23m)
[10] Engy Kheirallah bt Isabelle Stoehr
11/6, 11/1, 7/11, 11/9 (45m)
[5] Madeline Perry bt [15] Camille Serme
11/4, 11/5, 11/8 (36m)
[3] Alison Waters bt [13] Samantha Teran
11/6, 11/9, 11/6 (26m)
[10] Vanessa Atkinson bt [8] Kasey Brown
11/9, 11/9, 8/11, 11/5 (41m)
[2] Rachael Grinham bt [12] Annie Au
11/7, 11/2, 11/6 (24m)

Men's Last 16

[1] Karim Darwish bt [16] Cameron Pilley
11/8, 11/6, 11/4 (34m)
[8] Thierry Lincou bt Hisham Ashour
11/8, 11/4, 11/6 (40m)
[4] Ramy Ashour bt [12] Wael El Hindi
11/6, 11/7, 11/8 (39m)
[7] James Willstrop bt [Q] Tarek Momen
11/5, 11/7, 11/0 (26m)
[5] David Palmer bt [15] Stewart Boswell
12/10, 11/9, 12/10 (54m)
[4] Nick Matthew bt [14] LJ Anjema
11/8, 11/6, 11/8 (44m)
[9] Peter Barker bt Olli Tuominen
11/4, 11/3, 1/11, 11/3 (41m)
Aamir Atlas Khan bt [2] Gregory Gaultier
11/6, 7/11, 12/10, 11/9 (53m)
[1] Nicol David bt [11] Jaclyn Hawkes
11/9, 11/6, 12/10 (28m) steve reports

Nicol gets there

First through to the quarter-finals was top seed, defending champion, world champion, world number one, Nicol David with a straight-games, but far from straightforward, win over Jaclyn Hawkes.

Nicol herself wouldn't claim it was one of her best performances, too many unforced errors - a little like yesterday against compatriot Wee Wern - but she managed to pull it out when needed.

The first could have gone either way, Jaclyn recovering from an 8-4 deficit to level at 9-all only to lose it as she put a drop into the tin and then conceded a stroke.

Nicol was in control in the second, but from the start of the third things got edgy again. The rallies were short, the mistakes from both frequent, and it was only from a precarious 8-7 that Nicol managed to really dominate as she earned three match balls.

Jaclyn, as ever, dug in, brought it to extra points but Nicol put in two good rallies to finish and move into the quarters.


"We haven't played each other for a while, but I knew it was going to be a tough match, we both had to work hard in all the games.

"She started to relax when she was down in the third, got a few points in and I had to bring my game up to make sure I closed it out.

"It's good to win in three, you always spend the early rounds getting your head right, now I need to bring my game up for the next round ..."


[4] Jenny Duncalf bt [14] Rebecca Chiu
11/3, 11/8, 11/6 (23m) steve reports

Jenny rolls on

With back to back victories under her belt in Soho Square and Heights Casino Jenny Duncalf continued her run of good form with a solid three-game win over Rebecca Chiu.



In truth the British champion had it much her own way, easing through the first and always having the edge in the next two, the many-time Hong Kong champion only seriously threatening at 8-3 down in the fourth, but it wasn't long before Jenny reasserted to close out the match.

"I feel I'm into the tournament now, it's good to have got two matches on the glass court. We didn't have too many long rallies, the court is quite dead and it's fairly easy to finish it off if someone hits a poor length.

"She tried to extend the rallies from the second game but I felt fairly comfortable most of the time, and it's much better getting off in three than having gruelling five-setters ..."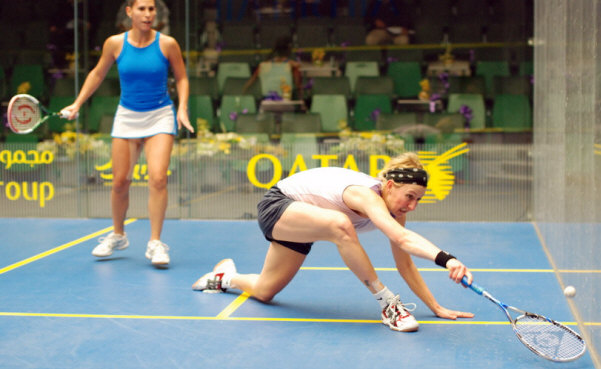 [3] Alison Waters bt [13] Samantha Teran
11/6, 11/9, 11/6 (26m) steve reports

Waters in Charge

Third seed Alison Waters joined England team-mate Jenny Duncalf in the quarters as she too won in straight games.

Taking early leads in each game, Waters always looked the likely winner, as Samantha Teran played mainly low and hard from the back of the courts, as she does, allowing Waters the luxury of waiting for a loose shot to put away.

The Mexican's best spell was at the end of the second game, and at 9-all she stood a good chance of levelling the match, only to hit the ball back at herself, eliciting a loud "aaaaaahhh" as the inevitable stroke was given.

That chance gone, Waters duly wrapped up the third to set up a meeting with Madeline Perry.


"I was up about 4-1 in all the games, let it slip a bit but managed to pull away again.

"I noticed the strapping on her leg and had it in my mind that she wasn't moving too well, but I just had to forget that and play my game.

"I could have taken it short more, but at least I didn't drop a game, that's the main thing ..."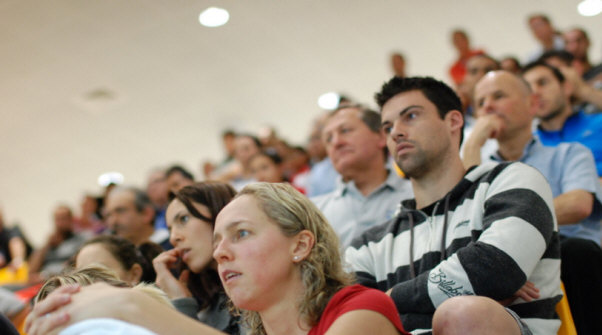 "I played her only once I think, I beat her in five, but it was extremely close, so I knew I was in for a really tough match…

Isabelle has great hands when she is standing on the ball, she can hit great shots from anywhere… in space!!!! And I thought she moved much better than she did the last tournaments I saw her play.

During the warm up already, I could see how determined we both were. I wanted to win so badly because this would have (will be!) my first quarter in a major. But she also wanted to win because she had a couple of bad results lately, and wants to go back to the top 10 where she belongs…

In the first game, she did a lot of unforced errors, it was like she was overexcited, and I don't think it helped her. I was so lucky to win the second with such a low score, if she'd play like she did in the 3rd and the 4th, it would have been a complete different story."



[10] Engy Kheirallah bt Isabelle Stoehr
11/6, 11/1, 7/11, 11/9 (45m) fram reports

ENGY MENTALLY STRONG

It's never easy to play against a shot maker like Isabelle, even for an Egyptian! Isabelle was up and down, well, down at the start, and up for the last two games, but what impressed me today was Engy's calm and consistency.

Yes, she made a few errors, normally when Isabelle was able to make the rallies last longer, and putting her under pressure with her lobs, lengths, and shots. But Engy never looked bothered by Isabelle's frustration, energy, great shots or tins. She just went on playing HER game, and that worked perfectly for her.

Honestly the 4th could have gone either way, and who knows what would have happened had Isabelle taken the game. But Engy, with the support of her husband Karim, although he arrived a bit late - it's Friday, more difficult to get transportation, we are told – played a strong match, and produced a great performance today she can be proud of.

"I was a bit tense at the start of the match, no length, but she really played very well, great accuracy with her shots. Still, never on my life should I'd lost the second one 11/2! I looked like a Cgrade on there…

"Frustrated of course, those matches, I've got to win them, I play well, I'm fighting hard physically, but still, at the end of the day, I lose…

"Oh well, back to work now, then, concentrate on the next tournament, working hard for Monte Carlo, then a little break, and back on training again…"


[7] Laura Massaro bt [16] Tania Bailey
11/8, 10/12, 11/9, 12/10 (54m) fram reports

TANIA LOOKING GOOD,
LAURA EVENTUALLY

A few fluctuations in this game. First Laura looked impressive with confidence and hard hitting – something I didn't notice in her game before. Then Tania seemed to get her game back, confidence and speed included. A terrible start in the 3rd for Laura, 5/0 down, but she manages to pick up the game somehow, maybe because Tania had a bit of drop of energy at the end of it.

The fourth was anybody's, with Tania finding her second wind at the start of that game. 6/6. 7/7. Then the ComeBack girl seems out breathwise again, match ball 10/7. She digs in, and saves three of those to force a tie-break, 10/10. Unfortunately, at the end of yet again a long rally, she clips the tin, and won't be able to save the last match ball…

"It was really tough today… I really thought I was playing well, good crosscourting across the middle there, good length, pushing her back in the back corners, but still, no unforced errors was coming from her…

"I tried to play on her backhand volley, varying the shots too.. But she played really well, the best I think since she's been back.

"Yes, Sarah Kippax, who was coaching me was telling me to hit it, as it's something I'm good at, but I just didn't seem to see the opportunity to do that during the game. That's maybe why I couldn't force the errors out of her, then…"





"You really want the list of what happened to me for the past two years? Well, first, two years ago, here actually I tore my adductor and that was 3 months out.

"Came back. My hamstring went, 2 months. Then, I had an operation on my knee, 4 months out. Came back, messed up the knee, another two months.

"And when things seem to get a bit better, I tore a cartilage, 3 weeks on crutches, and 12 weeks doing nothing, that was the tough part.

"But I always kept very positive, that helped with the recovery a lot I thought, also when I was told that because of my knee, I wouldn't be able to come back.

"But here I am, and I thought I played well today. Of course, I need to get a bit of speed back on, a bit more confidence when I go for my shots too, but I'm there, felt good physically too.

"Well, the girls didn't exactly wait for me, everybody seems to have improved while I was not watching!

"But, sorry if it's a bit of a cliché, but I'm really enjoying every second I spend on the court, and of course, it's going to be tough to come back to the top, but I feel I've got still plenty to give to squash, and I won't stop until I really cannot move."

Tania Bailey


"From the first rally, she put me under a lot of pressure at the back, her shots were really hard to get, and it was physically very hard. But in the third, I played better tactically.

"The last ball of the match is like a summarise of what I come from, the improvement I've made, and what I still need to work on. It was a long rally, I was patient, but I still make the error, like a junior, at the end. It just shows the work I still got to achieve…

"Physically, I had plenty left in the tank, and of course it was hard for me, but I could see she was not that fresh either. So if I take the 3rd, you never know, it could have given another push…

"Lesson of the day: next time, I'll start playing in the first like I played in the last!!!!"



[5] Madeline Perry bt [15] Camille Serme
11/4, 11/5, 11/8 (36m) fram reports

MADELINE TOO ACCURATE

The Irish number one never let the French girl breath a second for the first two games, but all credit to the youngster, she regrouped, changed her tactic, and really made the rallies last, finding some lovely shots, and picking up a few great attacks from Madeline.

Still, the Irish was just too strong mentally in the end. Camille still played a much better game than she did against Nicol in Amsterdam, and Omneya in HK. It was a good recovery, her mental computer gave her the right changes to apply, and the body followed. That's good omen for the future, and it's all experience…



"Yes, I thought I'd won, I forgot I still had to finish it, especially on the match balls, I relaxed a bit….

"I played her two years ago, in Montreal, it was an easy 3/0, but she improved a lot since.

"Today, when she was in front of me, she played some good shots, and retrieved a lot of shots, more than expected, and that put me under a bit of pressure at times. But when I was in front of her, I was controlling the game, which I wanted to do."


[10] Vanessa Atkinson bt [8] Kasey Brown
11/9, 11/9, 8/11, 11/5 (41m)

JAMES ON THE MATCH

I thought that it was a very well contested match, a bit of a typical match on those courts.

Vanessa made Kasey work very hard, and moved her very well, that was in my view the key to the match. Kasey still played extremely well every time she had the opportunity but in the end, you could see how the hard work Vanessa put her through paid off…

"It was hard the whole way through, it's the only way to win on those courts…

She started off a bit slowly, that gave me a good head start, but I knew that was something she's got a tendency to do, so I knew she would be back, and it was just a battle at the end.

I think at the end she got a bit more tired, she made marginally more work during the match, she was volleying a lot, that takes a lot of energy, and I could see she was worst than me at the end, which gave me a mental boost."



"She kept getting everything back, she was moving very well, keeping the rallies long. And I kept thinking, please, God, just stop!

"But she didn't…"


[2] Rachael Grinham bt [12] Annie Au
11/7, 11/2, 11/6 (24m)

Rachael outguns Annie

Two players who both have no hesitation in going for one of the many shots in their arsenal - Rachael Grinham with her lobs, drops, flicks and Annie Au with her more orthodox but nonetheless deadly variants.

But today experience told as the second seed's shots were on top throughout, not many people beat Rachael at her own game ...

"I felt like I played well. It's probably an advantage to me that I'd already played on the glass court, it's quite dead in the corners which doesn't exactly hurt me.

"Annie's one of those players who's going to go for her shots, so you just try not to give her too many opportunities, especially on her backhand volley.

"I though it might be harder than that, but I guess it was my day ..."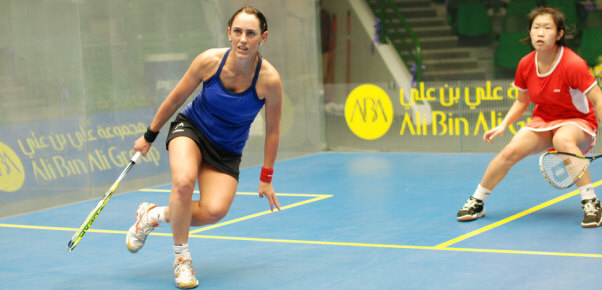 "I had a two point lead for most of the first, but he got into his game and started playing shots, especially in the third.

"I dropped my length about two feet too short which gave him the green light to hit whatever he wanted. My fault, but he certainly took advantage of it!"



[1] Karim Darwish bt [16] Cameron Pilley
11/8, 11/6, 11/4 (34m)

Darwish despatches Pilley

What's up, you ask, if Karim Darwish won why is Cameron Pilley so happy?

Well ... having matched the top seed for most of the first game, from 8-7 up it all went pretty much downhill for the Australian. Karim took three points to take the lead, started firing his shots in as he opened up a winning lead in the second, and was in awesome form as he blasted his way to 10-0 in the third.

So, when he finally tinned of of the winners that had served him so well, Cameron was happy! Avoiding the whitewash seemed to spur Cameron on as he pulled another three points back, but of course it was an impossible task.

So, the former world number one, whose rocket up the rankings started with victory here last year, is looking pretty impressive ...

"The first was point for point, I was glad to finish that off, then I felt I started controlling things in the second and third.

"You have to stay aware though, Cameron is very dangerous, and I needed to make sure I finished it off in three.

"It's been a good day, with Engy getting through to the quarters too ..."


[8] Thierry Lincou bt Hisham Ashour
11/8, 11/4, 11/6 (40m) fram reports

HISHAM PLAYS FATHER CHRISTMAS

Hisham tried, that's for sure. Although I could see how tense he was in the first, he tried and be patient throughout the 15m first game, keeping the rallies going, and not going for too much. But that meant playing right in Thierry's territory, as in, length, width, at mid pace. No luck there.

So bless him, he changed his game completely, went for his shots after speeding up the pace. But doing so, he took far too many risks, and ended up giving away 8 tins to his grateful opponent. Nice is Hisham…

Again, in the third, the Egyptian didn't say die, and tried a third option, playing anything that came through his mind, boast, volley boast, hitting like a lunatic, and cutting the unforced errors. But by then, the Frenchman was so confident, and with the momentum. Hisham just couldn't put him under pressure for long enough to force any kind of errors out of the Frenchman (5 tins the whole game).

Mumbai, Mumbai, Mumbai…?

"Playing Thierry on a court that suits him, where he didn't give me any openings, with the ball that never left the wall, like it's inside the wall… Too difficult. Too good."



"This was an intense match, with a lot of variation in the shot selection, a good match. Hisham loves to play fast, take the ball early, attack, and find nice angles. I had to be on my toes constantly, and try and leave him as less time as possible to play his shots, and then being able to hurt him at the front.

"As all the Egyptians, if you let him manoeuvre you, you spend the match running after the ball!!!

"I'm happy to get in the quarters with two 3/0 matches, it's confirming that I'm in good form. Still, tomorrow, I'm playing Karim, who a month ago, was world number one, on a very cold court. I will have to move pretty well…"


[7] James Willstrop bt [Q] Tarek Momen
11/5, 11/7, 11/0 (26m)

Vanessa's view

Tarek is so talented, you can see that right away. The first three points, he played three ridiculous winners, he is just amazing. But you could feel that as long as James was keeping it tight and deep, if you don't give him any opportunity, he's the kind of player that's going to try and get them somehow.

And he got frustrated.
That's a good practice before Ramy tomorrow, and probably a good rehearsal, as the same tactic probably should be applied…

"You could see that he is young, and when you've gone through the qualifiers, a big win yesterday as well against Alister, when you've got a long series of matches, especially on a young body, it can take its toll.

It's good to spend as little time as possible on court, two 3/0 are really perfect for me. The game is too hard to keep on wasting your energy staying on court, I'm really p. off I've been doing that too much recently.

Especially as I'm playing Ramy, but not only him, as long as you are playing any top 8 guys… The one that will have less in the legs will be suffering when you play at that level."



"Muscles are gone. Studies, training, at some point, I have to pay the price… I can't back up match after match, my fitness is not good enough.

"James played an excellent match, he deserves to win…"


[4] Nick Matthew bt [14] LJ Anjema
11/8, 11/6, 11/8 (44m)

"My draw changed when Shabana dropped out, good thing is, I got to play all my matches on the glass court, and that's very important. I'm happy to have the court advantage, there was a few shots where I know that LJ just didn't see the ball… That court can really surprise you…

"I'm glad I actually played two lefthanders in a row, as I didn't have to stress myself out for a game plan today, I guess it's the first time in my life I come on court with no game plan, as the image of yesterday was still very clear in my mind, and the things I didn't do right yesterday, I was able to improve today…

"My goal this season was to try and win a major, goal that I reached right at the start when I won the British Open. So for now this tournament, and the next two, my aim is to get to the semis or final, to be in contention really.

"It's so nice to have Neil [Guirey] here, one of my best mates really, whose here to help myself and also Ali. But yesterday, he was not too happy when Ali lost in the first round, and I was 1/0 down! Still it's good to have him coaching me, it makes a real difference…"


[5] David Palmer bt [15] Stewart Boswell
12/10, 11/9, 12/10 (54m)

"It counts as a win, but it could easily have been 3/0 to him!

"I'm just happy to win, considering the last couple of tournaments, it's a terrible feeling turning up and going out in the first or second round, but I feel part of the tournament now.

"It wasn't classic match but I felt I had the upper hand most of the way through. I'd get a couple of points ahead and then he'd come back, but thankfully I played some good points at the end of each game."


Aamir Atlas Khan bt [2] Gregory Gaultier
11/6, 7/11, 12/10, 11/9 (53m) fram reports

AAMIR ON A HEAVENLY CLOUD,
GREG NOT THERE…

Lights were on, but nobody was at home during the first game for the Frenchman, who tinned his shots seven times. Completely out of character. Aamir, Speedy Gonzales the First, only needed the door slightly open to get the confidence he needed to put the world number one under tremendous pressure.

Aamir played out of his skin today, retrieved even more than normal, run as ever, as in forever, kept his head, finding stunning counter attacks and winners all over the place.

Greg, well, had moments of brilliance, but I didn't feel he had a game plan somehow, it's like he lost control of the whelm. He was attacking too soon, didn't lengthen the rallies as he loves to do often enough today, and just returned the ball too many times. Yes, Aamir put him under tremendous pressure, but still, no offence, Aamir, I felt that Greg was somehow not all there tonight.

Doesn't take anything away from the stunning performance the Pakistani produced today. And at a time where Pakistan Squash is in such turmoil they won't even send a team to the British Open Junior in Sheffield this year, where no major tournament is organised in Pakistan for security reasons, when Pakistan is troubled and suffering internally once again because of politics, it's such a nice and sweet moment to see Pakistan squash having such a proud moment.

Aamir, well played. You were astonishing of determination tonight. Well done.

"This is the biggest moment of my career. I really didn't expect it, because Greg has been playing so well recently, he is such a great champion.

"Today, I spoke with my dad on the phone right before the match, and he told me, listen, you can win this, you've got the talent, you've got the stamina, and I kept focusing on that during the whole match, and thinking how lucky I was to belong to such a Squash Family. And that really carried me through…

"Greg didn't play his best, but then again, when you put a player under pressure, he won't be able to play his game. Today, I'm living my dream to beat the world number one, but I really played point by point, I tried and played my best.

"I hope that one day I'll reach the number one position, and world champion, I'm working very hard for it, and one day Inshallah I'll get there."


[9] Peter Barker bt Olli Tuominen
11/4, 11/3, 1/11, 11/3 (41m)

"Olli played a massive match yesterday against Shorbagy, I saw him play, and I knew I'd had to play very well to beat him today.

"Physically, I have no doubt that he can back up big matches, but mentally, the intensity of it all, and the way the match ended was bound to have taken something from him. And I just took full advantage of that.

"I played well the first two games, but in the third, I stepped off a bit, he stepped on, and I just didn't go with him, hopefully, it was only a little blip…"


[4] Ramy Ashour bt [12] Wael El Hindi
11/6, 11/7, 11/8 (39m)