EN BREF #4

Fram tells you Everything you never knew you needed to know about Qatar ...
NEW NAME...

For a few years now, we've been staying in the same lovely hotel in Doha, which seems to have changed name over the years.

And again this year, same place, different name. Or I thought...

Although the people are the same, at the restaurant - same adorable waiters, chef de rang, receptionists - all ready to help and provide us with gallons of tea for me, and tons of food for Mr Joey Barrington, the concierge staff, etc, you can really feel the upgrade everywhere.

A new aisle has been added, with executive rooms - they apparently were full when I arrived late at night, so they gave me one of those - awwwwh, I know, shame, isn't it - and I must say just going from the bed to the bathroom is exercise enough to keep me fit!

The food quality is higher, the decoration is superb, they seem to have more people in attendance, as in, whatever you ask for, laundry, house cleaning, you have somebody at your door within minutes.

And something really great for SquashSite too, is that the internet connection in the room is really fast, didn't stop once, and is provided for us free of charge compliments of QSF.

PS. I still haven't tried the pool this year, but I don't despair to have the time next year isa....

TOO MUCH FOR ONE...?

I am old enough to remember the days when we were going to 9, had two serve and only one ref and one marker.

In those days, being a ref meant a bit being El Supremo, only having to concentrate on the decisions to be made and keeping the players in line.

The marker was handling the scoring, plus the double bounces and the out of court decisions.

Nowadays, the Central Man is in charge of collecting the infos from his side ref, keeping the score, on top of taking their own decisions. That's hot seat or what?

But now, they find themselves having to deal on top with calling the video reviewing, keeping counts of who is asking for it, who got it right, who got it wrong, and that in a split second, as the players, well, they need the game to keep on going...

Add to that the fact that certains refs are not from English mothertongue, and that it takes that little bit longer to find the correct way to spell it all out (I know what I'm talking about here), and that could explain the confusion we had on certain matches here. A lot of squash balls need to be kept in the air it seems....

I'm so for the three refs system, and I love the video reviewing, it adds to the drama and puts us in the 21st century. But maybe we should share the tasks a little more equally? Like, one side ref could share the handling of the stats for the reviewing, and the other the scoring? Or any other set up really?

I mean, maybe it is just too much for one person to handle...?


RACHAEL
HOME AT LAST...

After 15 years travelling the world, the former World Number one, Word Champion, British Open Champion has decided to come home...

"Iím back training in Australia at the AIS now, itís the first time since Iím 19, 20 since I was last based over there. Of course, Iím still away a lot, about 10 weeks per year, and itís so far to fly from, but it really feels good to be back home among Australian.

"Itís like I feel Iíve been living out of a suitcase and in somebodyís home for the past 15 years. Itís too great to be able to interact with friends and family, not just with people from squash. And itís good to hang out with Australians, itís simple, itís easy, so good to be home.

"Also, I really felt it was time for me to start to think and settle down, and call a place a home. I canít keep playing forever, and Iíve got to start getting another life I can slip in to when I retire, something to do when Iím not playing squash anymore.

Well, looking at her performance here in the semis, I don't think she will be retiring just yet, I so enjoyed her match, and I saw her like rejuvenated...

After a glance at Doha's back to the future, then a visit of the Aspire zone, the last part of our trip. A meeting with Geoff Hunt, that honestly doesn't need much presentation, he won everything that can be won, and many many times, and to be more precise, 4 world Champion titles, and 8 British Open Champion.

How did it all started?

In the middle of 2006, I had resigned from Head Coach at the AIS (Australian Institute of Sports), I was still mentor to the Head Coach, but I didnít know exactly what I was going to do.

I saw the ad for a head coaching job in Aspire here in Qatar. And the philosophy of it really interested me, I liked the idea of a home grow champion. Too many countries were going for the importing of champions concept, I thought having home athletes was a much more interesting basis to work on.

So, I applied for the job, and got an interview. And when I arrived here, I was, like you were, amazed by what I saw, the venues, grounds, just astonishing really. And also, I was so happy that the squash was actually included in such a program, it not being a major sport, itís often left out.

I was also impressed by the Director of Sports, what he had to say. And at the end of the meeting, I was proposed the job! So I said to my wife, ďwell, Iím going to have to consider this pretty seriously then!Ē

And that what happened!

You seem very happy here...

Itís been the most rewarding experience, I would have never imagined I would live around here, and itís been a revelation really.

The working conditions are pretty amazing, even if itís sometimes a bit frustrating, because the boys donít realise how lucky they are and donít take it seriously enough. But on the other end, Iím happy with the impact Iíve had on the sport, and I hope I can keep on doing so a bit longer!

You do work closely with the QSF, don't you?

Yes, the cooperation with the Qatar Squash Federation is total, and it makes things so easy, there is no conflict, everybody is working in the same direction, itís a real bonus.

Is your family here with you?

Well, when I arrived initially, we were supposed to come with my boy who was at the time 14, but with my wife, we decided it was better for him to finish his schooling in Australia.

So we discussed the situation, and she said immediately that she would support me all the way. Of course, itís been difficult, and had not she been the special lady she is it would have never worked.

But weíve got such a strong relationship, we make it work. I speak with my family every day, I manage to go there twice a year, and she comes a few times as well.

How do you fill your free time then?

I do keep myself busy, and fit! I play golf, I watch all the sporting events available in the region, and you name it, we have it! Tennis, F1, Golf, Athletics, itís all happening here!

And I get to live the event close-up and personal, Iím not just a spectator, I get to be there, to live it! Like for the Asian Games in 2006 and 2010, I was part of it, and it was a fantastic experience.

All this, I would have never thought I would ever experienced, and Iím proud I was able to help and make this amazing project workÖ


GEOFF WHO?
Geoff Hunt, Member of the Order of the British Empire (MBE), Member of the Order of Australia (AM)

At the age of 12, Geoff Hunt took up squash, and by 18 in 1965, he won the Australian national title - the first of seven times he would triumph at that level, making him the youngest player in history to do so.

In 1969, he became the first player to win the World Amateur and British Open Championships in the one year.

He was ranked either number 1 or 2 in the world every year from 1967 to 1981.

Throughout his career, Hunt won a record - to that time - 8 British Opens (1969, 1974, 1976 - 1981) (he was runner up in 1970 and 1972), 4 World Opens (1975, 1976, 1979 and 1980), three World amateur titles (1967, 1969, and 1971), 16 Australian titles, 3 World Team Championships, eight South African and three Irish championships.

He won every major tournament in the world, and the majority of those more than once.

In all, Hunt played 215 tournaments in Australia and overseas and won 178 of them, representing more than 80% of those he contested.

Hunt maintains a connection with the squash community to this day. He was appointed head coach of the Australian Institute of Sport squash unit when it opened in 1985 until 2003 where he helped develop a new generation of Australian squash stars, and is Squash Australia's high performance manager.

Hunt was made a in 1982 for his services to the sport of squash, and to international relations.


The Squash Facilities - an amazing glass court, three weeks old, with resizable traditional courts (doubles)

The Students working with Geoff at Aspire

EN BREF #3

Fram tells you Everything you never knew you needed to know about Qatar ...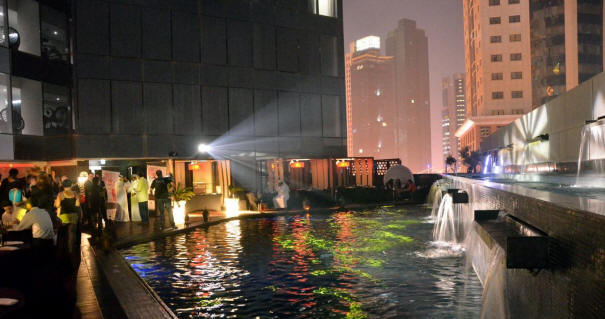 The Official Dinner Setting
THE NAME IS KAMRAN.

For an awful long time - and I'm sure it still happens to him - Joey Barrington had to go through being introduced as the Son of. It's not easy, but in his case, his dad was very present in his every day life, in his education, and therefore, in his choice of career.

Which is not the case at all for young Kamran Khan, son of the squash Legend Jansher Khan. His dad - for reasons that we won't get into here - was not around to raise, love and help the young man, I'm told.

Hence, one may ask. Why, with all that heavy history, that controversy, that pain since a toddler, why on EARTH would he chose to pursue a squash career???

"Since my youngest age, I was living in a complex where there was a squash club. Add to that, my mum Violet was National Champion, my uncle as well was playing squash, so quite naturally, I started playing squash. And I liked it. More and more."

And squash is pretty much all his life now.

"In 2008, two weeks before the World Juniors Ė it was meant to be my last one, I twisted my ankle while training. And that was pretty awful, I was top 8 seed, and missing my last junior Worlds in those conditions was really bad. It's my worst memory ever."

Kamran doesn't like showing his emotions. You've got to read between the lines, a bit like Beng Hee really. I did notice that he was really nervous before serving for match ball against Joey though in the final of the qualifying.

He took an awful long time to serve, wiped his hands twice on the wall. And when he finally won that last rally, a loud "Yes" resounded, closed fists. And even more touching for me, he very briefly put his head against Joey's shoulder, showing the respect he had for him, and how important it was to win and qualify. He looked, well, so young for that split second.

It was for me a magical moment I don't think many people caught...

"I think qualifying for this event might have been my best moment in squash, I mean, getting into the world's top 32, thatís pretty good. Iím really happy, it makes all the hard work worth itÖ"

But now that he seems to have decided to go for that career, isn't the prestigious past of his progenitor too heavy to carry?

"You know, my aim is to do the best I can, Iím not there thinking I will win 10 British Open titles. I have expectations, of course, getting to top 20, and see from there. I think Iíve got what it takes, not sure about what the others think but I do think I have what it takes.

"At the end of the day, I like the game, what it represents, I like the competition, for example, I want to take over Azlan and Beng Hee on the Malaysian stage, getting that number one spot, and I like that, I like that challenge.

"Simply put it, I play squash because I enjoy it, not because of my name."

The name is Kamran. Full stop.



COOOOOOOLD...

You, reading this comfortably sitting at home or at the office, you don't realise what I'm going through to send you news.

I'M FREEZING MY CUTE BUTT FOR YOU!

I'm sure by now, you are looking at the top of this page thinking, hold on, isn't she in Doha???

One of the hottest countries on the planet???



Well, it's all about the court conditions. The glass court floor has been newly painted according to the ASB recommendations (read below), but to make sure the players are playing in the best of conditions and avoid any slip, the temperature of the venue is kept above what seems like 10į!

Of course, it's not 10į, but it feel pretty cold still...

So, here we are, officials, spectators, media, all freezing for the benefit of our little dears...

Nabeel Ali Bin Ali Al-Maslamani, President of the Qatari Federation
NEW COLOUR...



And in view of making sure our Boys and Girls don't get injured, the QSF and PSA went a step further. You may remember the court floor being dark blue for the past 18 years - yes, that's the age of this cou

rt,

it doesn't feel it, I tell you.

Well, have a look now. Nice brown it is, courtesy of the paint recommended by ASB for its flooring.

But it was not that simple, let me tell you.

The paint was urgently shipped to Doha, but stopped at the customs, as like in any country, it enters the category of "chemical substance". Alaaeldeen Allouba, Technical Director, received the assistance of Talal Al-Mawlawi to help with the speedy clearing of the paint....

Then of course, they are to sand the floor

. Ah. Which machine to use then. ASB sends a photo of the machine. Well, says Alaaeldeen, I would rather have the specs, just in case we don't have that

exact machine available in the country.

Specs are sent, machine is found thanks to Hisham Algosaibi, and generously donated for free by a company called TADMUR Trading, and to make sure, Alaaeldeen gets a second one, to be on the safe side.

Once the paint is within the building, under the supervision of ASB, the sanding starts

... for about

one minute, as the machine makes an explosion noise, and dies.

Ah.

Call the renting company which says that it's the sand paper roll that needs to be changed. "Can you send it to us", says Alaaeldeen. "Well, we have already sent the 30m roll we had," replies a surprised clerk. "We never got it, can we buy it then, elsewhere?". "No you can't, it's made in the US, and there is no more in the whole country".

After a long, painful and heart attack conversation, Alaa gets the roll that was actually found in the renting office.

Roll arrived, floor was sanded, paint was applied and dried in time for the players to show us their talent.
But pfew.... Boring like watching paint dry??? I don't think so....

Our Hotel (More next edition)

EN BREF #2

Fram tells you Everything you never knew you needed to know about Qatar ...
QATAR - ALL ABOUT SPORT

Although I'm slightly crippled and have only half a knee left, I'm thinking about moving to Qatar after visiting the "Aspire Zone", whose map you are looking at.

It's huge. Absolutely huge. And it's all about sport. Football, of course, but not only. Basically, all the sports you can think of, they are practiced and taught here, for leisure or for competition.

When I say huge, it's not a figure of speech. It took my driver about 30m to find the building Geoff Hunt was waiting for me to show me the Aspire Academy where the Squash venue is....

Follow the guide, people...


Let's start with the Aspire Park, 88 hectare, with running tracks, a lake, restaurant and cafť.



Running alongside it, the biggest Shopping Mall in Doha, the Villaggio Shopping Mall, with Gondolas, Cinemas, international brands, ice rink, and of course restaurants. Yes, you read well, gondolas....

In the middle, the famous Khalifa Stadium, which welcomed the Asians Games 2006, and is under complete refurbishement, and should host one of the semi finals of the World Cup.

A few figures, 50,000 seats, football pitch of course, 6 floors, two swimming pools in the stands, HD broadcast facilities, etc.

Have a look also at the video of a National Football game. Do you think they like their football over here? Do you still think they "bought" the World Cup just for the sake of it???

To the north of the stadium, you'll find the Hamad Aquatic Centre, over 5 floors, where you can swim, dive, synchronise swim, and play water polo, among other aquatic activities.

Ah, of course, 2 Olympic swimming pools, 2 Olympic Diving pools, and why not, I throw in a warm up pool, with seating for 3,000 people.

Come on, we are far from finished yet. Here is the Ladies Club, the first of its kind in the country, specially designed the recreational needs of women.

It's got 3 floors, a Health Spa, business centre and library, tennis and squash courts, indoor and outdoor swimming pool, hairdresser, beauty salon, restaurant, cafť and 2 Ballrooms!

Next to it, you'll find as well the Ladies Sports Hall, with indoor facilities like Bakset Ball, Hand Ball, Volleyball, etc.

To finish with this first part of the visit, let's glance at the hotels - well, OF COURSE, there are 2 luxury hotels there - The Torch and the Khalifa Motel.

The Torch, well, easy to see why it was given that name, isn't it?? The tallest building in Qatar, 5 stars, 167 rooms and suites, a revolving restaurant, a unique 3 level Health Club and Gym with an outdoor swimming pool, the highest I've ever seen to be honest!

And the Khalifa Motel, well, looks like a Victorian Castle, 138 rooms 5 star Motel just next to the Aspire Academy.



You said Aspire Academy? Let's push the doors, shall we?


INVITING TOP ATHLETES

ASPIREís long-term sports development philosophy is an inspirational quest to create a generation of outstanding Qatari sportsmen, and a sporting culture to match.

Top junior teams are brought to Doha for friendly competitions and ASPIRE student-athletes travel all over the world for training camps, which include competition against the worldís most respected junior teams and individuals.



And here we are. In the Aspire Dome. Home to the Aspire Academy for Sports Excellence.

Just to give you an idea of the surface of the bleeping thing. The Aspire Dome has the capacity to host 13 different sporting events (yes, they have 13 grounds), including - wait for it - a FIFA standard football pitch with 5,500 seats! And all that with Air Conditionned...



Of course, Olympic swimming pool, with diving pool, and 800 seats. Athletics tracks, IAAF accredited, it goes without saying. Gymnastic training hall, Table tennis hall, Volley Ball, Basket Ball, Hand Ball, Martial Arts, Fencing, Squash of course, a 1200 set Amphitheatre, function rooms, etc, etc, etc.
One nice thing, all the administrators are regrouped under the same roof, but on two floors.

And I understand that the people on the first floor are the BIG people.... When you get to the first floor, people, you know you've made it!

Along the Sport side of things, you have the academic side of things, with class rooms, plus physios, biomecanics, nutrition, sport psychology.

And the boys - yes, that Academy for Sports Excellence is for Boys only - although they run a program throughout the Qatar Schools from the age of 6 to promote sport activities for both Boys and Girls as well - the boys was I saying, have even a boarding facility.

During their last year, students are encouraged to stay here to get used to the University Feel, to get used to fend for themselves, and see if they like it, and if they can get used to not having their family as close...

You'll discover the Squash Facilities and an interview of Geoff Hunt, head coach here since 2006, in our next edition...

Doha
En Bref #1
Fram tells you Everything you never knew you needed to know
about the Qatar Classic ..
QATAR, BACK TO THE FUTURE....

One of the great things about being on the Squash Circuit, is that you get to see places other "normal" people only get to hear about.

Let's take... Qatar shall we? The name rings "World Cup 2022" at the moment, doesn't it? With all the controversies that went with it, talks of corruption were associated with the awarding the event to the small country. Surely, surely, they know nothing about Football, about Sport in general, and they used underhand ways to win that bid .... some say.

Well, I wish all those people could see what's actually happening in Qatar, about life in general, and Sport in particular.

I was lucky enough to be shown a tour of Aspire, the Place to Be when you are an athlete - or a simple housewife for that matter.

During my stay, I'm going to try and make you discover a bit of Qatar, its history, the evolution this country is going through, and their love and dedication to sport....

I'M OFFICIALLY BLOND...

OK, I'm really famous for making the best of the Breakfast time with the players, and this morning, here I was chatting away with Thierry, Greg and Joey. Didn't see the time pass by.

Came back to my room, looked at my mobile, blimey, 11.18, with the matches starting at 12! I virtually flew downstairs, got a car, arrived in the Press Room, no Cubs! Now I'm really worried. What's going on???

I go rush to the court... where the clock shows 11.00....

Thing is, I keep the time of my computer on French time at all times, so, I'm so used to adding one hour, I did it automatically on my mobile.

Blond moment...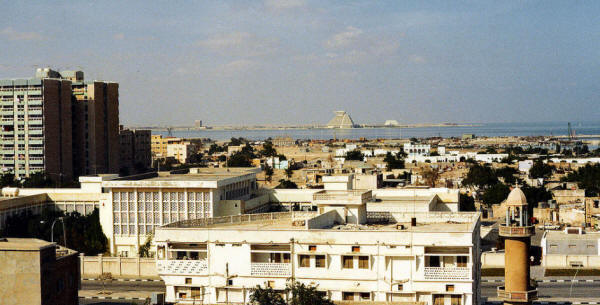 From this ...... to that.... Spot the Sheraton building in the bottom photo....


SPOT THE SHERATON...



Have a good look at the two photos above. Yes, it's the same view, twenty years later.

On the first one, you can see only one building, it's the Sheraton Hotel.

Cut to 2011, and have a look at the Skyline.

A few changes, wouldn't you say???


A BIT OF HISTORY



A LOOOOOOONG TIME AGO....

- Archeological discoveries, inscriptions and a collection of exquisite pottery which were found in scattered areas in the country have proven that the land of Qatar was populated as early as 4000 BC.

-In the 5th century BC the Greek historian Herodotus referred to the seafaring Canaanites as the original inhabitants of Qatar. Further, the geographer Ptolemy showed in his map of the Arab World "Qatara" as believed to refer to the Qatari town of "Zubara", which has acquired the fame of being one of the most important trading ports in the Gulf region at the time.

-During the 16th century AD, the Qataris aligned with the Turks to drive out the Portuguese. Subsequently, Qatar alongside with the whole regions of the Arabian Peninsula came under the Ottoman Empire rule for about four successive centuries.


LAST CENTURY...

-In the aftermath of the 1914 First World War, the Turkish rule in Qatar came to an end and Qatar signed a protection treaty with Britain in 1916. However, the British influence in the country was limited to supervision of some administrative matters.

The reach of the British Empire diminished after the Second World War, especially following Indian independence in 1947.



Pressure for a British withdrawal from the Arab emirates in the Gulf increased during the 1950s, and the British welcomed Kuwait's declaration of Independence in 1961.

When Britain officially announced in 1968 that it would disengage politically, though not economically, from the Gulf in three years' time, Qatar joined Bahrain and seven other Trucial States in a federation.

Regional disputes however, quickly compelled Qatar to resign and declare independence from the coalition that would evolve into the seven-emirate United Arab Emirates.

On September 3, 1971, Qatar became an independent sovereign state.



ECONOMY...

Qatar's national income primarily derives from oil and natural gas exports. Qataris' wealth and standard of living compare well with those of Western European states; Qatar has one of the highest GDP per capita in the Arab World.

With no income tax, Qatar is also one of the two least-taxed sovereign states in the world (the other is Bahrain).

While oil and gas will probably remain the backbone of Qatar's economy for some time to come, the country seeks to stimulate the private sector and develop a "knowledge economy".

In 2004, it established the Qatar Science & Technology Park to attract and serve technology-based companies and entrepreneurs, from overseas and within Qatar.

For the 15th Asian Games in Doha, it established Sports City, consisting of Khalifa stadium (where one of the semis of the World Cup should be played), the Aspire Sports Academy (which you'll discover in my next edition), aquatic centres, exhibition centres and many other sports related buildings and centres.



OIL...

The country has oil estimated at 15 billion barrels (2.4 km≥)...



... while gas reserves in the giant north field (South Pars for Iran) which straddles the border with Iran and are almost as large as the peninsula itself are estimated to be between 800Ė900tcf (Trillion Cubic Feet - 1tcf is equal to around 80 million barrels of oil equivalent).



SIYOLI, FOR ONE MINUTE...

Guys, if you thought you ever had troubles getting a visa, you haven't heard about what happened to South Africa's Syoli Waters when she went to Shangai this week....

To make a story short, when she came back from the States, she had only two weeks to get her visa for China before flying to Kuwait. It should have been easy, but she got a negative answer from the China Embassy in South Africa as she didn't have enough space on her passport!

She tries to apply for a tempory one, doesn't work, then she finally her new one, but it's now Friday, her flight to KW is on the Tuesday, and the Embassy is closed Monday Tuesday. She is then told, not a problem, you'll be able to get it from Kw.

When in KW, because she is not a KW citizen, she is told that no, actually, she can't have it. Phone the Embassies in both countries, her husband Dave helps as well, gets somebody in SA to open the Embassy over there on the Sunday to be able to talk to the KW counterpart.

Hourray, she is now getting her visa on the Monday morning. Only trouble, she is playing in China at 5pm on Tuesday. So, change of flight, leaving now Monday night, with a change, she is supposed to arrive before 4pm in Shangai.

But she arrives only at 4. The taxi rushes her through the Shanghai traffic, and she arrives at the club at 5.09, flies to the bathroom, gets changed and is on court at 5.11. Only to be told that she had only 10m, and that she is 1 minute too late.

Floods of tears, but hey, what can you do. She shakes her opponent's hand and the story could stop there. But the Dutch coach drops 'you know, I think the book says 15m, not 10m".

With the help of Olga, they get on internet, and yes, the book says 15m! Siyoli phones WISPA, gets Tim Garner on the phone, who confirms, it's all fine, she can play. And of course, she won.

If you want the full story, please read Siyoli's blog....


MARRIAGE IN THE
EGYPTIAN AIR...



After Hisham Ashour, it's now Omar Abdel Aziz...

"Her name is Mariam, she is 23 years old, and we are been engaged for two years now.

"She is the one that makes most of the things in my life smooth and lovely :)"

Awhhhh, don't you just love it??

They are getting married for Christmas this year and will be moving to their new house...

Best wishes from us at SquashSite, Omar...