Sat 21st, Quarters

[1] Karim Darwish (Egy) bt [7] Thierry Lincou (Fra)
11/4, 9/11, 14/12, 6/11, 11/8 (83m)
[3] Ramy Ashour (Egy) bt [6] James Willstrop (Eng)
11/5, 11/9, 13/11 (43m)
[4] Nick Matthew (Eng) bt [5] David Palmer (Aus)
11/8, 10/12, 11/9, 9/11, 11/8 (87m)
[8] Peter Barker (Eng) bt [16] Aamir Atlas Khan (Pak)
11/5, 11/6, 12/10 (40m)

Egypt v England final assured ...

Karim Darwish hung on to his Qatar Classic crown by the skin of his teeth in the first men's quarter-final. Thierry Lincou gave it his all, then gave it some more as he pushed the top seed and defending champion to the brink. Video interview and the last few points

An all-Egyptian semi-final was booked when Ramy Ashour came through against James Willstrop. The Englishman made a slow start but got more and more into the match, with outrageous shots flying in everywhere, and was so close to extending the match before dropping his racket on Ramy's first match ball, much to his own disgust and Ramy and the crowd's delight.

England's Nick Matthew prevailed over David Palmer in another marathon encounter, the Australian seemingly forever coming from behind as Matthew struggled to put his opponent away.

The bottom half of the draw became an all-English affair when Peter Barker put an end to the run of yesterday's giant-killer Aamir Atlas Khan. In control for the first two games, Barker had to fight back from 10-7 down in the third to quieten the raucous Pakistani crowd and set up a meeting with Matthew for a place in the final.

[1] Nicol David (Mas) bt [7] Laura Massaro (Eng)
11/8, 5/11, 11/13, 11/3, 11/8 (60m)
[4] Jenny Duncalf (Eng) bt Engy Kheirallah (Egy)
11/4, 11/9, 11/4 (27m)
[5] Madeline Perry (Irl) bt [3] Alison Waters (Eng)
8/11, 12/10, 11/7, 7/11, 11/8 (69m)
[2] Rachael Grinham (Aus) bt [10] Vanessa Atkinson (Ned)
11/9, 11/8, 11/5 (26m)

Nicol edges into semis,
Perry tops Waters ...

Quarter-finals day started with a cracker of a match, as Laura Massaro pushed top seed Nicol David every inch of the way in an hour-long five-setter which had the predominantly Malaysian crowd biting their fingernails until the very end.

Having shard the first four games Nicol was always ahead in the decider but simply couldn't shake Laura off. At 9/8 Laura tinned a simple volley to give Nicol match ball and she needed no second invite to record her eighth successive win over the Englishwoman.

No hint of an upset in the second match though, as Jenny Duncalf continued her recent run of impressive form, beating Engy Kheirallah in three games. Only in the second did the Egyptian threaten to extend the match, but once that threat was snuffed out the British Champion was on her way to an 11th successive victory and an eighth win in nine matches against Engy.

The third match was another which went the distance, as Madeline Perry levelled up her personal tally with Alison Waters at 7-all. "I never look at stats," declared the winner, "I just know she beat me last time and I wanted revenge!".

The semi-final lineup was completed when Rachael Grinham put paid to the hopes of 2004 and 2005 Qatar Champion Vanessa Atkinson, the Aussie pulling clear at the end of all three games, finishing the match off with increasing authority.

"I'm always going to be mentally strong, I'm always going to dig in deep, keep pushing and fighting during the rallies. But what I don't have yet, is the mental strength to play the right game at the right time….

"I've been working on my strong game a lot in training, but when it gets close, when I'm under pressure, it's hard to stick to it, because it's not natural for me yet. If you take the 2nd and 3rd game, where I played my best, and was able to give a lot of height to the ball, that's the game I would like to play all the time…

"But of course, of course, she always was going to come out absolutely firing in the 4th…

"Another hard match in 3/2 that I'm not able to win. Even if I played well today, it's another opportunity there for the taken that I missed. I've got to keep pushing, and I will eventually get the win. But tough sometimes…"



[1] Nicol David (Mas) bt [7] Laura Massaro (Eng)
11/8, 5/11, 11/13, 11/3, 11/8 (60m) fram reports

WHAT A STUNNING MATCH

People, if you hear anybody telling you that squash is not for women, you've got the right to shoot them. Nicol and Laura battled out there in one of the best matches I saw for a very long time…

Nicol dominated the first game, but it was obvious that Laura was making her work a heck of a lot, and at the start of the second, the Malaysian had a big drop in mental and physical focus it would seem. And Laura took full advantage of it, taking a great start, 7/0. Hard to come back from there really.

The third was an immense battle, both girls displaying squash ingenuity to surprise, exhaust and frustrate the other. Laura was the first to get two game balls. Nicol saved them, and got one of her own, 11/10. But it was finally the English girl that got the last word, 13/11.

The body language Nicol displayed at the start of the fourth was shouting, "I'm now ready for a fight, come and get me". As it coincided with a big dry spell energy wise for Laura, Nicol just walked away with the game.

Laura's legs seemed still very heavy at the start of the decider, and she found herself down 6/3. Didn't look good then. But boy, does that girl has got guts and determination! Long rally after gruelling rally, she clawed back to 7/7. The pressure was on Nicol again. Pressure is Nicol's middle name, she dwells on it, and spreads it on her morning toast…

After such a long encounter, it all came down to two errors.

At 8/8, after a stunning disputed rally, Nicol finds a great backhand drop shot somehow, where did she found the strength to play that one, we'll never know. Laura is there, on the ball, just in time, but misses it. 9/8 Nicol. And another amazing grinding rally, Nicol retrieves a backhand crosscourt kill from nowhere, plays it in the middle, Laura, a bit surprised, doesn't really know what to do with it, and goes for a volley low drive, that just clips the tin. 10/8… And a no let to end it all.

Like a few players around, Laura keeps getting some heavy 2/3s, hoping that one day, she'll get 3/2s…. I know she will. She works so hard, she deserves, she will get.

"No doubt all the girls are stepping up their games when they play against me, it is to be expected. I've got to be on the game constantly.

"It's good to win such a game, although I was down 2/1. But you KNOW it's going to be tough out there, the important thing is to keep to the game plan, work hard, and get to every ball.."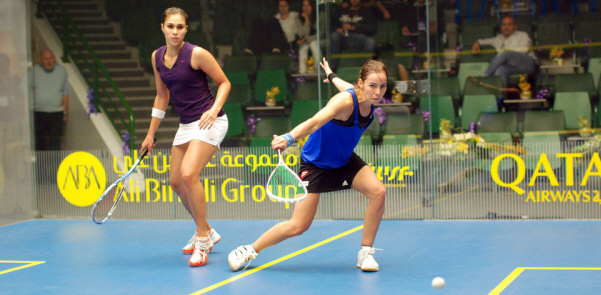 [4] Jenny Duncalf (Eng) bt Engy Kheirallah (Egy)
11/4, 11/9, 11/4 (27m)

"I'm feeling good, it's nice to come into a tournament with a few wins under your belt, and I've had three games on the glass court whereas this was Engy's first so that's got to be to my advantage.

"Once Engy gets any momentum she's very difficult to beat, she's got shots that will hurt you so you have to try to keep her where she can't use them.

"We've played a few times recently, so she didn't catch me out as much with some of her shots, I felt quite aware of her game and was able to play some winning shots of my own.

"I'm just going out to enjoy it against Nicol tomorrow. Beating her last time out obviously gives me confidence, but I'd lost a few before that and I had a good day in New York - I think I only made one error, which is very unusual - while she had a bit of an off day.

There's no pressure on me, I just need to get stuck in and see if I can do it again …"

Jenny Duncalf



"Jenny played really well, but I don't think I was a fresh, mentally and physically, as I have been the previous two days. You can't afford not to be at your best against someone playing as well as Jenny.

"I guess I'm used to losing in the first or second round, so I'm not used to playing three hard games in a row against top ten players like I've had here.

"It's been a good tournament for me, I'm satisfied with my performances , now I have to go back and work on being able to play at a higher level for longer …"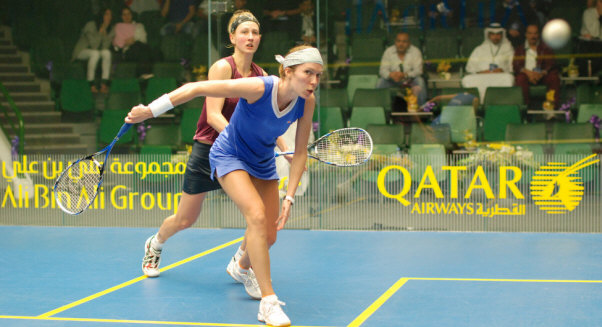 "It was neck to neck the whole time really… I thought I was in control there, but in fact, who ever was in front was controlling the rallies.

"I was struggling with my length today, it was a bit short, it was all a question of getting it from mid court to the back of the court! I knew what I had to do, I just didn't succeed to do it…"



[5] Madeline Perry (Irl) bt [3] Alison Waters (Eng)
8/11, 12/10, 11/7, 7/11, 11/8 (69m) fram reports

MADELINE IN THE FINISHING STRAIGHT…

This could have gone either, it was 'I'll have that one, you take the next one'.

A few lets, a few mistakes too, and still a few good runs, despite a very cold court up to the fifth game, where the temperature seemed to rise slightly, along with the length of the rallies!

Strangely enough, Alison was "comfortably" in front in that decider, 8/6, but she never managed to score another point.

She didn't do anything wrong, kept playing at her best, but Madeline just kept on wining shot after shot, playing a relaxed and accurate squash.

"I never look at stats, I just knew that she beat me last time and I wanted revenge!

"I struggled a bit at the start, and was down in the second too, it took me a while to get used to the court - it's pretty severe, whoever gets in front can take control, although it was still bouncier on there than I expected.

"At the end I didn't want to give her any cheap points, I was moving well, making her play the extra ball and she was the one making the errors.

"Concentration isn't usually my best point, but I was pleased with how good it was in the fifth.

"I just tried to hang in there, and I'm glad I managed to take it on my first match ball, I had a blister which had been troubling me for a few points!

"I've been a bit agitated on court since the British Open, I've been playing well enough but I was trying too hard, it's only me putting pressure on myself, but I managed to get that feeling of composure back today …"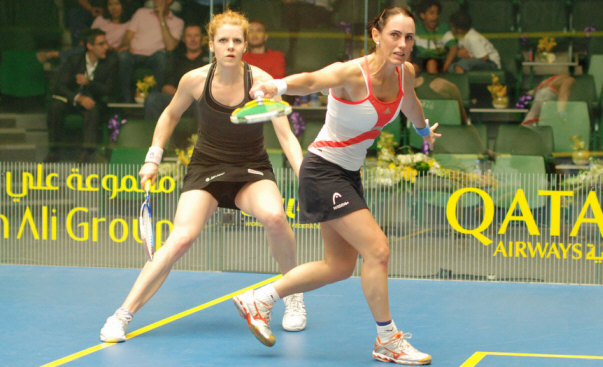 [2] Rachael Grinham (Aus) bt [10] Vanessa Atkinson (Ned)
11/9, 11/8, 11/5 (26m)

"We had a lot of meetings, Vanessa and I, we've been on the tour for a while, played a lot of tournaments… But recently, we didn't play that much, once I think in the last months.

"You know that when Vanessa is on a good day, she's going to be pretty tough, so you've got to keep focused while she goes up and down during the match….

"Today I was moving well, which I haven't been doing for a while, I'm happy with that. But it's hard to keep the desire to play going, especially as you get a bit older, with a few niggles here and there. You have a feeling that you are not performing as well as you should/could.

"Oh well, just got to hang around and watch those younger players getting better…"


I lacked a bit of clairvoyance at the end, I made the wrong tactical choices at the end of the 5th…

It's so frustrating, you are controlling the rallies, keeping them going, you think you have him, and zoom, with a little shot, he plays a little counter attack, a little drop shot, and he gets the point! You are making the game, and you keep losing points!

It's the same with all the top Egyptians really, Karim, Shabana, Ramy. Maybe we, Europeans, we are at loss because they all train together, and develop automatisms we don't have. They just react automatically to those shots, whereas we keep on struggling, and not providing the adequate reaction…

It all comes down to a few details, really, a bit of bad luck here and there, a few bad choices, some stunning shots from Karim. But overall, I really cannot complain, and that kind of matches encourages me to keep enjoying myself and stick around a bit longer…



[1] Karim Darwish (Egy) bt [7] Thierry Lincou (Fra)
11/4, 9/11, 14/12, 6/11, 11/8 (83m) fram reports

OLD D'ARTAGNAN
WOULDN'T SAY DIE

Well, I for one thought it would be a quick 40m 3/0.

Very cold court against a magician like Karim, Thierry playing for the first time on the glass court versus 3rd match for the Egyptian, the Frenchman with a bit of a wobbly knee, well, he ain't that young anymore, you know…

Well, the first game was a no show for Thierry, not that surprising really, Couldn't see much of the ball, and Karim was delaying his winners so beautifully.

Whatever happens in the second, I still wonder. Thierry suddenly changed his game, instead of playing mid court drives a lot, he started taking Karim to the front, and pushing him quite heavily. Thierry takes the game, only just, but is all pumped up, closing his fist at several occasions.

He didn't come here to play numbers at the back…

The third I thought, was going to be all Karim. But no. Such a tight, accurate, intelligent squash from both of them. There was nothing between the players, 3/3, 4/4, 6/6, 7/7, 8/8, 9/9. Game ball Thierry. 10/10. Game ball Thierry. 11/11. Game ball Karim. 12/12. Game ball Karim. 14/12. Pffffew. 25m game.

My heart couldn't take much more I tell you.

And I thought, well, now, the Old Timer can let go, he did well, let's go and rest. Pfff, right, I forgot who we were dealing with there. Basically, Karim, like us, thought the match was over, got a bit of a bad start, and just decided rightly to let go.

And here we were in the fifth. Quickly, it became obvious that Thierry was now very tired. Playing too short too quickly, making uncharacteristic unforced errors, he found himself down 9/4 in a flash. Surely that was the end.

Out of nowhere, Thierry found a drop of gas, kept pushing, counter attacking, finding nicks, good lengths, unsettling Karim to 8/9. But Karim showed the magic that took him at the top of the game. 11/8 it would be.

The athleticism Karim displayed throughout the match is pretty amazing. Long gone are the times where Karim wasn't fit enough and struggled to finish the long matches. Now, he can run forever, retrieve, and still play the lethal shot. The hard work he put in paid out.

And Thierry, well, showed once again that he is far too good to switch to "retirement mode". He's got a hell of a lot under the pedal yet…

Great match boys, just great match…

"He is stronger than me I think, just think he is five years older than me… He is a great champion…

"And I never thought about tomorrow on there, the way I would feel for the semis, I was just trying to concentrate on beating Thierry!

"Thierry is so mentally strong, after the third, I honestly thought he would give up, but instead of that, I was the one that relaxed! I played three great shots at the start, and that was it.

"I think in the fifth, he got a bit tired, but he ran and he pushed till the end…"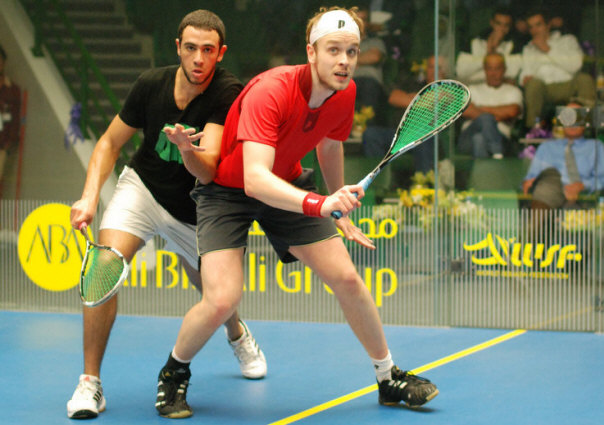 [4] Ramy Ashour (Egy) bt [6] James Willstrop (Eng)
11/5, 11/9, 13/11 (43m) steve reports

The Chaos theory of Squash

You wouldn't have caught them doing this in the old days ... this was a match with precious little up and down the wall routines, every two or three shots one or the other would try something, often totally unorthodox, and the rally, already fast and frantic, would become even faster until someone hit a winner or made a mistake.

If it's anything like as exhausting to play as it is to watch, Karim Darwish won't be at any disadvantage after his 83-minute marathon as Ramy must have covered the same ground, but in half the time ...

The Egyptian was on top at the start, but as the match went on James got closer, closer, and even closer, pulling back from 7-3 to 7-all in the second, but never quite being able to go ahead, and holding a slender lead for most of the third.

Two game balls came and went for James, then in a bizarre finish on Ramy's first match ball, James dropped his racket in the backhand corner as he started to chase down Ramy's boast to the opposite front corner.

Of course, he didn't have time to recover, and no sooner had he picked up the racket, he sent it flying over the back wall before turning to shake his opponent's hand ...

"There was lots of running in that match, it was like doing court sprints at times.

"I knew he'd play well just like he did when he beat me last time, I just had to play better. I was much more relaxed this time, and I went for every opening. It was close at the end, I'm glad to finish it in three to save something for tomorrow.

"The support from all these people here, and Egyptians around the world, really helps, it gives me a big boost. When you're struggling in points in the match you need someone behind you, that's a big and very important thing for me."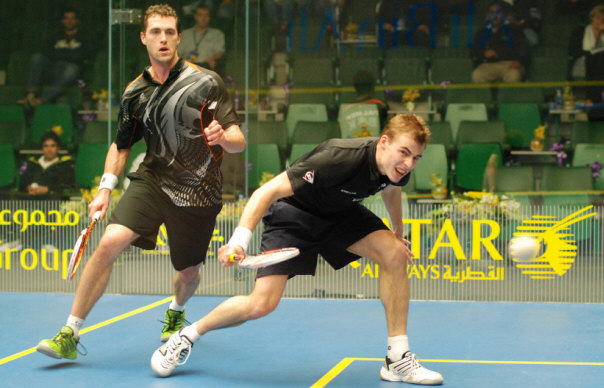 "There were a number of occurrences where I had a two point lead, and I was trying to get a more consequent gap, three or four points. With the players I played before, I was able to do that, but with David, it was at those moments he played his best squash! I've been working hard in training to make sure I was getting the gap wider, but he wouldn't let me… It didn't make it easier…

"I was expecting such a match, David was bound to be disappointed with his last results, and as he mentioned, he was lacking matches, and I saw him stay longer in the Worlds and played heavy matches every day. I knew he was going to be sharper…

"David never gave me the opportunity to run away in the game, and at the end, it was just 50/50. I'm lucky I managed to play well the last couple of points."



[4] Nick Matthew (Eng) bt [5] David Palmer (Aus)
11/8, 10/12, 11/9, 9/11, 11/8 (87m) fram reports

THE MARINE IS NOT RETIRING YET

Symbolic, is it not, to realise that both Thierry, 33 and a few months older than David, and the Marine, both lost against players much younger than themselves and at the top of their art, 11/8 in the 5th.

As if they lacked three breaths more there…

Like for Karim/Thierry, Nick vs David was a classic. I never realised how similar games David and Nick had. They both love to "power volley", they are excellent at reading the other one's game, they move exceptionally well, and they love counter attacking.

Little difference, David's favourite shot is his backhand volley drop shots that he does stepping in the ball, while Nick's is his stunning forehand kill nick.

If Karim and Thierry was a match at mid pace, all in drop shots and counter attacks, Nick and David was much more powerful and heavy load. Blimey, those two didn't take any prisoners, that's for sure.

Look at the score. You know that it was fierce, it was fast, it was angry at times, still, not a bad contact or bad words. A few niggles with the wet wall, getting the ball to skip out of the wall, let or no let, a bit of a loud discussion when Nick's backhand boast was called let as the refs were not sure it was up or down – David saw it down. But really, nothing bad…

At 7/8 in the fifth, all was still possible for the Australian, but an exhausting rally, and a low drive that clips the tin – 9/7. A stunning volley drop shot nick for David. 8/9. A backhand volley drop shot tin, 10/8, match ball, and a David that cannot prevent a defensive shot from going out of court.

Curtain down…
[8] Peter Barker (Eng) bt [16] Aamir Atlas Khan (Pak)
11/5, 11/6, 12/10 (40m) fram reports

AAMIR A BIT WEARY TONIGHT

After the wave of Malaysians spectators at the start of the day for Nicol, we had the wave of Egyptian supporters for Karim and Ramy, and we finished the day with dozens of Pakistanis appearing from nowhere, so happy to cheer and support one of their boys, that didn't happen to them here for a while…

Peter went on so focused, so concentrated on his game plan, which was obviously to keep Aamir as far away from the front as possible. And he did it with accuracy, only making two errors the whole match…

At 4/4 in the third, Aamir made three tins in a row, and at 2/0 and 7/4 up, Peter might have thought that the match was over. Did he relaxed slightly? Whatever the reason, Aamir started to play again fast, accurately and mixing his shots beautifully, to come back to 7/7 and take a good lead, 10/7.

Peter, feeling the danger, regrouped, and patiently, point by point, quietly clawed back, preventing his opponent to score another point, to finally take the game and match, 121/0.

Aamir was rightly disappointed, but Peter was ecstatic. Back he is at the top of his game. Tomorrow, he's got nothing to lose, and that's normally when the players are the most dangerous, aren't they, especially as he'll be a bit fresher than his mate Nick…

I just cannot wait.

"The first two games, I was like a bit sleepy, and if you want to win a match, you should be playing at your best from the start, not waiting until the third…

"In the third, I got my chances at 10/8, if I take that game, it's a whole different story. But that's all credit to Peter, he was very consistent throughout the match.

"Physically, I was fine, I have the stamina to back up hard matches, but the match started late (I waited for 3 hours) to play my match, it was a bit difficult for me. Still I'm really happy with my performance during this week."



"I succeeded to play long today, well, for two games and a half anyway…

"I'm really happy. I got on court as the potential winner, but he played exceptionally well yesterday, this was my first match on the glass court.

"I had to assert myself, and make it tough for him. If he was going to beat me, he would have to work hard, because I was not going to make it easy for him.

"I'm so ecstatic, my first semi of a Platinium event. It's reassuring to see that I'm still heading in the right direction… just!"