Egyptians pull off upsets on
day one in Linkoping ...


A couple of upsets in round one at the Linkoping Sportshalle as Egyptians Karim Abdel Gawad and Tarek Momen both beat their higher-ranked opponents in thrilling five-setters.
Tom Richards (Eng) 3-1 [Q] Jonathan Kemp (Eng)
11/7, 11/7, 13/15, 11/7 (40m)
Cameron Pilley (Aus) 3-2 [Q] Henrik Mustonen (Fin)
11/7, 10/12, 8/11, 11/7, 11/2 (64m)
Karim Abdel Gawad (Egy) 3-2 Laurens Jan Anjema (Ned)
6/11, 11/7, 11/9, 10/12, 11/5 (88m)
[3] Peter Barker (Eng) 3-0 [Q] Adrian Waller (Eng)
11/5, 11/8, 11/9 (46m)

[2] Gregory Gaultier (Fra) 3-0 Nicolas Mueller (Sui)
11/9, 11/4, 11/6 (53m)
Simon Rosner (Ger) 3-0 Rasmus Holt (Swe)
11/7, 11/3, 11/2 (35m)
[1] Nick Matthew (Eng) v [Q] Chris Simpson (Eng)
11/6, 11/5, 11/3 (36m)
Tarek Momen (Egy) 3-2 [4] Daryl Selby (Eng)
3/11, 12/10, 9/11, 11/8, 11/8 (78m)
QUICK REPORTS

In the first match of the day Kempy showed once again that on a glass court, he can threaten anybody! He saved a match ball in the third to finally take one of his numerous game ball. Tom finally takes a fast and furious match, where unforced errors impaired semi-retired Kempy's game.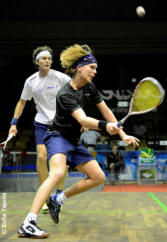 After getting used to the court in the first game, and to Pilley's stunning pace, Henrik really asked the right questions to the Australian.

Finding some solid length, Henrik was able to wrong foot and surprise his opponent, making him do a awful lot of work in the second and fourth. But Pilley found some new life in the fourth, it was his time to control the match and make Henrik visit the court, imposing a severe 11/2 in the fifth.

A good start by the big Dutchman LJ Anjema, but Karim Abdel Gawad just refused to go away, striking back to take the second and coming from 7-9 down with a run of four dominating rallies to take the lead.


An early lead for Gawad in the fourth which he extended to 9/5 helped by a number of winning returns of serve, but Anjema fought back to 9-all.

A match ball for the Egyptian where he looked for a cheap stroke in a easy winning position and was awarded a no let, then two more points for Anjema to set up a decider.

Gawad led early in the fourth too, and although LJ pulled back to 5-all it was the Egyptian who had the stronger finish.

Adrian Waller and Peter Barker have similar games, with Pete slightly better at it. Adrian, very well aware of this fact, made sure he was taking the game to his opponent, and managed to do that fine, especially in the 3rd.

Waller led 7/5, 9/6, but what happened? Did he start thinking? He seemed to go a bit too short too quickly, and Peter, relentlessly, strung 5 points in a row to take the match 3/0.

Greg was extremely relaxed and focused today, still on the momentum he got from his excellent ToC tournament (final against Ramy), while Nicki must curse his luck, as his "great draws" are keeping strong (and he's got Shabana in the NAO next, as Laurent Cossa mentioned!)

Honestly, the Swiss didn't put a foot wrong, he was patient (first game was 18m), didn't go for too much, but even when Greg got a scratch on his left hand in the third, the Frenchman wouldn't be diverted from his winning course...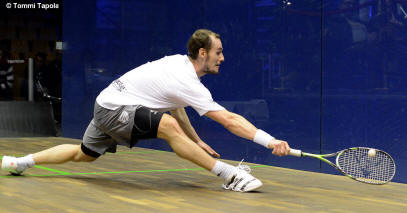 For the match before last, Nick, seeded 1 on this event, just displayed some stunning accuracy. His volleying, as lethal as ever, and his movement gave the double world champion an upper hand on the match from the first rally to the last.

At 32, Nick moves on there as a 20 years old! Chris maybe didn't play as well as he can, but all credit to the clinical performance of Mr Matthew tonight.

And the best for last. Lesson of the month. When an Egyptian loses the first game, or even two games, don't think you've won the game!!!! Jzzz, Daryl played a superb first game, and Tarek just couldn't play.

As the match advanced, Tarek Momenator found his pace/rhythm/game, and Daryl stuck with him in long rallies. As ever, the game varied with the number of unforced errors coming from the Egyptian. Brilliant at times, then tinning at will, Tarek put his camp in a lot of stress!

The last game was riddled with discussion from the two players, stopping the match at nearly every point. Ball went dead (it's cold apparently in Sweden!) which probably benefited the Monenator's game!

And on a last no let, Tarek takes the match while Daryl threw his racquet in disgust. Still, excellent atmosphere between the players, good match.