08-Feb, FINAL:

[2] Nick Matthew (Eng) 3-0 [1] Gregory Gaultier (Fra)
11/9, 11/8, 11/7 (63m)
Five in Seven for Matthew

Nick Matthew made it five CASE Swedish Open titles in seven years as he beat top seed Gregory Gaultier in straight games to retain the title.


The Englishman made a good start, controlling the rallies and pulling away from 2-ll in the opening game to establish a 10-5 lead. Gaultier pulled four points back but Matthew punished a loose serve to take the lead 11/9.

The second game started evenly, but from 5-all it was the Frenchman who took the initiative to lead 8-5, getting the better of some lengthy rallies. Matthew wasn't done though and reeled off the six points in a row to double his advantage 11/8.


Three early errors from Gaultier didn't bode well as Matthew led 3/1 but the Frenchman recovered well as they traded points up to 7-all. In the end though it was Matthew's day as he took the last five points of the game for 11-7 and a fifth Swedish title.

"I came here for the first edition 11 years ago," said Gaultier, "it's always a pleasure to play here we all really enjoy it. I hope to be sharper next year and take my revenge!"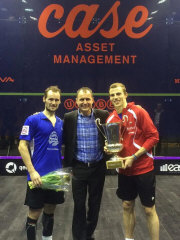 Matthew was also complimentary about the event: "I always play well here, I've been in the final seven times so five titles isn't a bad return. All of the top players keep pushing each other, and we always play better when we feel comfortable like we do here.

"If I'd won all my matches quickly like Greg I's say it was good to be fresh, but I won a few 12/10s so I said that was getting me into the groove, nut maybe those tough matches against Pilley and Rosner did help.

"I'm going to play in the Case Cup O35 next year," added Matthew, "I'm hoping to play Freddie in the final, I've got some catching up to do as he's got twelve titles and I only have five!"
Preview:
Swedish Open dynasty set to continue ...

Gregory Gaultier and Nick Matthew have between them won the last six editions of the CASE Swedish Open, and this afternoon will see that run continued as they meet in Linkoping for the third year in a row - but will it be a third title for the Frenchman or will Matthew retain the crown to make it five wins in seven years ...

Gaultier has been impressive this week, winning all three matches in straight games and none of those nine games have been particularly close. Matthew has only dropped one game, but three of his wins have been in extra points and he's spent 152 minutes on court compared to Gaultier's 118, although fatigue isn't likely to be an issue.

Naturally there's a lot of H2H history, with Gaultier leading 17-14 in their PSA meetings since 2002, but Matthew has tended to win their Euro/World team clashes. In PSA matches this decade Matthew leads 10-8, but their four meetings in 2014 were shared, the last one an epic 103-minute semi-final in the British Grand Prix.

They're one-all in Swedish Open meetings, Gaultier winning the 2013 final, Matthew the 2014 semi. Bookmakers Unibet have Gaultier as the favourite, but not by much with the top seed priced at 13/20 compared to defending champion's 61/50.