Download the
brochure as a PDF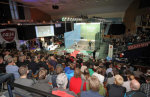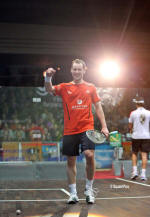 Ten for Freddie in Linkoping
Promoter Fredrik Johnsen reports


For the tenth time my event company ActiPro Event will organize the Case Swedish Open on the fourglascourt in Linköping Sport Hall.


The PSA tournament are among the biggest in Europe and again we will present an International 70 tournament. The tournament and the title Swedish Open started middle of the 1970s , but the real progress and stability in growth has been over the last decade.


As a former professional players for more than 10 years it's of course a big happening that we celebrate 10 years in the same arena in my hometown of Linköping and the same organization.
The event is the biggest international event for all sports in our region so the tournament attracts a lot of publicity and the marketing for squash is huge during the Case Swedish Open week.

Nick Matthew World Number two and three times winner of the Swedish Open title and this years winner of Swedish Open and world number three Gregory Gaultier have already confirmed their entries.

One key to the good success and development of the Case Swedish Open week is the Case Squash Cup with around 20 different classes as for example juniors, Masters, different ranking levels and exercise class.

So that means all kind of squash players can come to the Case Swedish Open week and watch some of the best players in the world but also play in the tournament Case Squash Cup as well.

I will be very happy if we can once more make Case Swedish Open week 2013 one of the biggest squash weeks in Europe this season.