03-Feb-14:
Gearing up in Linkoping

The latest edition of the CASE Swedish Open is getting some big publicity at home in Linkoping - Tournament Director Fredrik Johnson reports ...

The support for this year's tournament is massive, and the marketing is very obvious at various locations here in Linkoping, with posters and banners in evidence all around the town.

We also have:
very good cooperation with one of the biggest newspapers in Sweden and a lot of adverts in that paper

Around 1000 spots in a couple of big radio stations

The biggest Financial newspaper "Dagens Industri" is one of the main sponsors and there we have five halfpages for promotion of the tournament and also got exposure on their website

Around 40 big JC Decuax signs around the city

Promotion on the web and the TV channel belonging to one of the biggest newspapers in Sweden

Big signs on the numerous roads coming in to the town

We have been marketing the tournament at the big motorway here in Sweden since November, on big led screens

And many other newspapers adverts and articles etc.
11th time for ActiPro

The Swedish Open started in the 1970s, and it's now the 11th time my event company ActiPro Event have organised the Swedish Open, together with Swedish Squash Rackets Association, Linköping Squashklubb, Arenabolaget and Medley.
Going, Going ...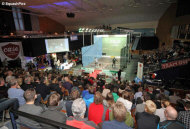 Ticket sales for all four days in the Arena have gone very well and for sure it will be the best year so far here.


Famous Already !

So the players - mainly Nick Matthew, Gregory Gaultier and Ramy Ashour - that we have been using to promote the tournament are more than famous already here in Linköping / Sweden !!