05-Feb, Round ONE:

Qualifying complete, it was on to the main draw, with eight matches on the Glass Court at Linkoping Sports Hall ...
[1] Gregory Gaultier (Fra) 3-0 Fares Dessouki (Egy)
11/5, 11/6, 11/6 (44m)
[Q] Tom Richards (Eng) 3-1 [6] Nicolas Mueller (Sui)
9/11, 11/1, 11/8, 11/5 (54m)

[8] Steve Coppinger (Rsa) 3-0 [wc] Rasmus Hult (Swe)
12/10, 11/7, 11/8 (36m)
[3] James Willstrop (Eng) 3-2 Chris Simpson (Eng)
11/9, 7/11, 7/11, 11/4, 11/8 (73m)

[4] Simon R๖sner (Ger) 3-1 Adrian Waller (Eng)
12/14, 11/6, 14/12, 14/12 (70m)
[5] Marwan Elshorbagy (Egy) 3-1 [Q] Shaun Le Roux (Rsa)
11/9, 5/11, 11/6, 11/7 (57m)

[7] Cameron Pilley (Aus) 3-0 [Q] Joe Lee (Eng)
11/5, 11/9, 11/3 (39m)
[2] Nick Matthew (Eng) 3-0 [Q] Olli Tuominen (Fin)
11/5, 11/4, 11/4 (30m)
Richards gatecrashes the quarters,
Willstop survives

The first day of main draw action at Linkoping Sportshalle saw seven of the eight seeds progress to the quarter-finals, joined by English qualifier Tom Richards.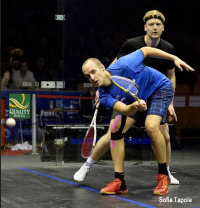 Richards lost a close first game to sixth seeded Swiss Nicolas Mueller, but blitzed through the second and maintained an advantage throughout the next two games.

Mueller may have been hindered by a slight leg problem, but Richards was just too accurate and strong on the day.

He'll meet top seed Gregory Gaultier, who beat rising Fares Dessouki in straight games, the young Egyptian unable to cope with Gaultier's control in the latter half of each game.

"He is a future star and he mastered things that I myself was not close to master at that age," saiud Gaultier of his opponent. "He is outstanding for his age and will be prominent in the next generation of squash players."

Second seed and defending champion Nick Matthew was equally imnpressive as he dismissed qualifier Olli Tuominen in straight games, despite the Finns constant attacks.

"I felt I had an advantage of being well rested compared to Olli who have played qualifiers two days in a row," said Matthew. "I've played so much here Linkoping that there is a risk that I get too relaxed but that was not a risk today."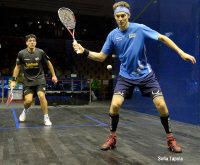 He'll face Cameron Pilley for a place in the semi-finals. The big Aussie dominated his first and third games against qualifier Joe Lee, and pegged back a sizeable lead that the Englishman had built in the second.

"I stuck to the game plan during the first and third games, but lost it a bit in the second," said Pilley. "We both had the momentum during different stages of the match and it was a tight game."

Marwan Elshorbagy was the first winner of the day, coming through in four games against Shaun Le Roux, and his quarter-final opponent is German Simon Rosner, who dropped the first game against Adrian Waller but, despite still making a few too many errors, edged the next three to progress.

Steve Coppinger won an entertaining three-game match against wildcard Rasmus Hult, whose unusual double-handed backhand and tricky shots made the South African work hard for his win.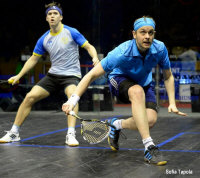 The last match of the day was the longest as James Willstrop made a welcome return to PSA action, but it was a tough return as fellow-Englishman Chris Simpson too the third seed all the way to a decider.

Willstrop took the opening game, looked a little tired as Simpson took the next two, but found a way back and was very strong in the fifth.