Spirit and Brazilian joy in
La Hacienda Squash Open
by Juan Carlos Santacruz,
adapted by Steve Cubbins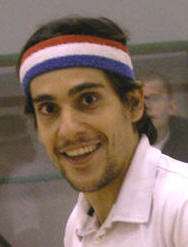 With a wide smile, that lights up his face, Rafael Alarcon, No 1 seed of La Hacienda Squash Open, is direct, honest, open, happy, like many Brazilians he's very emotive, and at 28 years old he has an immense love for squash, a sport that he's played since he was 17.

"I like travelling, meeting people..." he says when asked about his dedication to squash.


Continental Achievements


He has been a professional for six years, has five national titles, a silver medal in the Pan-American Games in Santo Domingo in 2003 and a PSA title in the circuit that same year. These are his best memories.

He was born in Sao Paulo and lives there, where he trains with his professor, partner, friend and player who was also seeded in the main draw of this tournament, the Canadian Sabir Butt.

His mother lives in Goiania, and his father died when he was 16 years old, before he began playing squash. He has a sister who is a Physical Education teacher. She talks to them frequently, but his life revolves around squash. A daily routine, permanent classes, clinics and training.


Brazilian Goals
"I play for myself. It's a personal goal. I don't play for the federation, for friends or people. It's my own goals. I want to meet," he says. He has managed to climb up to no 68 in the the PSA rankings, and his ambition is to enter the top 40 and be the best player in Brazilian of all time. He wants to beat Qiko, the Brazilian who in the 90's reached the no 42 spot.

He used to play table tennis and tennis before taking up squash. In the gym where he did his physical training in the city of Goiania there was a squash court. One day he felt curious, started hitting the ball, and since then he hasn't stopped. He fell in love with squash. Nobody taught him, he had a natural talent that took him to his first tournament victory after three months of practice.


Mental and Technical


"In order to win you have to be prepared," he says, and adds that "it's very important for a player to have a good physical base, technical skills and good mental balance. Without these you can't play good squash." Rafa claims that because of his contagious smile he's one of the most loved players on the continent and in the PSA.

He emphasizes that the technical part of the game must be learned from the basics, with good programmes, and serious training in order for the young players to be unafraid of competition.

He's very critical of the organizations that run squash in his country and the continent. "It is nonsense, they don't know what to do, it's a shame, with so many players full of enthusiasm."

He doesn't want to get involved. Right now his mind is set on improving as a player, feeding his spirit, sharing with his friends and being a better person each day. "I see how the best players play, I stay with the experiences and try to add it to my game."


Mixing it with the Best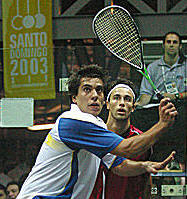 He remembers his best moments of squash, the 3-2 aganst the Finnish Olli Touminen, in the first round of the PSA held in Brazil in 2003 and his match in the Pan-American Games in Santo Domingo against Graham Ryding, to whom he lost but played at his best level.

In style he admires Jonathan Power, but for consistency he admires Peter Nicol. "Power always wants to win," he emphasises. "However, Nicol is a professional who has always been at a high level and is an example of discipline. He has been in the top five for many years."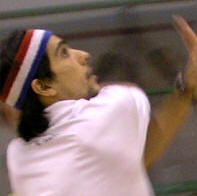 To Rafa, the best latin player is Jorge Gutierrez of Argentina, and from the Colombians he admires Bernardo Samper, who he says, opened the door for players to enter colleges in the States. "He left an open road for young Colombian players to be accepted in the best universities in the States," he says.

Rafa ... the Philosophy

Rafael is single and lives alone. He says he doesn't feel an attractive man, although he is good among women. He confesses that he's in love with a Brazilian named Vivianne, a professional in psychology who also works in marketing, and with whom he hopes to live in the next months. "I don't want to get married, the good things in a relationship end," he says, and affirms that he likes children and will have some, some day.

Rafael has no problems. He laughs at life. He doesn't ask who his rival is going to be, he knows that in order to win he needs to beat whoever comes to play him.

He just enjoys his sport, has fun and lets it feed his spirit.

Juan Carlos Santacruz
www.squashglobal.com

Last weekend saw the conclusion of the La Hacienda Open in Bogota, with South Americans taking both titles.

Tournament director Juan Carlos Santacruz grabbed some time with the champions ... Rafael Alarcon and Samantha Teran ...






Ronivaldo Santos, Luciano Barbosa and Rafael Alarcon receive their Pan Am Medals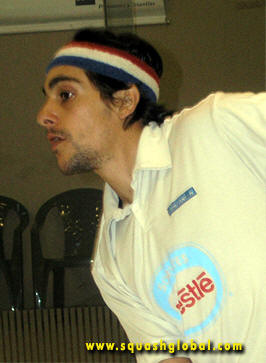 Also see:
Samantha Teran