Camille 2/0 Omneya

The French girl dominated the first game, 10/7, only to see Omneya clawing back, only bowing 11/9. The second was close the whole way, the Egyptian lady had a game ball at 10/9, saved a match ball, but it's a French victory, 13/11 in 23m...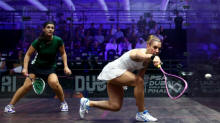 Camille Serme
"I have played the World Series Finals before but it has been a while since so it felt a little strange and quicker than normal – especially against Omneya because she plays such short rallies.

"It wasn't an easy win at all so I'm just really happy to come away with the victory. There's extra stress as well because you can't give anything – you have to be 100 per cent from the start. I told myself to just play as accurate and tight as I could and not give her any angles of opportunities to attack. Even though I can reach a lot of balls she can still hit winners from everywhere and in the end I got a little lucky as she hit the ball out.

"We're all so close in the rankings and we've all had a lot of very close battles over the season. I'm playing two more Egyptians so I know what to expect and I'm going to focus on my game."
Cameron 2/1 Omar

The Egyptian came on court heavily bandaged on the left knee. He seemed a bit slow to start, while Cam was as blastering as ever in the opening game. Second, dominated by Mosaad, 7/2, but the Australian started to reassess, and if he lost the 2nd, he was comfortable the whole game.
Cameron Pilley
"I had a practise hit this morning with Simon [Rösner] and we were both hitting the ball very hard and I was ready for it to come off the front wall quite quickly and, playing Mosaad, we hit the ball as hard as each other, so it was always going to be a hard and fast game.

"I've made a little change to the way I hold my racket, believe it or not, this season and I've switched up my training methods. I needed to do something new, something fresh to give myself a kick up the bum and it seems to have paid off. I think all of that together has helped me move around the court a lot more fluidly this past season."
Raneem 2-0 Nour

First game extremely close, 5/5, 6/6, 8/8, and Raneem taking the game on her second game ball, 12/10. Then a superbly paced second game, Nour up 7/4, but Raneem coming back, 7/7 8/8, two game balls for Nour, 10/8, but again, Raneem claws back 10/10. Long story short, Nour will have 4 game balls in all, and Raneem takes the match on her fourth - on a very lucky bounce at the back of the court...
Raneem El Welily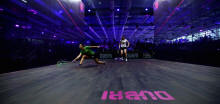 "I didn't think I had it, especially at the end where I had four match balls and couldn't finish the match off.

"But I'm happy to be through, there are so many emotions playing the World Series Finals. There's zero pressure, but you also want to do well. You want to win, but you're actually relaxed, so you don't know what to do or how you should feel or act on court.

"I'm happy with the way I played today. Nour is obviously playing well. I'm pretty sure she has been very busy lately in Egypt with the media, the exams and everything, so full credit to her for how well she played today with everything going around her.

"It's my first time in Dubai, it's been great so far, and it's a great court and a great venue."
Grégory 2/0 Simon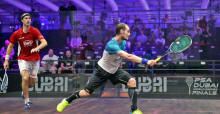 Grégory Gaultier
"It is warm out there and you expect to struggle to breath but I am fit and in good shape so I didn't struggle with the conditions physically.

"But the conditions make the court bouncy and makes the rallies longer so you have to be careful not to be too aggressive or try and finish it off too quick – there's a balance between patience and aggressive.

'I was playing well and in the first especially I felt good. He was pumped up in the second and I was maybe a little passive. Playing best of three is tough because it's hard to take your opponent into a really tough physical battle so I was happy to be able to push through and take the match in two games and enjoy the afternoon now."
Laura 2/0 Nouran
Laura Massaro
"If it wasn't for Nour El Sherbini, Gohar would be breaking records all over the place – to be that mature at that age is really special.

"I was breathing a sigh of relief when she hit the out line during the closing stages of the second game. She's so lethal if you give her too much space but we've played each other a lot over the past year so I know her game quite well and was able to read her a little better because of that.

"I came here on holiday when I took a break from squash a few months ago, and I love it here. As a squash player, your life revolves around training and food and, if I'm on holiday, the only thing I'm bothered about is the food, so it's brilliant to come here and experience everything in Dubai. It's great."
Mohamed 2/0 Mathieu

Not much to say about that match, with a Pharaoh on a mission, and a Mathieu on one leg (an injury sustained during the last European Teams a few days ago) who did his best to entertain the crowds in the second, but there was always be only one winner.
Mohamed Elshorbagy
"Playing the shorter, best of three format is definitely good for me.

"The end of the season has been very tough – playing, winning and then trying to re-focus and go straight back into training after a few days of enjoying lifting a trophy is tough. It's not easy to recover mentally after each match and tournament.

"But the best of three completely changes the whole dynamic of the game. You have to constantly adapt – I changed my whole training just for the this tournament. If you lose focus a few points can slip and then all of a sudden you are a game away from losing a match – you have to be on your toes from the very first points.

"I was just trying to play the best I can today because the biggest challenge to me in this tournament is pushing past the tiredness in my body and I'm really pleased to be playing here in Dubai because it is such an amazing city."
Nicol 2/0 Amanda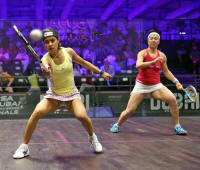 Nicol David
"This is my first time playing in Dubai and it's just spectacular to be competing here in front of the Burj Khalifa. All the players are really excited to be here and it just spurs us on to play even better squash.

"Amanda played some very good shots today and I let her in at times and she took it on when she had an opportunity. But I just stuck to my guns and managed to get the win in the end.

"The best of three format really does mean you to be on your game from the very first point and I think because of that everyone is upping their level – and it's great for the crowd as well to see that intensity. You don't want to let anyone in confidence-wise and I was very happy to win 2-0 in the end.

"I had to keep my head firm on the ground through the match because this format just makes you sharper.

"It's tremendous that the event is back on the calendar. The girls are all really happy to be part of event with the men and to showcase the sport – how tough it is – and bring it to a new audience and show them what squash is all bout is great for us all.

"I'm excited to play Laura tomorrow in the WSF again. It's good to be here in Dubai and I think we'll both bring our best games and push each other again."